This article is more than 1 year old
Japan's Venus probe power plight panacea: Turn it off and on again ...and again and again...
Ill-fated Akatsuki suffers more setbacks – now, its cameras
The Japanese Space Agency (JAXA) has said it is shutting down two of the five cameras on its planetary probe around Venus due to power glitches.
The Akatsuki craft has been in orbit around the acid-death world since 2015, five years after it was due to get there. The satellite's main engine failed mid-flight and it took careful maneuvering using the auxiliary thrusters to finally get it into position. Unfortunately, the long trip may have caused other problems.
On December 9, 2016, the probe began to report unexplained power fluctuations in its 1-µm and 2-µm cameras that made them difficult to control, which meant they could end up draining much-needed power from the rest of the Akatsuki's instruments. As a result, JAXA has shut them down, and will try turning them on then off again over time to see if the problem has fixed itself.
"Several possible causes, likely related to deterioration of electronic parts, are identified and reproduction of the symptom in the laboratory is performed," JAXA said in a statement today.
"It is almost 7 years since Akatsuki was launched in May 2010. In addition, between the failed VOI-1 in 2010 and the successful VOI-R1 in 2015, instruments were exposed to higher radiation environment than anticipated. This likely caused deterioration of instruments."
The extra-long trip to Venus has exposed the probe to much more solar radiation than it was originally designed for. When it was launched the probe was built with a minimum lifespan of two years, but it's now seven years old and starting to show it.
So far the now-defunct cameras have been producing good science. The probe is trying to investigate the complex weather systems around Venus and spotted the first ever localized cloud vortex in the second planet for the Sun.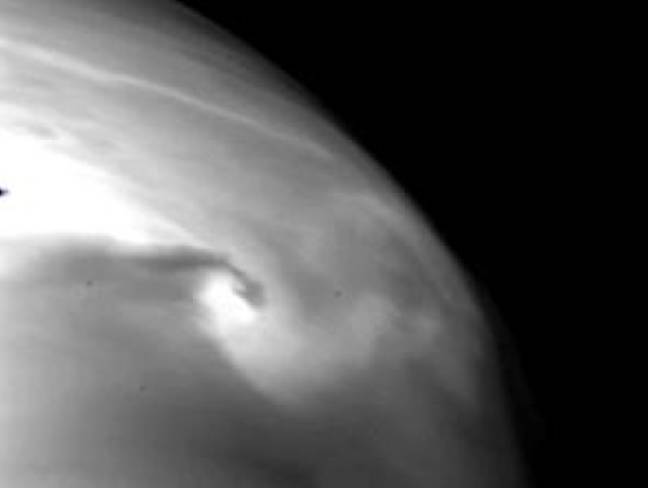 First look at new swirl
"Although similar vortices are seen in the earth atmosphere, this is seen for the first time in Venus' atmosphere with IR2," said JAXA.
"The phenomenon suggests existence of strong meridional flow blocked by something (high-pressure system in the earth cases). It is mysterious how this could happen while Venus atmosphere is dominated by "super rotation", a strong westward flow that reaches 100 m/s at the cloud top."
But the shutdown won't be too bad, as the probe has three other cameras to fall back on. Akatsuki's longwave-infrared camera, ultraviolet imager, and lightning and airglow camera to get further observations. ®