Cisco's HyperFlex hyperconverged products can support more than twice the number of VMs than other HCI systems while maintaining high performance, according to tests by ESG [PDF].
ESG testing used HCIBench, using Oracle's Vdbench tool, with the HCI products running virtual machines. It tells us the extensive testing "was executed using a stringent methodology including many months of baselining and iterative testing... Benchmarks were run for long periods of time to observe performance as it would occur in a customer's environment. In addition, tests were run many times, never back-to-back but separated by hours and days, and the results averaged.
"Also, testing was done using data sets large enough to ensure that data did not remain in cache, but leveraged the back-end disk across each cluster."
The ESG testers compared a 2U, four-node HyperFlex HX220c hybrid flash and disk system with three other products from vendors A, B, and C. We're told these are leading hyperconverged infrastructure (HCI) vendors and "included two 'software-only' systems from leading vendors that leveraged standard x86 based servers, and a proprietary system from a single vendor based on its own hardware and partially integrated with its own software."
These comparative HCI products were also 2U, four-node systems with similar configurations, although we are not given the CPU and DRAM details:
| Vendor | Cisco HyperFlex | Vendor A | Vendor B | Vendor C |
| --- | --- | --- | --- | --- |
| SSD | 1 x 480GB | 2 x 400GB | 2 x 400GB | 4 x 480GB |
| Disk | 12 x 1.2TB SAS | 4 x 1TB SATA | 12 x 1.2TB SAS | 12 x 900GB SAS |
Testing was performed using various read/write profiles and block sizes, with 100 per cent random data.
One test looked at overall cluster scalability with a synthetic workload designed to emulate a typical OLTP I/O mix, 70 per cent read, 100 per cent random with a per-VM target of 800 IOPS. The test was run across 140 VMs in each cluster for three to four hours with a goal of remaining at or below 5ms write latency. The results were charted: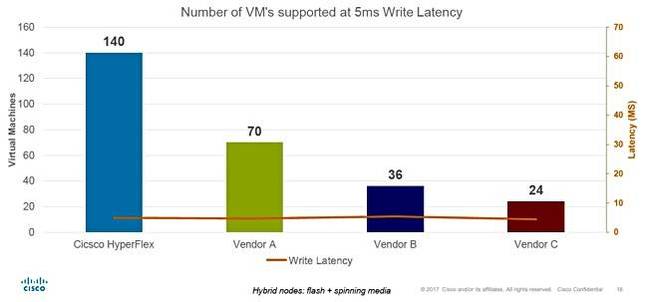 HyperFlex managed 140 VMs at sub-5ms write latency. ESG's paper states: "Vendor A successfully supported 70 VMs at 4.65ms average response time, Vendor B passed running 36 VMs with 5.37ms average response times, and Vendor C supported 48 VMs at sub-5.02ms response times."
ESG also looked at read and write latency and SQL Server IO patterns and checked out all-flash configurations of HyperFlex and a Vendor B.
The all-flash HX220c had one 400GB cache SSD and six 960GB SSDs. Vendor B's system was again a four-node cluster like the HX220c, fitted with the same CPU and memory as the the HX220c, 2 x 480GB cache SSD and 6 x 960GB SSDs. Testing looked at IOPS and latency for VMs and for a SQL Server IO pattern.

HyperFlex HX220 and HX240c
In the SQL test "Cisco HyperFlex cluster more than tripled the IOPS of Vendor B with an average response time of 5.3ms. Vendor B's average response time was 30.58ms, due to an extremely high write response time of 99.84ms throughout the test. This test was run several times on multiple days with consistent results."
ESG also looked at the IOPS per VM with 140VMS in each cluster, and found a marked difference: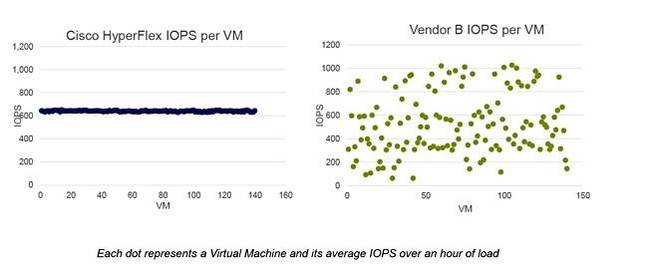 HyperFlex IOPS stayed close to 600 while Vendor B's varied a lot
Overall the ESG testers found:
The HyperFlex hybrid cluster can support more than twice the number of VMs as competitors while maintaining low latency, and deliver 2X-8X the IOPS for 140 VMs in a cluster, using an OLTP workload
With a SQL workload, the hybrid HyperFlex delivered significantly more IOPS and lower latency than other products
For all-flash testing, HyperFlex delivered higher IOPS and lower latency, and consistent high performance across all VMs
OK, caveat time; this is Cisco marketing material with ESG paid to run the tests. We are not told who the three competing vendors are and the test results are partial. Your mileage may well vary and you should run your own tests on your own workloads. ESG strongly recommends this.
With this in mind, the HyperFlex systems look strong and appears to avoid suffering from storage hotspots.
Cisco now has 1100 HyperFlex customers after nine months of selling; not bad at all. Thirty per cent of these are new to Cisco. It says you can add extra compute to a HyperFlex cluster without having to pay any extra software licensing or usage fee. This, we're told, is not true with other suppliers.
Cisco also says its HyperFlex products work with its other server offerings, like converged systems such as FlexPods, and is managed with the same UCS Director. It's not a standalone silo-occupying product.
The v2.5 operating system has intuitive system management, native replication, data-at-rest encryption and NVCMe caching. ®