This article is more than 1 year old
Why did Nimble sell and why did HPE buy: We drill into $1.2bn biz deal
Upstart got tired of grinding out sales against deepening yearly losses?
Analysis In buying Nimble Storage for $1.2bn, HPE has signaled that it needs a complementary all‑flash array architecture to its 3PAR StoreServ arrays.
The company is also getting the storage industry's leading cloud-based management and predictive analytics capability, InfoSight, and with Nimble planning a hyper-converged offering, HPE can decide whether to go ahead with that or concentrate on its still freshly new SimpliVity acquisition's technology.
HPE is also, in buying Nimble, returning to public cloud storage as Nimble's Cloud Volumes run in its own cloud.
Nimble was one of three hybrid array startups, along with Tegile and Tintri, that re‑invented the SAN array and came to the fore as fresh-faced startups in the 2010-2014 period. It IPO'd in December 2013 and shares peaked at $52, but then fell severely back. The company's lateness to the all‑flash array market didn't help, but it recovered from that and there have been strong hints it is developing a hyper-converged offering.
Why did Nimble sell?
CEO Suresh Vasudevan said in a letter to customers: "We are confident that by combining Nimble Storage's technology leadership with HPE's global distribution strength, strong brand, and enterprise relationships, we're creating expansion opportunities for the combined company. Our mission of enabling applications to perform without disruption will continue as we move forward. Our technology innovation can accelerate with the increased investment."
And Vasudevan added this:
We believe that joining forces with HPE enables us to further accelerate the pace of innovation that has been a hallmark of our value proposition to customers.
Okay, so HPE's channel can boost sales but why did it need HPE's channel? Let's look at the quarterly and annual results trends: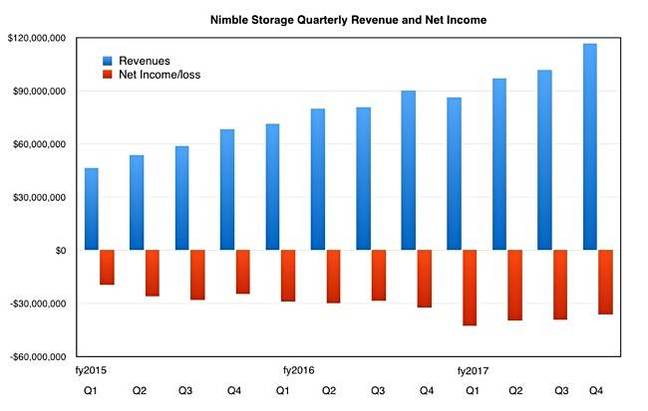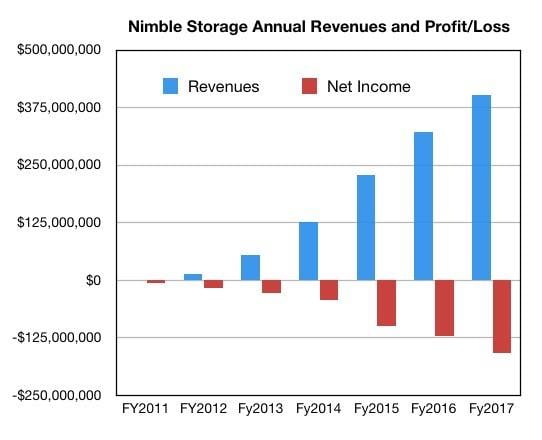 It's immediately apparent that Nimble has been dashing for growth in revenues and operating at a loss as it builds out its infrastructure and develops products. The net loss has been slowly shrinking over the past three quarters, but not dramatically. The company is facing increasing competition as the all-flash array market matures and both hyper-converged infrastructure appliances and the public cloud take larger and larger bites out of the external array storage market.
With Dell buying EMC and HPE buying SimpliVity, it must appear that the era of the survivable and profitable major stand-alone storage company is over. NetApp is the only one if its kind and, by fleeing into the dollar-lined arms of HPE, Nimble has settled for safety.
It can use HPE funds to develop its product, HPE's back-office to save its own back-office expense, and HPE's channel to expand its own channel – and maybe enable it to slough off some sales heads as it cuts costs.
There are 1,300 Nimble employees and we don't, sadly, imagine all will survive the acquisition.
Why did HPE buy?
There are three technologies HPE is getting with Nimble:
An all-flash and hybrid flash/disk array line that slots in between its 3PAR (StoreServ) high-end arrays and entry-level MSA storage.
The highly regarded InfoSight cloud-based Nimble array monitoring and predictive analytics package. It says it will bring this to its other storage products and that should be a feature its customers will value highly.
Nimble's Cloud Volumes, which have data stored in the public cloud near Amazon and Azure data centers to support cloud compute, and offer data portability between AWS and Azure.
But HPE could shrink its 3PAR line to go down-market, build out its own analytics and enter the public cloud storage market itself. It's chosen to buy Nimble for a billion bucks and get itself technology for these three areas faster.
Effect on competition
Dell EMC, with its all-flash XtremIO, VMAX and Unity, and coming all-flash Isilon, will now face an HPE punting 3PAR against VMAX and high-end XtremIO and maybe Unity and Nimble against Unity and XtremIO.
It will see HPE as a stronger but not yet equal competitor in the basic all-flash array market. The InfoSight offering will be strong competition to any Dell EMC equivalent and Dell EMC has nothing like Nimble Cloud Volumes, but it could, if it wished, develop them.
Dell EMC will be reassured that its decision that size matters as an IT supplier is being vindicated by HPE, swelling itself up with SimpliVity and Nimble.
Looking at this from a NetApp point of view then, NetApp has three all-flash arrays: E‑Series, SolidFire and All‑Flash FAS. The 3PAR and All-Flash FAS arrays are sort of equivalent. HPE doesn't have a stripped-down, fast E‑Series box equivalent, but Nimble looks sort of like a SolidFire equivalent, especially if its HCI intentions mean it has the wherewithal to create a single virtual block storage pool across multiple Nimble nodes.
Brett Roscoe, NetApp's VP of product, solutions & services marketing, said: "We are confident in our solutions and ability to compete successfully against a combined HPE-Nimble. Our Data Fabric portfolio of flash-enabled, cloud-integrated offerings provides customers with the future-proof solutions required for success in a datacentric world. In the all-flash array market, there's no question we're growing faster than competitors and the industry. In cloud, our ability to help customers seamlessly manage their data as they adopt the cloud is a clear differentiator."
"We recently shared our intent to deliver the next generation of hyper-converged infrastructure, built on SolidFire innovation, which will be the first fully cloud-integrated HCI solution in the industry. It will bring enterprise customers the flexibility to run multiple workloads without compromising performance, scale, or efficiency. We offer the only portfolio that ensures customers will have seamless data management across all their deployment models, whether on-premises, hybrid or public cloud environments."
What does this mean for Pure Storage? HPE now has a commodity, off-the-shelf-based all-flash array with no proprietary ASIC, which is the 3PAR badge of honor – or dishonor if you are a COTS supporter. HPE will be able to sell its AFAs into a wider spectrum of businesses and the InfoSight capability is probably better than anything Pure has in that line.
The Nimble Cloud Volumes look a neat way to push hybrid IT and Pure has nothing to answer that with. So HPE emerges as a stronger Pure competitor with Nimble.
Lenovo, which has an alliance with Nimble, said: "Lenovo is aware of today's news regarding the planned acquisition of Nimble Storage by Hewlett-Packard Enterprise. Change is continuous in our industry, so our strategy and operations are highly agile. We can adapt quickly to any market developments.
"Lenovo announced the alliance with Nimble in October 2016 and the relationship was in its early stages. As such, there is virtually no impact on either our customers or product portfolio. Going forward, we will expand our efforts to bring the compelling benefits of flash-based storage to our customers, both in traditional data center infrastructure and next-generation IT solutions. In fact, we plan to introduce new flash storage offerings later this year."
As far as Kaminario is concerned, life will probably get tougher as HPE punts out Nimble AFAs through its channel and extends the Nimble product range's market coverage.
Tegile and Tintri will also find themselves facing stronger competition, and will run into HPE-3PAR-Nimble more often in their customer bids. They are, along with Kaminario, arguably the losers from this.
The HPE-Nimble deal shouldn't affect Cisco much in the short term but will affect it if and when HPE extends InfoSight support to its hyper-converged offerings. In fact, all hyper-converged infrastructure vendors will have to up their monitoring and analytics game to match an HPE HCI-supporting InfoSight.
Reg comment
This is a neat tuck-in acquisition by HPE that gives it industry-leading array monitoring and analytics, an extended flash array offering, and a route into public cloud storage for hybrid IT. Within two years, Nimble could be operating at a billion-dollar run rate and repaying HPE's purchase price. This is by no means another Autonomy. ®