Salesforce joins 'smart' software bandwagon
Einstein hopes to make artificial alleged intelligence accessible
Salesforce's Spring 17 release has arrived with Einstein inside, software that its creators hope will live up to its rather clever namesake.
Where IBM chose to name its smarts-as-a-service platform after its first CEO, Thomas J Watson, Salesforce opted to have its ostensibly brainy code measured against a genuine intellectual giant.
"One of the reasons we picked the name was Einstein was famous for making complex things simple, and that's what we're doing for our customers," said Jim Sinai, VP of marketing, in a phone interview with The Register.
Nonetheless, Watson and Einstein are now related – on Monday, Salesforce said it would work with IBM to make Watson's structured and unstructured data available for predictive analytics among its customers. In turn, IBM plans to offer Salesforce integration through its Global Business Services group to enterprise customers.
In a statement that looks forward to a future of profitable machine dependence, IBM CEO Ginni Rometty said, "Within a few years, every major decision – personal or business – will be made with the help of AI and cognitive technologies."
For Salesforce customers, that tomorrow begins today. Mentioned at Salesforce '16 in October last year and tested by some of Salesforce's partners, Einstein has entered general availability.
The software's ersatz wisdom takes the form of recommendations generated from Salesforce data and related channels like email. It covers seven general categories:
Sales Cloud Einstein
Service Cloud Einstein
Marketing Cloud Einstein
Commerce Cloud Einstein
App Cloud Einstein
Analytics Cloud Einstein
Community Cloud Einstein
Einstein Supervisor, part of Service Cloud Einstein, can keep call center managers informed by providing data about support agent availability and wait times, and can recommend actions designed to reduce the agony of customer support (beyond the obvious advice to hire enough staff).
Einstein Opportunity Insights, Einstein Account Insights, and Einstein Activity Capture point users toward promising sales prospects, relevant news, and automatic communication logging.
There's also: Einstein Journey Insights, designed to help marketers figure out what actions led to buying decisions; Einstein Segmentation, for targeting specific clusters of people in a marketing campaign; Einstein Commerce Insights, for better merchandising based on e-commerce orders; Einstein Data Discovery, for automating analytics workflows; and Einstein Recommendations and Feed Insights, which functions similarly to Facebook's News Feed by surfacing content suited to a user's profile and behavior.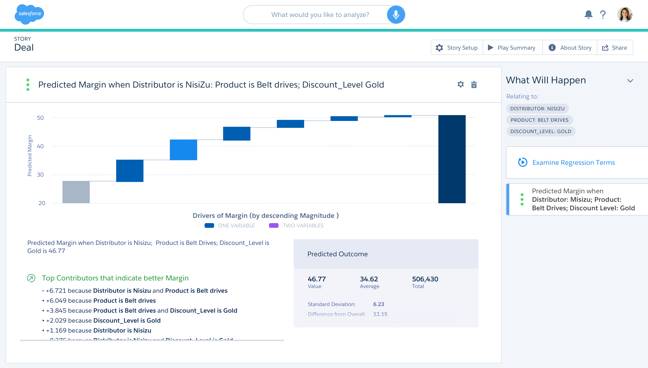 Sinai said Einstein can automatically capture emails, so sales representatives don't have to log them. From this data, the system can then employ machine learning and natural language processing to coach sales representatives about whether a deal is trending up or down.
"Are there signals in the data saying the deal is slipping?" said Sinai. "The ability to coach a sales rep is a powerful form of AI."
Such so-called artificial intelligence might be better described as augmented productivity. But the term "intelligence" appears to have a certain cachet these days. There's hardly a Silicon Valley firm without an AI-oriented product or service at the moment.
The closest Einstein gets to living up to its name involves Einstein Vision, which provides an API to bring image recognition capabilities into Salesforce workflows, via force.com and Heroku applications. Sinai suggested that Einstein Vision could be used by a solar roof installer, for example, to automatically look for pitched roofs in pictures, in order to identify sales leads or to inform installers.
Salesforce's image recognition tech can also be employed for brand detection and product identification.
Einstein, Watson and friends may not weigh in on every major decision in the future, unless people just can't be bothered to think for themselves. But when it comes to online product recommendations, sales lead optimization, and finding relevant images in social media feeds, personified software can be expected to have something to say on the subject. ®