This article is more than 1 year old
Quantum board shake-up on the cards as threat of NYSE delisting looms
Activist investor VIEX and board agree three independent directors
Quantum's board has caved in to activist investor VIEX and agreed to reconstitute itself with new independent directors.
VIEX owns approximately 11 per cent of outstanding shares in Quantum's common stock. It claims Quantum's share price has under-performed because top brass have made wrong decisions about running the business. Now VIEX wants to make changes to increase shareholder value.
VIEX has said it has significant concerns about four long-serving members of the board – Paul R Auvil III, David Krall, Gregg Powers and David Roberson (collectively, the "Legacy Directors") – who it believes have overseen the lion's share of the company's recent failings. VIEX's founder and portfolio manager Eric Singer has said: "The company's stock price has declined by greater than 60 per cent on average when measured by when each of the Legacy Directors first joined the board. This dismal stock price decline has gone hand-in-hand with poor operating performance, a series of missed strategic opportunities and a consistent failure to deliver results."
In October 2016, Quantum received a listing non-compliance notification from the New York Stock Exchange that its share had not traded at a minimum average closing price of $1 for 30 consecutive trading days. Quantum then had six months from receipt of the notification to comply or face delisting.
In February 2017, VIEX said new board directors were needed and that Quantum was compelled by NYSE rules to call a shareholder meeting for a reverse stock split to avoid a delisting.
Quantum shares currently trade at $0.93.
Quantum says it will now reconstitute the board of directors with a majority of new, independent directors over the next several months.
Specifically, Quantum has committed to identify, within the next 90 days and subject to VIEX's approval, three new, independent and qualified directors to be appointed to the board following the company's fiscal 2016 Annual Meeting of Stockholders to be held on March 31.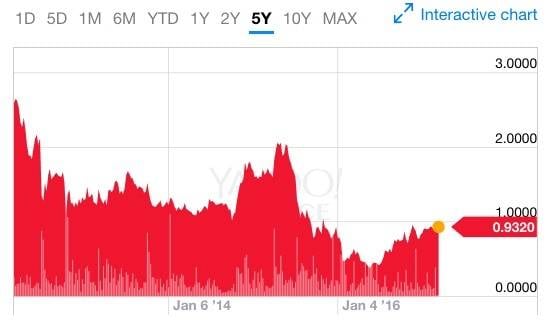 Five-year Quantum stock price chart from Yahoo! Finance
The new directors will be among seven nominees presented to stockholders for election to the board later this year at the fiscal 2017 Annual Meeting of Stockholders to be held in August.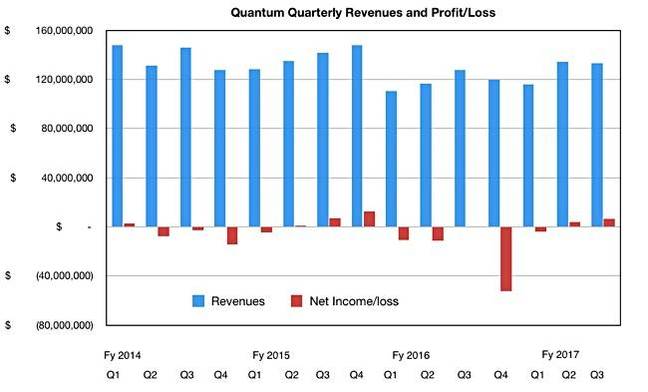 Quantum quarterly revenues and net income
It's a complicated scheme and process, though. Currently Quantum has a nine-strong board:
Chairman Paul Auvil III
President and CEO Jon Gacek
Gregg Powers – chairman and CEO of Private Capital Management, joining in May 2013
Clifford Press – managing member of Olive Press Partners LLC, joined board in April 2016
David Roberson
Robert Anderson
Louis DiNardo
Dale Fuller
David Krall
Private Capital Management owned around 8 per cent of Quantum's stock in May 2013.
Robert Andersen, Louis DiNardo, Dale Fuller and David Krall will not stand for re-election at the 2016 Annual Meeting. VIEX will vote all of its shares in favour of all seven of the board's nominees at the 2016 Annual Meeting, and has a proposed board for election at the later annual meeting in August, which looks like this:
Chairman Paul Auvil III
President and CEO Jon Gacek
Gregg Powers
Clifford Press
David Roberson
John Mutch – VIEX nominee
Raghavendra Rau – VIEX nominee
But three of these will or may be be replaced through an independent board member selection process being run by Korn Ferry International. Its primary focus will be recruiting and appointing new directors who possess data storage expertise, including at least one new director who has cloud storage software experience.
Quantum says Korn Ferry International "will seek to add at least one new director who is qualified to serve as chair of the board's Audit Committee and one director who is qualified to serve on the Leadership and Compensation Committee. These directors ultimately will replace three of the directors [above] being nominated for election at the 2016 Annual Meeting."
The net result should be new independent directors and a likely reverse stock split to get the stock price well above the $1.00 NYSE listing requirement. ®