This article is more than 1 year old
Windows Server ported to Qualcomm's ARM server chip. Repeat, Windows Server ported to ARM server chip
Et tu, Microsoft? Then fall, Intel
Microsoft has ported its Windows Server operating system to the Qualcomm Centriq – a 64-bit ARM-compatible server-grade system-on-chip.
In a move that will pile further pressure on Intel – which dominates the data center market but is already unnerved by AMD's Naples server processor – Qualcomm and Microsoft will today show off Windows Server running on a 10nm Centriq 2400 system at the Open Compute Project Summit in California.
The Windows Server build is, so far, for internal use only at Redmond. The software giant and its pal Qualcomm declined to comment on any plans to make the operating system available to the public. Microsoft and Qualy have been getting pretty close recently: the pair are working on Snapdragon-powered Windows 10 laptops and mobile devices, due out later this year.
We can imagine a Windows Server offering for Centriq-based systems, once those are available and if there is a demand for them. For some time, Microsoft engineers have configured their toolchains to emit 64-bit ARMv8 builds of Windows Server, as well as the usual x86 builds, for internal testing and evaluation. What's happened now is that the necessary drivers and kernel support for the Centriq hardware have been completed to the point where the stack can be demonstrated in public at Microsoft's OCP Summit booth. Middleware and language runtimes have also been ported to Qualcomm's chipset.
And there is absolutely no point showing off the software port if it's just going to be shelved and forgotten. From what we can gather, Windows Server on Qualcomm-designed silicon is set to be employed within Microsoft data centers within the next year. Qualcomm said it had been working for "several years" with Microsoft, with some of that time on-site, to produce a version of Windows Server optimized for ARM servers. Microsoft is right now testing that software and Centriq hardware with Bing indexing and search queries, databases, machine learning, and similar tasks, albeit not in production.
Qualcomm's Centriq family uses the Falkor microarchitecture, and features up to 48 64-bit ARMv8-compatible cores fabricated using a 10nm FinFET process. If it hits the data center market on time – it's slated to ship in volume in the latter half of 2017 – it will beat Intel's 10nm Xeons by roughly 12 months. The system-on-chip line officially, for now, runs flavors of Linux from Red Hat and Canonical.
Get your server designs here
Qualy, a California chip designer, has submitted blueprints for Centriq 2400 motherboards, compatible with Microsoft's Project Olympus, to the Open Compute Project. This means if the OCP committee approves the designs, they will be published for anyone to use – meaning the specifications can be used by electronics factories to bang out Qualcomm-Olympus server boxes relatively cheaply and snapped up by cloud giants and enterprises. This approach was thought up by Facebook as a way to get machines mass produced by any willing manufacturer without having to negotiate and fuss around with the likes of Dell and Lenovo.
Today Qualcomm and Microsoft said their Open Compute specifications were designed to juggle workloads in the Azure cloud. Basically, as we said, Windows Server on Qualcomm-designed Centriq CPUs is coming to Microsoft's cloud.
The Qualcomm Centriq 2400 Open Compute Motherboard has a single socket for a Centriq SoC with up to 48 cores, a 50Gb/s NIC, 32 lanes of PCIe 3, two USB ports, 1GbE PHY, eight SATA ports, and six channels of DDR4 RAM (running at 2667MT/s) with one or two DIMMs per channel. This sits on a 210mm by 404mm half-width 1U mobo that fits in a normal 19" rack.
"This is to get the server ecosystem prepped and ready," Ram Peddibhotla, vice president of product management at Qualcomm Datacenter Technologies, told The Register earlier this week. He added: "In collaborating with Microsoft and other industry leading partners, we are democratizing system design and enabling a broad-based ARM server ecosystem."
Qualcomm is also joining the OCP Foundation as a gold member, as well as offering up its blueprints. Below are some snaps of the system – click to enlarge any picture.
Overhead view of the Centriq 2400 Open Compute Motherboard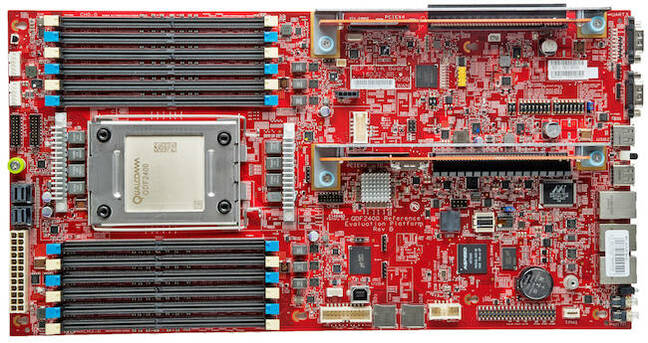 Overhead view of the mobo in a stocked-up 1U rack box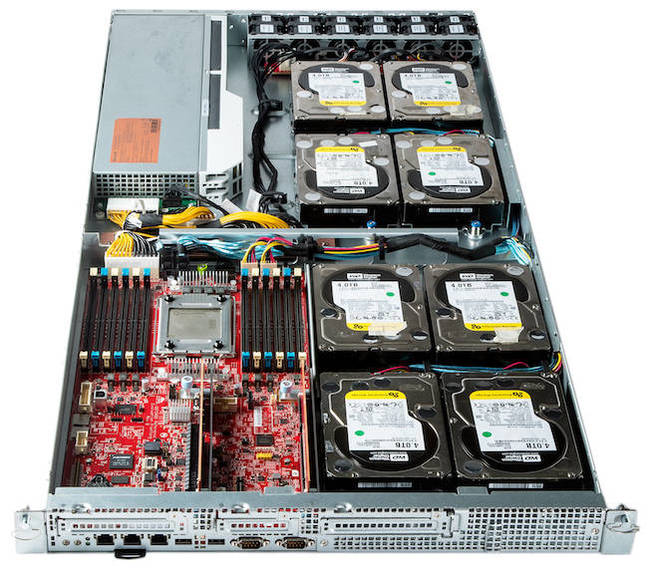 Suggested configurations of a Centriq 2400 Open Compute machine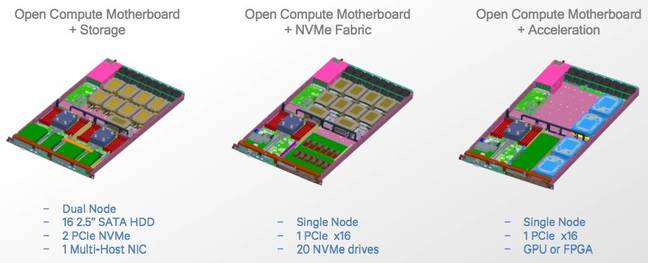 On Wednesday morning at the OCP Summit, Microsoft Azure's Leendert van Doorn shed more light on Redmond's ARM server trials. He said Windows Server has also been ported to Cavium's ThunderX2 64-bit ARMv8 server chipset. That hardware, running Redmond's operating system, has been evaluated in the Azure cloud, alongside the Qualcomm Centriq, and will also be demonstrated at this week's summit. And Van Doorn mentioned AMD is looking at producing a Project Olympus compatible system, too.
"We have been working closely with multiple ARM server suppliers, including Qualcomm and Cavium, to optimize their silicon for our use," the Microsoftie said.
"We have been running evaluations side by side with our production workloads and what we see is quite compelling. The high instruction per cycle counts, high core and thread counts, the connectivity options and the integration that we see across the ARM ecosystem is very exciting and continue to improve.
"Also, due to the scale required for certain cloud services, ie, the number of machines allocated to them, it becomes more economically feasible to optimize the hardware to the workload instead of the other way around, even if that means changing the instruction set architecture.
"We feel ARM servers represent a real opportunity and some Microsoft cloud services already have future deployment plans on ARM servers. We are working with ARM Limited on design specifications and server standard requirements and we are committed to collaborate with the community on open standards to advance ARM64 servers for cloud services applications."
In other words, Intel finally has competition on its hands. Chipzilla has more than 95 per cent of the world's data center compute market sewn up. Now cloud giants and other enterprises want to put some pressure on the semiconductor goliath, by trying out rival processor architectures and accelerators – anything to push prices down and open up second sources. Google is also trying out ARM and POWER-based computers in its server warehouses.
"We found that [ARM servers] provide the most value for our cloud services, specifically our internal cloud applications such as search and indexing, storage, databases, big data and machine learning. These workloads all benefit from high-throughput computing," said van Doorn.
Words that ought to freak out Intel more than just a little bit. ®