This article is more than 1 year old
AMD does an Italian job on Intel, unveils 32-core, 64-thread 'Naples' CPU
Claims to be two times faster than Chipzilla's latest data centre processor
In a raid on Intel's x86 server heartland, AMD has unveiled its next shot at server market glory with Naples, a 32-core, 64-thread CPU based on its Zen microarchitecture.
Naples targets the high-performance server market and confirms AMD wants to be a significant data centre CPU player.
It features:
Scalable, 32-core System on Chip (SoC) design, with two threads per core
Up to 16 DDR4 DIMMS on 8 memory channels and up to 2TB of memory capacity
Support for up to 32 DIMMs of DDR4 on 16 memory channels, delivering up to 4TB of total memory capacity in a 2-socket server
Complete SoC with fully integrated I/O supporting 128 lanes of PCIe 3
Cache structure for high-performance, energy efficient compute
Infinity Fabric coherent interconnect for Naples CPUs in a 2-socket system
Dedicated security hardware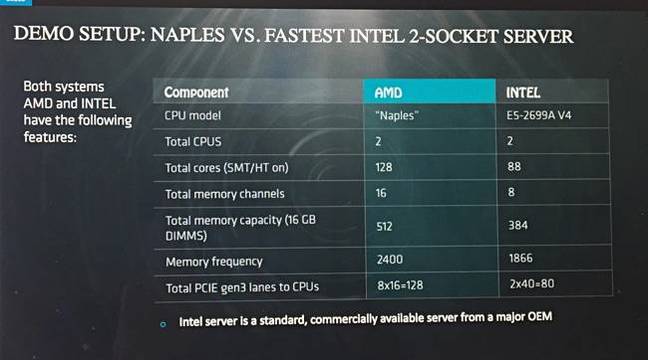 AMD Naples 2-socket server comparison with Intel
Naples will be able to directly attach multiple Radeon Instinct GPUs to accelerate things like VDI and image-processing workloads.
During a preview webcast, AMD ran a seismic analysis processing demo to show Naples outperforming Intel with 44 cores active.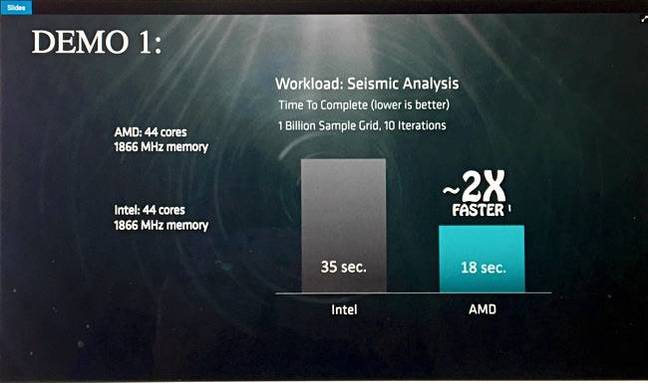 When Naples ran with 64 cores, it outperformed the Intel system by 2.5X.
AMD exec Forrest Norrod, SVP and GM for the Enterprise, Embedded and Semi-Custom Business Group, says Naples "exceeds today's top competitive offering on critical parameters, with 45 per cent more cores, 60 per cent more input/output capacity, and 122 per cent more memory bandwidth."
He says Intel's Xeon E5-2699A v4 processor has up to 22 CPU cores. The E5-2699A v4 processor has 40 PCI Express lanes per socket while Naples has 64. Also "Naples" supports up to 21.3GBps per channel with DDR4-2667 x 8 channels (total 170.7GBps), versus the E5-2699A v4 processor's implied 140GBps.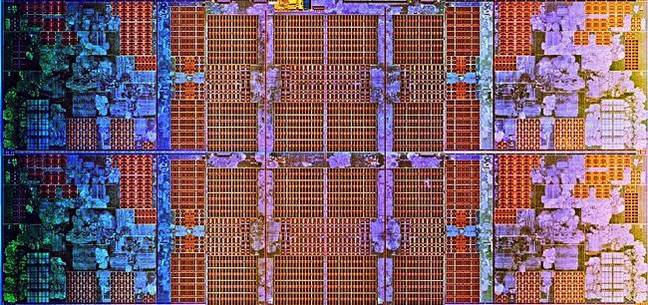 AMD Naples die candy
Norrod asserts that "two-socket servers built with [Naples] will have the flexibility, performance and security to support workloads that once required 4-socket or larger server configurations. [Customers] can support even more virtual machines per server in virtualised and cloud computing environments. In addition, they can process even more data in parallel, and execute even more high-performance computing workloads that require massive parallelism."
The first Naples processors should be available between April and June with volume availability in the second half of the year through AMD's OEM and channel partners. ®