WD has extended its disk-based archive array line scaling out to 52PB with a newish X100 ActiveScale product. This arrived in January with no fanfare and holds 47 per cent more data than the largest SA7010 Active Archive product. What gives?
The first ActiveScale product arrived in November 2016 and was a middling capacity P100 which scaled from 720TB to 19PB (raw).
At that time it complemented the two SA1000 and range-topping SA7000 Active Archive systems. This scaled from 840TB to 35.4PB in the SA7010 product.
All these systems use Amplidata object storage technology to provide massive scale and highly reliable disk-based data archive vaults.
We looked at WD's online data sheets for the ActiveScale and Active Archive products and, together with WD, built a comparison table: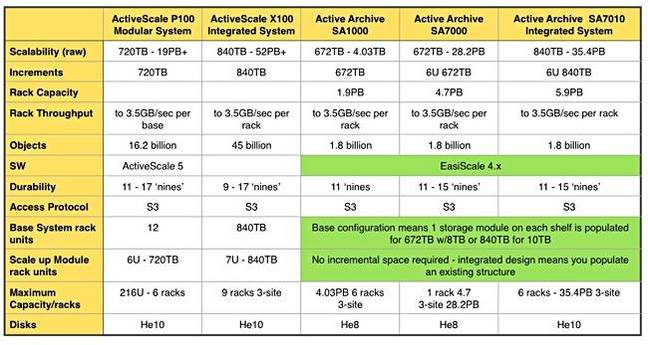 WD tells us that the SA1000 is the base config with one populated module per shelf with 8TB HDDs – six of those will get you 4.03PB. The SA7000 is fully populated with seven populated modules per shelf using 8TB HDDs – six of those will get you 28.2PB. These are helium-filled He8 drives.
When asked when the ActiveScale X100 was announced, a WD spokesperson told The Register: "The website was updated with the X100 on January 18; there was no press release. All new customers are encouraged to move to the ActiveScale family- under 2PB for P100 and over 2PB for X100. Existing Active Archive customers who want to expand their Active Archive footprint can still order Active Archive."
They added that both ActiveScale and Active Archive systems use He10 disk drives, and that Active Archive is also available with 8TB He HDDs.
As for whether a user would need three separate sites in a linked configuration to get the maximum ActiveScale and Active Archive capacity, they said: "Scale-out does not require different sites. Geo-spreading is a scale-out configuration with different erasure encoding that allows the loss of a site, and still have full object availability from the remaining locations."
With higher capacity helium-filled drives here (12TB) and coming (14TB) a 73PB ActiveScale product could be in prospect with, potentially, a 100PB one on the 2018/2019 horizon. ®