Exclusive Silicon Valley has pushed back hard against Europe's copyright reforms in the forthcoming response from the European Parliament's rapporteur, a full draft of which has been seen by The Register.
Politico published a partial draft of the European Parliament's response to the Commission's proposals – only the odd pages – earlier this week, but the version we've seen is complete and up to date. The report by MEP Therese Comodini Cachia will form the basis of the Parliament's Legal Affairs Committee's reform of the rules on copyright in Europe in the digital age.
Comodini guts many of the proposals that would oblige major platforms to be more market- and content-friendly in Europe, and the response attempts to allow technology companies greater scope over using Europeans' content and data. One Brussels expert described Comodini's 73 proposed amendments as a "coup for Google".
Various groups had called for the Commission to address the market power of the giant internet platforms, Google and Facebook, over a range of issues from personal data protection to their asymmetric market power in negotiating content deals. In its Copyright Package, which appeared last year, the Commission acknowledged some of these. News publishers won a short-term neighbouring right which would have obliged data-scrapers like Google to come to the table to negotiate a fee, or else provide their own news.
Comodini removes the Commission's proposed neighbouring right for publishers and throws them a sop: a "presumption of representation" aka a right to sue. However, Brussels sources told us that in reality, litigation is an expensive and undesirable option that larger news publishers are reluctant to pursue, and which is beyond the reach of smaller news publishers. A typical cost for starting an action starts north of €70,000, we're told.
"All that this will potentially do is lead to more litigation," trade group News Media Europe's Wout van Wijk told Politico.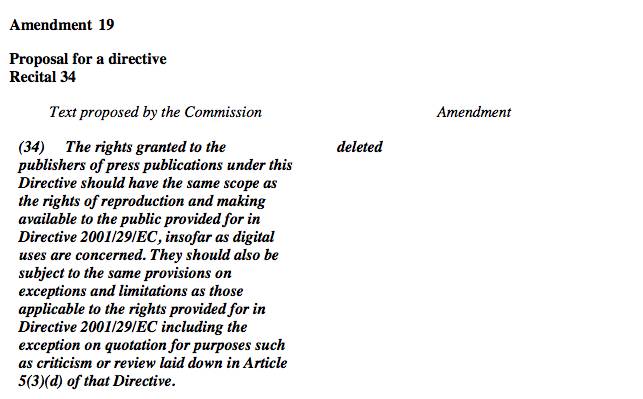 The rapporteur also guts the so-called "value gap" proposal, which would have obliged big service providers like Google's YouTube to deploy content recognition systems. This was devised to plug the "UGC loophole", which permits YouTube to maintain an unlicensed supply chain, driving down rates, and making life more difficult for licensed services such as Spotify and Apple Music. In fact, the rapporteur adds additional burdens to rights-holders.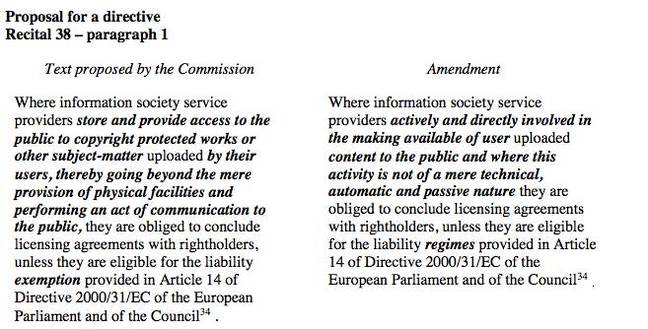 Comodini wants "innovation" added to justify text and data-mining, and removes requirements for permission. "Innovation" is not defined. In the teaching exception, the safeguard for non commercial use is removed and replaced with "education". The proposed amendments also remove the requirement for educational use of copyright material to use a secure network and be distributed to a "limited circle". All this would permit, say, Wikipedia, to reproduce professionally produced content without fear of infringement.
Google and Facebook couldn't have wished for a more Google-friendly or Facebook-friendly report from the Legal Affairs committee. And perhaps they got what they wished for.
"
We need your property, because ... internets
Comodini's draft report is a milestone in a long process. It will be presented to the JURI committee on March 22, with a vote in June.
Europeans looking for support against the US tech giants – who use "civil society" groups to advance their agenda.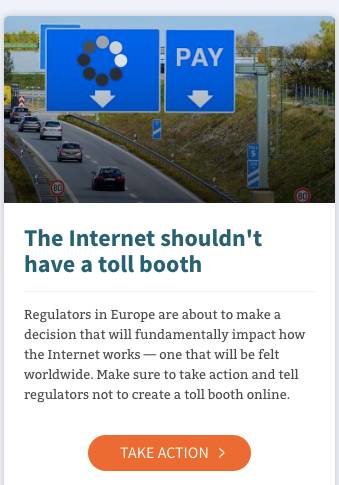 Tech-funded "citizens groups" like Canada's open media inserted themselves in the European debate.
For example, OpenMedia, a Canadian lobby group, boasted that it had received "130,000+" responses to two controversial campaigns over the European Commission's proposals: one of which falsely claimed URLs would be made "illegal", the other characterising the granting of rights to news publishers over their content as a tax on "links".
Canada is not a member of the European Union. ®