+Comment It is only one quarter, but IDC's latest enterprise storage numbers show IBM's flash array revenues have overtaken those of Pure Storage, putting that IPO'd company in fifth place in the market.
Stifel analyst Aaron Rakers has reported on IDC's fourth 2016 quarter enterprise external storage revenues and we highlight the all-flash array (AFA) numbers in his report.
Vendor AFA revenues were:
EMC - $645.1m,
NetApp - $279.2m,
HPE - $204.9m,
IBM - $188.4m,
Pure - $169m (calculated by us),
Hitachi - $40.2m,
Nimble - $32.3m.
Stifel's reporting of the IDC all-flash array vendor revenue shares in the fourth 2016 quarter:
EMC - 34 per cent, down from 39 per cent and 36 per cent in the prior and year-ago quarters,
NetApp - 19 per cent, up from 16 per cent and 13 per cent in the prior and year-ago periods,
HPE - 13 per cent, unchanged from a year ago,
IBM - 11.1 per cent (calculated by us),
Pure Storage - 10 per cent, down from 13 per cent and 11 per cent in the prior and year-ago periods.
Here's a Stifel-produced chart of vendor all-flash array revenues based on this data, showing that IBM has overtaken Pure: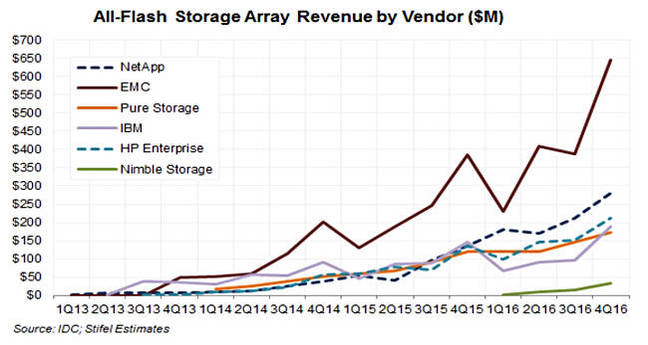 Pure overtaken by IBM and HPE approaching NetApp AFA revenues with Nimble.
We see that HPE plus Nimble would be $237.2m, putting HPE closer to NetApp.
Concerning the status of XtremIO inside Dell EMC, Rakers writes: "XtremIO revenue declined 62 per cent y/y in 4Q16 and accounted for 20 per cent of EMC's all-flash revenue (vs. nearly 100 per cent in 4Q15), while All-Flash VMAX accounted for ~40 per cent of all-flash revenue in 4Q16."
Reg comment
Two thoughts: firstly, Pure Storage needs its FlashBlade unstructured data storage array to be successful if it is to grow its AFA revenue market share status and overtake IBM. Secondly Hitachi Data Systems, out of all the incumbents is in the least good position. Perhaps there will be product news forthcoming this year to try to fix this.
HDS has bought companies in the past to gain technology in areas in which it is lacking, such as BlueArc for NAS and Archivas for object storage. Perhaps this lagging position in AFA is a pointer to a potential acquisition? ®