Monday muster point for storage news. Get in here now if juggling terabytes is your trade
Weekend's over, here's some info to impress colleagues
---
Hitachi Data Systems
It wants to tell the word that sales of its Hitachi Content Platform portfolio have generated $1 billion in revenue. We're told Spin Master, the world's fourth-largest toy company and maker of the Etch A Sketch, deployed HCP to unify and manage unstructured data and simplify backup tasks. The toy company switched to HCP because "it delivers business insights and governance from any cloud, device or location."
Accident Exchange, a provider of courtesy cars to crash victims, says HCP has simplified data management and reduced the pain of regulatory audits in a heavily regulated industry.
IBM 5 qubit quantum computer
Here is the view of Canalys analyst Joe Kempton about IBM's 5 qubit quantum computer:
"The results of IBM's developments in this field are certainly impressive, but not at a stage yet where they will live up to the lofty expectations that have been placed upon quantum computers. Five qubits is only a tenth of what is considered necessary for a full Quantum Computer, and I note that they mention the IBM Quantum Experience will be able to model circuits with up to 20 qubits, which is not the same as actually having a 20 qubit quantum computer.
"The 50 cubit IBM Q system is still only a distant aim with a timeframe of 'the next few years', which is incredibly vague. I would agree with you that the announcement is light on detail, and crucially in my mind, IBM have not given many clear examples of how these quantum computers have helped the 40,000 that ran over 275,000 experiments to get a more efficient result."
He added: "That said, it's clear why IBM have made this announcement. Google has said it will produce a viable quantum computer in the next five years. Other major IT firms, such as Microsoft, are also researching heavily in this field. What better way for IBM to beat the competition than by releasing the most basic version of its quantum computer and tying developers in to using the system?
"Particularly with the release of the API (and in the future the SDK), at the very least it will enable IBM to create some form of an ecosystem before its competitors can get off the ground. Additionally it can use the expertise of developers to fast-track their understanding of how these systems can be applied to real-life scenarios."
ioSafe
This US maker of fire-resistant disk drive enclosures sent me a photo of one of its NAS units that was recently recovered from a New Jersey business after the facility was completely destroyed by fire.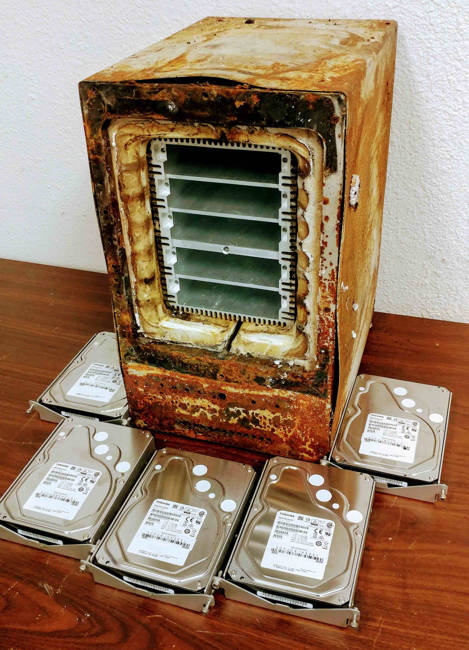 Disk drives saved from a fiery death.
A fire suppression system at the business' premises failed to work and the place was burnt out. All the disk drives were recovered and usable, being usable and in mint condition according to ioSafe.
Micron
Micron has announced the ruggedised, embedded eU500 USB solid state storage that enables fast boot-up times and data logging capabilities for the demanding environments. It has capacities ranging from 4GB to 32GB and is available direct from Micron and its distribution partners.
Micron is pitching this as an IoT device for things like remote mobile base stations. It has been developed with Lake Constance, Germany-based controller partner Hyperstone, using that company's U9 - USB 3.1 Flash Memory controller and Flash Management technology.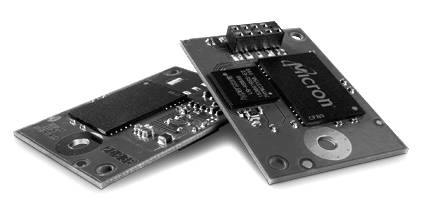 Micron eU500
It has a sequential read/write speed of up to 170/120 MB/sec and a steady state 4K random read/write performance of 3,000/1,000 IOPS.
NetApp
Anthony Lye has been appointed SVP of NetApp's Cloud Business Unit and reports to CEO George Kurian. Previously Jonathan - Jon - Kissane was the SVP and general manager of that unit. He is now a NetApp Chief Strategy Officer.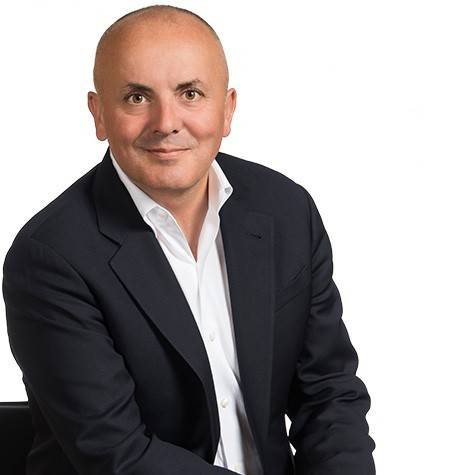 Anthony Lye
We're told Jon and his team incubated the cloud mission inside of NetApp; this area has grown in strategic importance and now reports directly to the CEO.
Permabit
Permabit Virtual Data Optimizer (VDO) Release 6 is generally available for its for its OEM and Software-Defined Data Center customers. It delivers the company's patented deduplication, HIOPS Compression and thin provisioning in a commercial software package supporting the latest releases of Red Hat Enterprise Linux v7.3 and Canonical's Ubuntu Linux 16.04 LTS.
There are enhancements to its thin-provisioning capabilities so users can grow the logical size of volumes online. It has flexible write policies enabling administrators to make tradeoffs between performance and reliability online.
There is a Permabit certification of compatibility with Red Hat Ceph and Red Hat Gluster Storage.