Pure Storage
Stifel analyst and MD Aaron Rakers tells us Pure has tweaked its sales force to sell FlashBlade: " Pure's sales force commenced its portfolio-driven sales approach with the GA of FlashBlade in late-January with a focus on:
Mainstream enterprise opportunities (e.g., large scale analytics),
Specialized opportunities (simulations, machine data, etc.)
The company has established a specialized sales overlay team for the latter.
He adds this thought: "We think Pure will expanded the feature / functionalities for FlashBlade through 2017, which we think could further extend its market opportunities."
Pure tells Rakers that it thinks the disk-to-disk-to-tape hierarchy is now transitioning to flash-to-flash-to-cloud, and edge data drives on-premises storage needs – data analytics, IoT, autonomous vehicles, etc. all drive the need for scalable platforms supporting high data velocity. It has a Data Platform strategy to cope with this: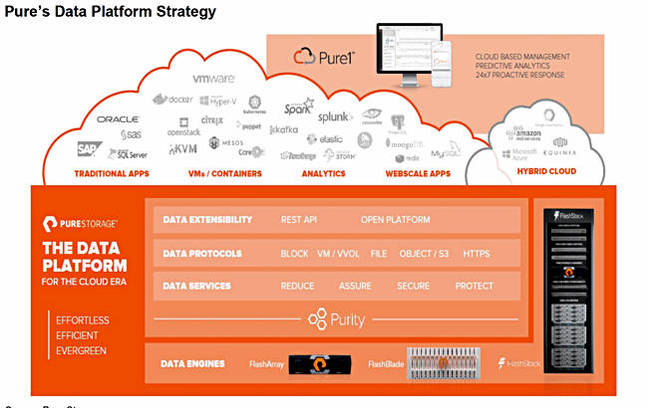 Click image to embiggen it.
Rakers says that, with FlashBlade, Pure primarily competes against EMC's Isilon systems (including Nytro all-Flash Isilon) and NetApp's all-Flash FAS.
He says:
We believe Cisco's competitive dynamics against Dell / EMC and HPE / Nimble, as well as .. NetApp's to be-announced entry into the hyper-converged market, will move Cisco closer to Pure.
Pure showed Rakers a chart of cumulative 3-year supplier external storage revenue gains and losses, based on IDC data, which showed it as the outright winner in share gain terms: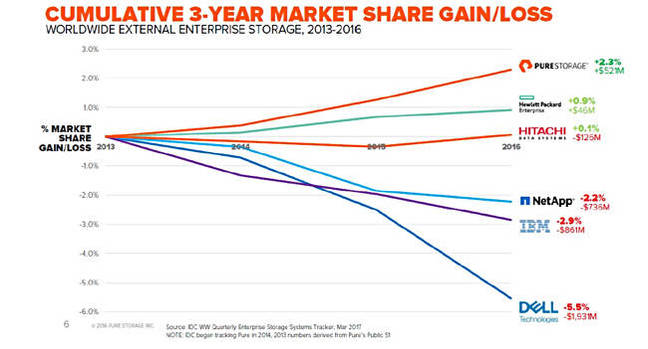 Click image to embiggen it.
Rozo Systems
Scale-out NAS supplier Rozo Systems says the French Alternative Energies and Atomic Energy Commission (CEA) has selected RozoFS as a leading alternative for next generation storage.
Jacques-Charles Lafoucrière, the head of Scientific Computing Complex Department at CEA, was quoted in Rozo's news announcement: "What we found is that the Rozo solution is a good fit for the CEA applications because of its exceptional reliability. Our team was also pleasantly surprised by the high performance delivered on commodity servers."
A nice plaudit but no dollars, or rather euros, yet.
Teradata
Teradata announced its IntelliCloud that provides data and analytic software as a service (SaaS).
It's available with Teradata IntelliFlex, the company's flagship enterprise data warehouse platform that Teradata will deploy and manage in its own data centers, and global public cloud infrastructure from Amazon Web Services (AWS) and later, from Microsoft Azure.
IntelliCloud is said to be 100 per cent software compatible with on-premises Teradata deployments. It's provided on a subscription basis with monthly, annual and three-year options and:
Choice of Teradata Database, Teradata Aster® Analytics, or Hadoop® software from Cloudera or Hortonworks,
Bundled infrastructure services including platform deployment and management, onboarding and provisioning assistance, system monitoring and maintenance, patches and software upgrades, encryption of data in motion and at rest, enterprise-class security, and premier cloud support,
Deployment options spanning IntelliFlex and Teradata appliances in Teradata data centers plus AWS public cloud infrastructure – to be followed later this year by Microsoft Azure and eventually on-premises,
Service availability of 99.9 per cent for infrastructure managed in Teradata data centers,
Analytic ecosystem applications including Teradata QueryGrid, Teradata AppCenter, Demand Chain Management, Industry Data Models, and more.
Veritas
Storage management software supplier Veritas says it has an expanded partnership with Google to provide joint customers with its 360 Data Management product capabilities that reduce data storage costs, increase compliance and eDiscovery readiness and - cue marketing alert - accelerate the customer's journey to Google Cloud Platform.
Get a PDF briefing doc about this here.
Veritas also says it has archiving and eDiscovery support for tGoogle's G Suite Enterprise offering.
Violin Memory
In a final indignity this now assets-bought-out-of-Chapter-11-bankruptcy-supplier is telling customers it can no longer support their Violin arrays. Charity Share is one such customer, and it was told this week: "As a result of Violin's bankruptcy, Violin has determined not to continue providing warranty and support services to Charity Share effective March 6, 2017 … We regret that Violin is no longer able to service and support Charity Share's Violin products, and we sincerely appreciate your patience during this process."
Here's another such letter with the customer name redacted: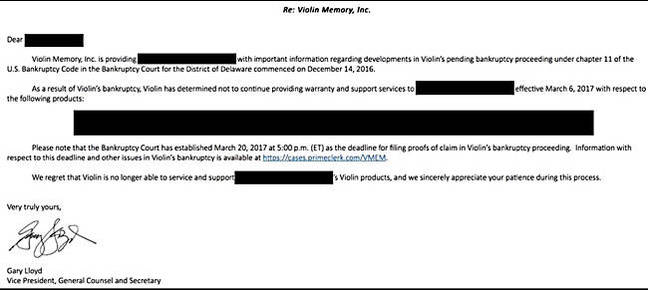 Click image to embiggen it
WANdisco
Corporate Fusion replication software supplier WANdisco, the one with IBM as its reseller, has had a good year.
It added 15 new Big Data and Cloud Fusion customers in the year. Revenue for the year rose 4 per cent to $11.4m (2015: $11.0m). Total bookings for the year increased 72 per cent to $15.5m (2015: $9.0m). Cash burn was reduced to $0.2m in Q4 2016 (Q4 2015: $6.9m) and the company was debt-free as at 31 December 2016. Sales were made for Fusion to be deployed as part of Dubai's Smart City Project through partnership with Hewlett Packard Enterprise, and there was a $1.5m order for Fusion from a major US Bank in association with Oracle.
WANdisco says it has a strong order book and sales pipeline going into 2017.
Western Digital wants to save the world
In one of those oh so worthy fuzzy corporate marketing exercises, Western Digital is partnering up with Global Pulse, the United Nations innovation initiative on big data, to launch the "Data for Climate Action" challenge. The aim is harness data science and big data from the private sector to fight climate change. Data scientists, researchers, and innovators from around the world are encouraged to apply and submit their proposals at DataForClimateAction.org by 10 April 2017.
Western Digital's Dave Tang, SVP and GM of its Data Center Systems Business Unit, issued the sort of bland over-excited quote we've come to expect from such initiatives: "As the world's largest data storage company, we understand the power and promise of data, and are passionate about its use as a catalyst for change." Yep, sounds about right. ®