X-IO is back, and it's only gone full IoT
Melts ISE software from hardware, reveals new product tech
---
Analysis Back in January X-IO was back from a restructuring and refinancing and talking about product refreshes after a downturn in 2016.
Three months later it's ready to talk some more about the fourth generation of the existing ISE/iglu product line and the coming launch of its new Axellio system.
At a briefing we were told that Axellio is no longer just a general-purpose fast-access storage array and is being positioned as an edge processing device, "edge" being an Internet of Things term for an on-premises system handling potentially massive sensor-based data inputs that need processing before data is pumped off to a central system.
So there are three things to look at: (1) gen 4 ISE/iglu, (2) Axellio and (3) product positioning and sales channels.
Gen 4 ISE/iglu
With its two most recent quarters being profitable and with a $10m funding injection, X-IO has been able to simultaneously refresh its existing USE and iglu product lines and fund the Axellio development.
ISE, the Integrated Storage Element, came as a sealed box of disk drives with a five-year operating life. Clever software maintained drive operation through partial failures and the sealed box helped prevent vibration-induced problems.
This all meant that ISE was proprietary and thus ill-suited to an era in which software-defined storage, with freedom from hardware lock-in, is becoming more important.
The entry of flash drives into the product also rendered the disk-drive-focused software tech less important and, with all-flash ISE products, rendered the anti-vibration sealed container redundant.
So generation 4 ISE decouples the software from the hardware and OEM customers will be be able to buy the software on its own to run on their hardware. We understand existing customers should be able to upgrade to Gen 4.
Gen 4 ISE software will also have, at last, deduplication: X-IO's own technology too, based on ideas from Richie Lary, X-IO's chief scientist. We're told it is much faster than other dedupe technologies, will be cost-effective and is patent-pending. Data volumes inside Gen 4 ISE can have dedupe applied or not – customers can choose. We assume this is something to do with saving CPU cycles.
The existing ISE Matrix RAID tech is retained and this has a data layout scheme involving all the drives and speeds rebuild after a drive failure. With the expected inclusion of better drives and processors than gen 3 ISE and iglu, gen 4 should represent a gain in performance.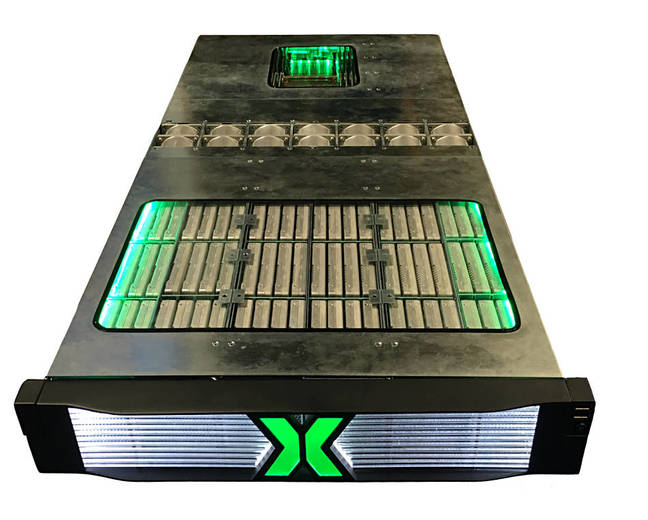 Axellio hardeware
Axellio
Axellio was a developing all-flash array product whose arrival is now looking like the summer. The system has two controllers connected by a PCIe-based HyperFabric and these access data on flash drives. We should think, conceptually, of 2 x 1U servers each fitted with 36 dual-ported NVMe SSDs. These two servers are cross-connected by the fabric to produce, in effect, a twin controller 72 SSD system.
We should think of the system as a converged platform as it will have enough processing power to run application code and be presented as an edge processing server. Axellio will run third-party virtualisation software.
The initial product will be a stand-alone 2U enclosure with 88 cores and dual-socket motherboards. These motherboards will be upgradeable so as to be able to adopt new Intel processors as they arrive. It will feature 8TB SSD, meaning 576TB raw capacity. The plan is to then move to 16TB SSDs and surpass 1PB in capacity.
On the roadmap are a storage-only version and also a scale-out version.
Several units are being tested by beta customers and X-IO says its avoiding some of the issues that killed DSSD, by using Intel motherboards, a non-proprietary network, and off-the-shelf NVMe SSDs, along with a lower price.
Channel approach
The sales channel scheme for Axellio reflects its anticipated use as an IOT edge processor. We should think if uses such as being a packet-capture device in circumstances where regulatory compliance is a must, to meet such frameworks as MiFID (Market in Financial Instruments Directive). Solarflare high-speed NICS were mentioned as a way of capturing packets which Axellio would store in a database and enable immediate analytic routines to be run on them. In effect customers would be able, X-IO says, to store and analyse at the same time.
Cyber-security was a second usage area and X-IO's spokesperson, marketing consultant Gavin McLaughlin, said Axellio would form part of solution stacks in such usages, and so be bought as a solution stack by the end-user and not as a separate component: "We'll go to market with solution providers."
Axellio might be bought by cloud service providers as well. A collapsed Hadoop idea was mentioned as well, with a 100-node Hadoop cluster conceptually distilled down to a single Axellio system with sufficient compute and capacity to churn through the same data faster. Such an approach would avoid extracting data from a store and distributing it across the 100 Hadoop nodes for processing.
This solution stack approach means X-IO will market Axellio to the solution stack vendors and effectively say it's a better mousetrap than alternative server-storage systems. As we understand it, the system won't be sold through a general channel to the general business market. McLaughlin said: "We're not going wide and doing everything."
Apropos DSSD he also said the pricing would be very competitive.
+Comment
The notion of an IoT edge processor is a boon to on-premises IT suppliers threatened by the public cloud, because an edge processor is inherently on-premises. The premise is that the data coming from IoT devices will be such a deluge that it will cost far too much to upload it to the cloud.
An allied idea is that uploading the data to the cloud and processing it there will take time and prevent real-time analytics of the data with a feedback loop to control the IoT devices more effectively. You need far more than a gateway device.
To achieve real time analytics and control/management you need to process the data at the edge and send abridged and processed data to the cloud for later central processing. Bingo – a supplier with a storage-dense fast server is in a pole position to meet this need. Cue X-IO talking to solution stack providers and avoiding the need to have a costly sales channel to make sales in the general business server-storage market. ®