This article is more than 1 year old
Block-stacker Datera cuddles up to cloudy pal, preps for sales push
Hires Flavio Santoni into presidential role
Block storage startup Datera is partnering with Accelerite, and has hired Flavio Santoni as a senior exec in a president's role.
Accelerite is in the enterprise infrastructure game, selling endpoint management and cloud software products.
Datera provides block (SAN) storage on a public cloud, EBS-like basis, and its product is called the Elastic Data Fabric. It runs as software in x86 servers which have flash or flash and disk storage, and Datera sells a range of all flash and hybrid flash+disk appliances if you prefer to buy the whole EDF caboodle from them. Datera says EDF provides provides low latency data access with its flash hardware.
For EDF software purchasers, Supermicro and Dell server hardware is supported now with HPE server support coming.
The company was started up in 2013 and received its first venture capital funding in 2016 with a $40m infusion of cash – an unusual funding pattern. EDF is sold to businesses and cloud service providers and supports DevOps and Cloud Native apps, having a REST API. It runs on scale out hardware, with web-scale economics according to Datera, and integrates with workload orchestration frameworks such as VMWare, Openstack, Docker, Kubernetes, Mesosphere/DC-OS and Cloudstack.
Through the partnership, Acccelerite can offer Datera's EDF through all of its channels.
We're told the firm is the "largest" private cloud technology provider based on Apache CloudStack.
Exec hiring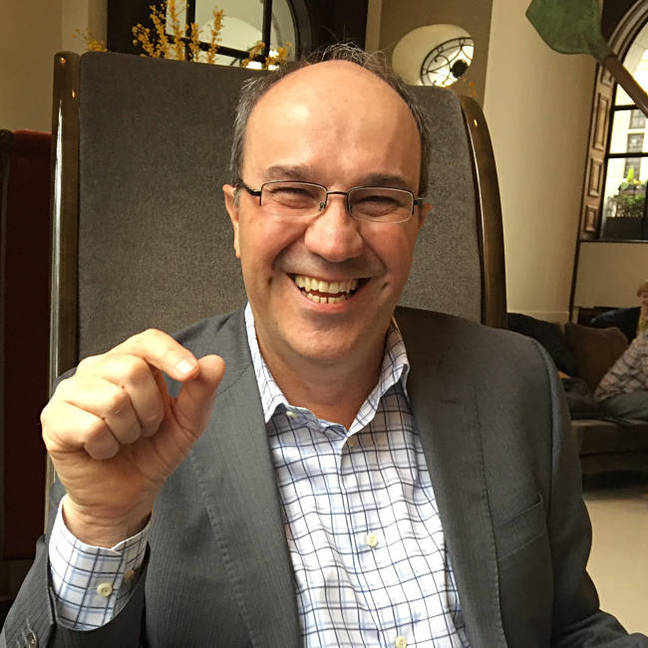 Flavio Santoni
Flavio Santoni has joined Datera, coming from Pazura where he was the chief revenue officer. We understand he has a president's role, effectively replacing Gurpreet Singh who lasted from June 2016 to November 2016 before leaving. Other executives who have joined and then left Datera include:
Chief marketing officer Craig Nunes (October 2015 - March 2016) who went to Datrium,
Chief architect Oleg Kisalev (September 2014 - August 2016), who went to Cerebras,
VP engineering Maurillo Commetto (September 2014 - June 2016), who went to CloudSimple.
Kenneth Chang was hired as head of marketing in 2016, replacing Craig Nunes.
With five leavers 2016 was a bit of a revolving exec door year for Datera.
Selling through partners
Santoni says the cloud business model means you don't need the very expensive sales forces characteristic of classic storage companies: "All classic storage companies are losing money, eg, Nimble." He favours a go-to-market model that does not require Datera to fund and operate a large sales force, and sees EDF being sold through large vendors and partners like Accelerite.
We might suppose large vendors without their own in-house block storage products could be ones like Lenovo and Cisco.
Elastic Data Fabric
With its Elastic Data Fabric Datera claims it has developed the first universal data infrastructure that supports any application, on any platform with continuous delivery and flexible economics – a big claim.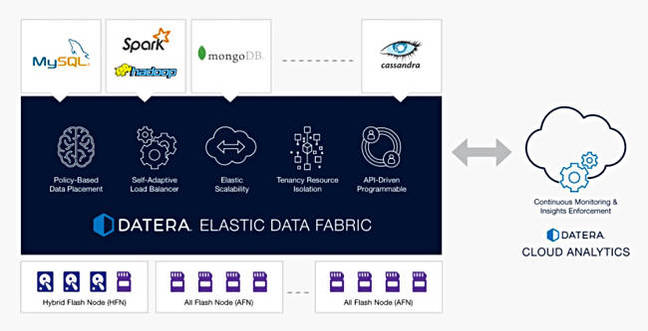 Datera graphic
The software is divided into a control plane and data plane, and is built on a direct-on-disk, log-structured key/value store. EDF features multiple storage media tiers: high performance flash (NVMe), capacity flash (SAS/SATA) or capacity drives (HDDs), and implements these across all-flash or hybrid nodes. Workloads are automatically sent to the right tier. Support for the public cloud as a back-end tier is coming,
Datera says: "Each Datera key/value store incorporates persistent memory (NVDIMMs, NVRAM, and soon 3D Xpoint) that absorbs writes "instantly," coalesces them and then de-stages them sequentially to the flash tier. On hybrid nodes, the flash tier itself serves as a write-back cache, further coalescing writes, and streaming them down to the capacity tier."
EDF "pools the various data tiers in mix-and-match nodes via a novel lockless scale-out coherency protocol. This protocol can multi-path data across any number of nodes in the data centre, thereby aggregating massive amounts of read/write bandwidth to support the scale and speed needed for modern real-time data processing applications."
The control plane is termed a symmetrically distributed one and enables scalability, through node addition/removal, without slowing performance. There is a network-aware policy engine with which; "Application preferences are codified as intents in templates (or profiles or manifests), which the policy engine translates into dynamic policy sets (performance, cost, QoS, availability, replication, snapshots, security, access, authentication, etc.), and adapts them according to their current tenancy and roles at any given point in time."
Data plane
The data plane features:
Thin provisioning, inline compression with inline dedupe coming,
Snapshots and clones,
Replication
Quality of service on bandwidth and IOPS,
Data-at-rest encryption,
Role-based multi-tenancy.
Datera says it authored the industry-standard Linux-IO (LIO) Target Driver stack that adds a full suite of block storage protocols to Linux, including iSCSI, iSER (iSCSI Extensions for RDMA), Fibre Channel, FCoE, and soon NVMe-OF. EDF can "connect through its own industry-standard block storage protocols to any traditional or cloud native workloads, with zero host-side footprint."
+Comment
Pedant alert: a "universal data infrastructure that supports any application, on any platform" that does not support file or object access is hardly universal.
However it's not inconceivable that Datera could add file protocol access and, with cloud backend support probably meaning S3 protocol support then object storage would be covered too.
It seems to us that Datera's EDF software is capable and sophisticated block storage software and that the company wants to spend its money on developing this and the appliances rather than spending some to build out a go-to-market sales infrastructure with regional offices and sales staff and a significant channel.
Get an EDF datasheet (PDF) here. ®