This article is more than 1 year old
Google's stock rating downgraded as YouTube ad boycott contagion goes global
Advertisers, please help us build a better swamp
Google has responded to a contagious YouTube advertising boycott which yesterday prompted a downgrade on Wall Street.
Pivotal Research Group downgraded Alphabet shares from "Buy" to "Hold" based on its response to the boycott, which now includes more than 200 big brands, as well as public sector ad spending. Marks & Spencer and Hargreaves Lansdown became the latest to hit pause yesterday.
The boycott follows a series of reports in The Times demonstrating that Google was running advertisements promoting big brands against jihadi and racist videos on YouTube, the world's second most popular website after Google's search page. Like so: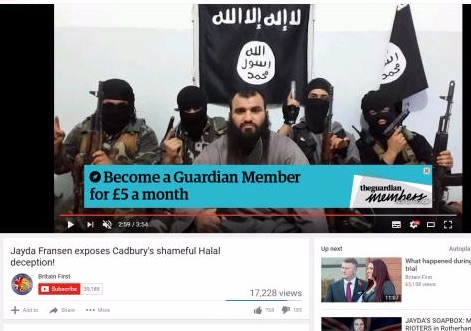 Source: The Times
The boycott has rapidly gone global [paywalled]. The UK is Google's second largest market after the USA, bringing in 9 per cent of Alphabet's revenue, and the only territory where Google breaks out revenue in its financial statements.
Pivotal's Brian Wieser explained he'd taken the decision because Google wasn't taking the problem seriously, and accused it of "attempting to minimize the problem rather than eliminating it, which is the standard we think that many large brand advertisers expect".
It's four years since Google's Theo Bertram promised to "drain the swamp". What's in the latest evacuation?
In a post titled 'Expanded safeguards for advertisers', Philipp Schindler, Google's chief business officer, reiterated a commitment to give spenders more control over where their ads appear. Schindler euphemistically refers to "higher risk content".
Promises include a pledge to tighten up the threshold for "acceptable content" and make exclusions easier.
Speaking at an advertising conference yesterday, Google's European boss Matt Brittin walked a fine line. He simultaneously accepted that "we take responsibility for it" while points out that it wasn't entirely to blame: agencies and brands didn't always "fully" use the controls that Google offered.
Conspicuously absent from the post is any promise about filtering and content removal. The Times team flagged six "virulently antisemitic" videos on YouTube last week but Google ignored the notifications, and left two up even after the newspaper had contacted it again.
Despite strong growth from what Google classifies as "other revenue" (the Android Play Store and cloud licensing), most of Google's income is derived from advertising. "Other revenue" brought home $10.08bn in FY 2016 while advertising brought the bulk of Alphabet's income, $79.3bn. What the company calls "Other Bets" – a category including Nest home equipment and Google Fiber – grossed just $809m but incurred huge losses.
Inappropriate matching isn't the only mortal threat to Alphabet's cash cow. By the company's own research, 52 per cent of its ads are never seen by humans. Read more here. ®