Apple's best products succeed because they solve non-obvious problems.
PCs were too ugly to use in polite company until the iMac came along, and software therefore stayed in back offices rather than in places where it would be useful to interact with a computer. The iPod addressed the fact that while CDs were less fragile than vinyl and infinitely preferable to cassettes, homes everywhere were uglified by the need for dedicated furniture in which store them. The iPhone made us all notice that a fully-fledged computer in a pocket was worth two in the bush (and also worth more than an email-enabled phone).
But what problem does a new iPad without any notable new improvements address? And what problem does a red iPhone solve?
The Register asks because those are the two new products Apple revealed on Tuesday.
The new iPad – it's just "iPad" now, with no number or other gaseous designation – boasts a 9.7in screen at 2048×1536, weighs 469 grams for the WiFi-only version and just nine grams more if you buy the cellular-modem-equipped model. You also get a rear-facing 8 megapixel camera and a 1.2 megapixel front-facing camera. Battery life is said to be 10 hours and you can buy the device with either 32GB or 128GB of memory.
Those specs are all mostly unchanged since 2014's iPad Air 2.
This is, therefore, a bog standard iPad.
So what's new? An A9 CPU gets the job of running iOS 10, instead of the old A8. And the price is way down: US$329 instead of $399.
Which may solve the entirely obvious problem of declining iPad sales.
It also creates an odd problem for those considering an iPad Mini, which as the pricing information we've culled from Apple.com shows is now only available with 128GB memory at a higher price than the new 32GB iPad.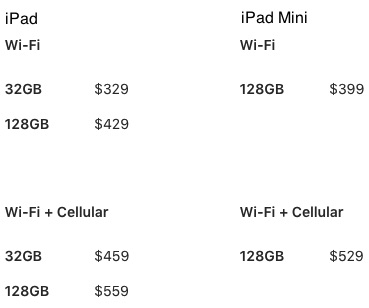 That the iPad Mini now comes in only one configuration suggests another problem: Apple can't shift 'em and has run out of more modestly-equipped models. 128GB and US$399 worth of something way too small for content creation and smaller than comparable content consumption devices hardly sounds like a compelling prospect.
Apple's also extended its collaboration with PRODUCT(RED) to produce a red iPhone 7 and 7s. Some of the proceeds from each will go towards (RED)'s HIV/AIDS testing, prevention and treatment programs. Which clearly helps to address a significant problem.
Apple will take orders for the iPad as of March 24th and open the books for iPhone orders the next day and start shipping them later in March.
The company's also updated the iPhone SE, which now comes with 32GB or 128GB of storage, up from the previous 16Gb and 64GB models. But there's been no change to the SE's innards. ®