This article is more than 1 year old
UK.gov confirms it won't be buying V-22 Ospreys for new aircraft carriers
Also confirms earlier operational date for HMS Queen Elizabeth
Britain is not buying V-22 Osprey aircraft to fly from its new aircraft carriers, the government has confirmed.
"The V-22 Osprey is not part of the resourced plan to deliver the UK Carrier Strike capability," said junior defence minister Earl Howe. "However, the Ministry of Defence will continue to explore a variety of options to augment the capabilities of the Queen Elizabeth Class carriers in future."
Lord Howe was responding to written Parliamentary questions from Admiral Lord West, a Labour peer and a retired former head of the Royal Navy.
Many commentators have speculated that V-22s could be bought by the UK to use for "long-range combat search and rescue" or "long-range high-speed delivery of mission essential spares and stores to the Queen Elizabeth class" aircraft carriers. Yesterday's Parliamentary responses to Lord West will put those rumours to bed.
The Bell Boeing V-22 is a so-called tiltrotor aircraft. Powered by two helicopter-style rotors mounted on the ends of its wings, the Osprey can fly like a conventional aircraft or hover like a helicopter, meaning it can haul heavy loads and deliver them to relatively inaccessible areas. It can also perform air-to-air refuelling duties.
Lord Howe was unable to answer whether the US Marine Corps contingent which will be aboard HMS Queen Elizabeth on her maiden operational deployment will bring any V-22s along with their F-35Bs.
The Royal Navy will be deploying its Merlin helicopters aboard HMS Queen Elizabeth for all airborne jobs that can't be done by the F-35B fighter jets aboard the carrier. These include planeguard (collecting fighter pilots from the sea if they bale out into it), routine personnel transfers and airborne radar surveillance of land and sea.
For the latter, the Merlins will be fitted with the Thales Crowsnest radar and are due to be operational by 2018. The Crowsnest Merlins will replace the Navy's Mk.7 Sea King helicopters, known as "baggers" thanks to the big black sack on the side of them which contains the air search radar.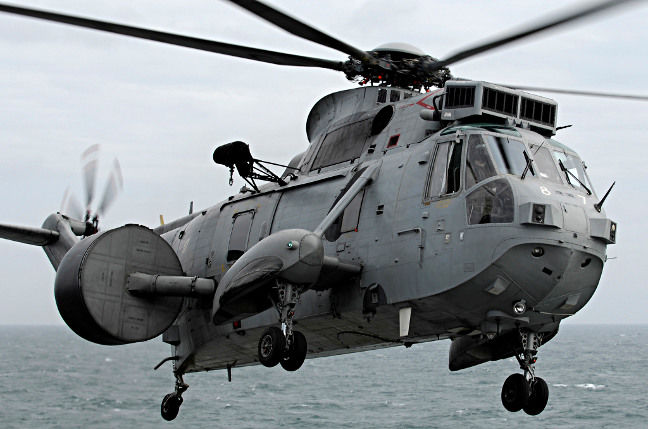 A Royal Navy 'bagger' Sea King Mk.7. Note the radar 'bag' to the left. Crown copyright
Lord Howe also revealed that HMS Queen Elizabeth will reach her initial operating capability by December 2020. Previous promises that the warship would be sailing in March from Rosyth, where she was assembled, to her home base of Portsmouth have not been met. ®