This article is more than 1 year old
Micron making mucho memory moolah
Quarterly results show a boomtown rat raking in dollars
DRAM and flash fabber Micron had a damn good second fiscal 2017 quarter, raking in increased revenues and a $0.9bn profit on the back of strengthened DRAM and NAND prices.
Here are the basic numbers for the quarter, which ended March 2, 2017:
Revenues of $4.65bn were 58.7 per cent higher than the year-ago $2.93bn
Revenues were 17 per cent higher than the previous quarter's $3.97bn
Profits (GAAP Net Income) were $894m, vastly improved from the year-ago loss of $97m
Profits were up 397 per cent on the prior quarter's $180m
Revenue growth was driven by strength across all market segments. CEO Mark Durcan said: "Strong demand and limited industry supply for NAND and DRAM solutions, combined with significant progress on our cost reduction plan, produced excellent results for our second quarter." He thinks Micron will "continue to capitalise on market trends".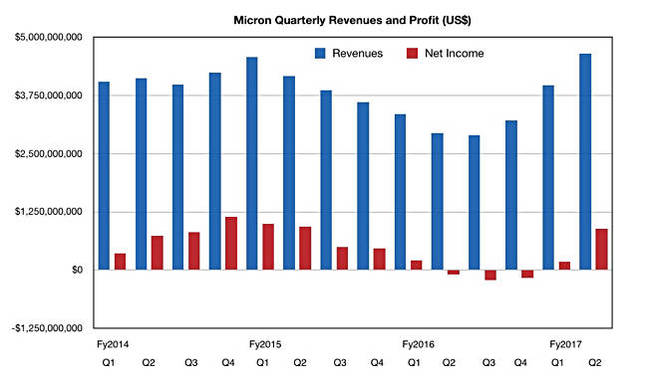 Stifel analyst and MD Aaron Rakers noted Micron "anticipates a 30 per cent increase in NAND bit production in 2HF2017 vs. 1HF2017".
DRAM accounted for 64 per cent of revenues in the quarter and trade NAND sales comprised 30 per cent. The business unit revenues were:
Compute and Networking – $1.92bn
Mobile – $1.08bn
Embedded – $590m
Storage – $1.04bn
Micron said its year-on-year profits growth was primarily due to a 21 per cent increase in DRAM average selling prices and an 18 per cent increase in trade NAND sales volumes. A contribution also came from manufacturing cost reductions for both NAND and DRAM.
It sells product into the compute and networking, mobile device, embedded and storage markets. In the embedded market there was record automotive revenue for the fourth quarter in a row. In storage, enterprise and cloud were the fastest-growing segments of SSD portfolio, with record shipments through its OEM channel.
Micron is spreading 32-layer 3D NAND throughout its product lines and expects meaningful 64-layer 3D NAND output by the end of 2017, and initial 3D Xpoint revenues this year from its QuantX line.
Buying Elpida sent Micron revenues up a great deal and it has successfully navigated a bust period in the DRAM/NAND supply market to enter a boom.
The quarterly revenues chart above shows the trough-like pattern.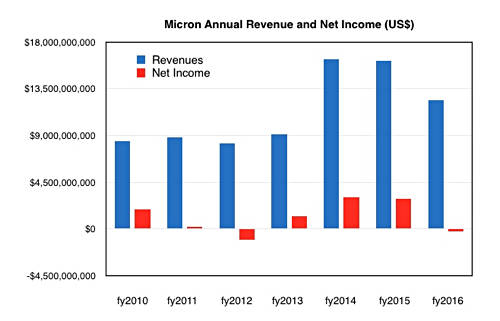 Could fiscal 2017 revenues reach $20bn?
Rakers says: "Micron is guiding F3Q17 (May 2017) revenue in the $5.2-$5.6bn range, significantly ahead of the prior street estimate at $4.74bn. If the midpoint is achieved then, at the nine-month point, Micron fiscal 2017 revenues will be $14bn, well ahead of the full fiscal 2016 revenue of $12.4bn and, potentially indicating a $20bn full year, a record, and a hell of a high for Durcan's departure." ®