This article is more than 1 year old
Supermicro rack-wrangles a fix for a few data centre PITAs
Server, storage and networking wrap
Orchestrating, deploying and managing thousands of servers, storage shelves and switches can provide a persistent PITA*. Server white box supremo Super Micro has a Rack Scale Design (RSD) fix for service providers, telecoms, and Fortune 500 companies dealing with this.
It's meant to enable hyperscale and public cloud-level IT rack resource management by smaller enterprises - ones with tens or hundreds of racks. Super Micro president and CEO Charles Liang said in a prepared quote, "The Super Micro RSD solution enables more customers to build large scale modern data centres leveraging Super Micro's best-of-breed server, storage and networking product portfolio."
This RSD embraces servers, storage, networking and rack-level management software, and is a superset of Intel's open source RSD software framework and the industry standard Redfish RESTful APIs developed by the Distributed Management Task Force (DMTF).
Super Micro says it supports composable infrastructure and enables RSD interoperability among offerings from different vendors.
The problem it's looking to solve is that of stashing thousands or tens of thousands of servers, storage and switches in tens or hundreds of racks, where individually deploying and managing each item is a far too onerous task. Instead, Super Micro says, the unit of focus should be the rack, not the server, storage or switch shelf with, for example, a 1-to-21 server management tool IPMI (Intelligent Platform Management Interface).
With its RSD, a number of racks can be grouped into pods, with pod-level telemetry and maintenance functions. The RSD software enables data centre admins to pool resources in the rack and compose them for different workloads. A composed node is an abstraction for a physical node, like a virtual machine, and it can be provisioned, powered up and managed, and then deleted when its workload is complete.
An analogy to use could be a factory with production lines which can be reorganised to manufacture different products. Similarly a data centre "factory" can be reorganised to run different workloads. Individually tweaking each machine in a factory production line will take too long and be error prone, whereas managing the individual machines in a group is more efficient.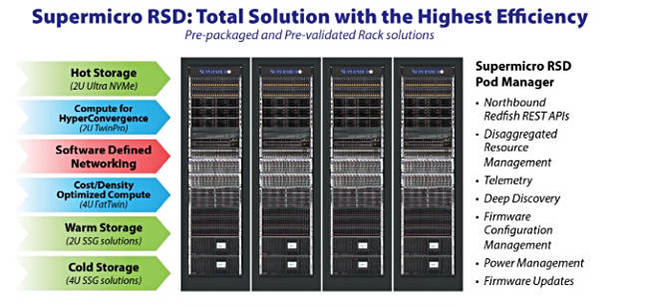 Super Micro RSD marketing graphic
Super Micro RSD components include;
Pod Manager (PodM) sitting at the top of the logical software hierarchy and using the Redfish API to communicate with the pod's rack. It manages and aggregates the hardware resources within multiple Pod racks by polling respective PSMEs and RMMs.
Rack Management Module (RMM) to manage power and thermal resources by polling rack hardware and reporting to PodM via Redfish.
Pooled System Management Engine (PSME); the drawer or chassis manager, which communicates with each Baseboard Management Controller (BMC) in the drawer/chassis and reports aggregated telemetry and asset information through Redfish to PodM.
Web UI - a browser-based GUI for RSD management.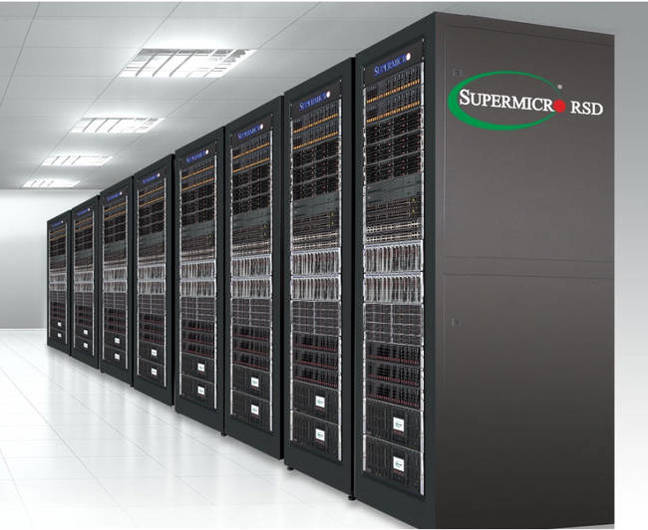 An RSD rack needs to include:
1U management appliance bundling all RSD related software or a software-only distribution,
Two Super Micro 1G management switches for connecting the BMCs,
One Super Micro data switch,
Super Micro X10 and X11 server portfolio; such as TwinPro, BigTwin, FatTwin, MicroBlade, SuperBlade and GPU servers.
Storage choices, such as:

2U Ultra with 24 NVMe drives as hot storage,
2U SSG with 24 SAS drives as warm storage
45 bay, 60 bay or 90 bay JBODs as cold storage.
Through the Redfish support, Super Micro says its RSD can be integrated into Ansible and Puppet data centre automation software or into VMware and OpenStack private cloud software.
The company says its RSD runs on all existing X10 (Broadwell) generation as well as new X11 generation server, storage and networking hardware. It enables customers to independently refresh compute module (CPU + memory) hardware while keeping the remaining server investment intact.
There's more information available here and in a brochure (PDF).
An obvious comparison is with HPE's Synergy composable infrastructure and you can check out a Synergy brochure here.
With Intel pushing the RSD concept, we can expect all x86 server OEMs to deliver RSD facilities, such as Cisco, Dell, Huawei, Lenovo and others. Inevitably HPE will have to play ball. ®
*Pain In The Architecture. Why? What did you think we meant?