This article is more than 1 year old
Inside Intel's Optanical garden
What you see and what you might actually get could differ
Analysis Intel has now had its brace of Optane P4800X SSD and M.2 2280 motherboard card releases and we've learned there is no straightforward performance comparison with equivalent flash product – Intel is eschewing that on the grounds of Optane being a significantly different storage product.
We can agree with that, not having enough factual information to support or counter it, or we can suspect marketing machinations because Optane and its 3D Xpoint media falls short of its original performance billing.
What have analysts and commentators gleaned about the Optane products?
SSD P4800X
First of all, it's pretty clear that the NVMe PCIe interface does Optane no favours, with the coming DIMM memory bus interface product expected to be significantly faster.
Objective Analysis analyst Jim Handy writes, "This interface would limit even an infinitely fast memory technology's speed to about 5‑10 times that of NAND flash behind the same interface ... The memory channel doesn't bog down XPoint's speed with unnecessary I/O protocols."
Performance
We were told that when the P4800X is tested at queue depths of 16 or less, it is up to 10x faster than a P3700 NAND SSD on random reads, up to 3x faster at random writes, and up to 8x faster at 70/30 mixed read/write IOs.
What's queue depth got to do with it? Our understanding is that a NAND SSD's controller has a number of channels between it and the blocks of flash memory. If it is dealing with several requests at once, then multiple channels can be serving these requests and the performance increases because of that.
Intel would say that in the real world, low queue depth operation is normal in the Optane use cases.
The Next Platform reports: "Because of the fact that the Optane SSD can be saturated with a queue depth of 12, the company will be specifying performance at queue depths of 1 and 16 on its spec sheets, and comparisons with NAND flash drives should be done at the same queue depths (it looks like 1, 12, and 16 are the important queues to keep in mind for the first generation of Optanes)."
Our suspicion is that the 3D Xpoint controller does not have such a multi-channel interface. That is why it does not exhibit the same effect and Intel quotes low queue depth (16 or less) performance numbers. The Tom's Hardware report states that "the SSD employs a custom 7‑channel Intel NVMe ASIC that can manage up to four die per channel, or 28 total die." This compares to 16‑channel controllers in enterprise PCIe SSDs.
Intel's P4800X product brief [PDF] tells us:

We see up to 550,000/500,000 random read/write IOPS at a queue depth of 16. The device uses write-in-place technology, and the trad NAND SSD block-erase-then-write process is not used, speeding writes and helping to prolong endurance.
A Tom's Hardware analysis states: "It delivers 5x to 8x the performance of competing SSDs at low queue depths. Mixed random 4K performance with a 70/30 read/write workload measures an impressive 500,000 IOPS, which is far and away the leading performance from any SSD we've covered."
Endurance
Endurance is, frankly, a tad disappointing, with the P4800X having a 30 drive writes per day (DWPD) rating for its 3‑year warranty period, Intel saying this equates to 12.3PB (we calculate it to be 12.6PB, actually).
Using Intel's DC P3700 datasheet, we get a 17 DWPD rating for a 400GB P3700 SSD. Here are the calculation steps to get to its total PB written number:
400GB x 17 DWPD = 6,800GB
6.8MB x 365 days = 2,482TB/year
2,482PB x 5 years = 12.41PB; a little more than the Xpoint-using P4800X
To say the P4800X has "ultra endurance" is stretching a point, in our view.
Tom's Hardware was told by Intel that future P4800X models would carry a 5‑year warranty period.
Price
Jim Handy writes that the expectation for Optane SSDs was that "the new memory should have performance close to that of DRAM and a price close to that of NAND. Instead, what Intel has announced is an SSD whose performance is close to that of NAND flash at a price that is close to that of DRAM."
The P4800X costs $1,520, meaning $4.05/GB at its 375GB capacity. Handy points out NAND costs less than $0.50/GB while DRAM costs under $5.00 for end users; so Optane has near-DRAM pricing at near-NAND speed.
The Next Platform's Tim Prickett Morgan differs, quoting different DRAM prices:
HPE 128GB DDR4 @2.8GHz – $6,500-$7,200, so $50.8/GB to $56.25/GB
64GB module – $1,800-$4,500, so $28.13/GB to $70.3/GB
32GB stick – $1,200, so $37.5/GB
He's not backing up Handy's view at all, and sees lots of head room under DRAM pricing for Xpoint SSDs.
Tom's Hardware reports that Intel's fast P3608 NAND SSD costs about $1.64/GB retail, which provides a floor price for Optane SSDs.
Latency
The P4800X has an under-10μs (microsecond) read latency using a 70/30 read/write workload using 4KB blocks. We don't know what the write latency is. In comparison, the P3700 has a 20μs/20μs read/write latency rating; so the Optane SSD is at least twice as fast in latency terms as the P3700.
Optane motherboard M.2 card memory
Intel Client Computing Group VP and GM Navin Shenoy says that, with Optane memory, "you can power on your computer up to twice as fast and improve overall system performance up to 28 per cent faster, with storage performance up to 14x faster. Applications like Microsoft Outlook will launch up to nearly 6x faster, the Chrome browser launches up to 5x faster, games launch up to 67 per cent faster, and levels load up to 65 per cent faster."
These are comparisons, we understand, against disk drive-based PCs, not ones using SSDs.
Here is an Intel table listing Optane Memory characteristics: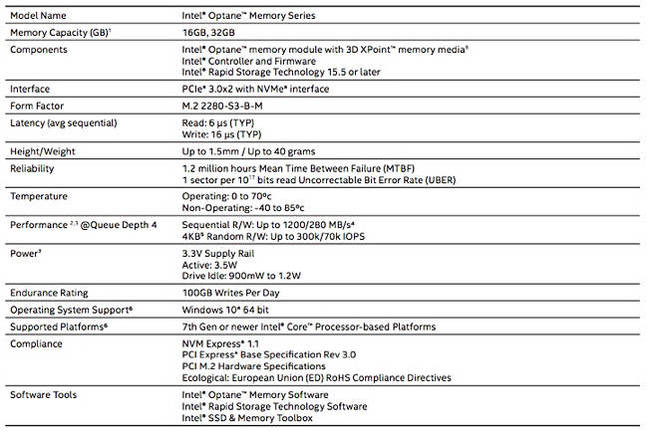 The performance data shows 300,000 4K random read IOPS with a queue depth of 4 and 70,000 random write IOPS. We have 1,200MB/sec sequential read bandwidth and a far, far slower 280MB/sec sequential write bandwidth.
The 16GB unit costs $44 and the 32GB one $77, according to AnandTech; that's $2.4/GB at the 32GB level.
The endurance is 100GB written per day for the 5‑year warranted period, meaning 182.5TB written. Its latency is 6μs for reading and 16μs for writing.
How significant is Optane
A Datera spokesperson said, "Once every decade, the computer industry brings fundamentally new hardware technology to market that transforms how computers are designed, and how we use them to experience the digital world. Ten years ago this was the iPhone, 20 years ago the Internet, 30 years ago the IBM PC, and 40 years ago, Intel basically launched the entire IT industry as we know it today with its first microprocessor. The launch of Intel Optane marks another such seminal moment. Intel Optane is basically persistent memory, and its profound implications prompted us to rethink how data is stored, managed and delivered."
He said: "In the Datera Elastic Data Fabric, Intel Optane defines just another node type: The initial Datera Intel Optane node will be 3TB, delivering more than 1M IOPS at less than 250 microseconds latency, seamlessly blending persistent memory with Datera all-flash nodes and hybrid flash nodes in multiple storage tiers."
Intel Optane with >500,000 IOPS and <50 microseconds latency
Flash with 100,000 IOPS and <500 microseconds latency
Disk drives with 150 IOPS and multi-millisecond latencies
Datera's spokesperson thinks "Storage-as-a-service with memory-class performance is a game-changer for driving the real-time digital business world today and in the future. It heralds new classes of applications, such as in‑memory databases, high-transactional workloads, and real-time analytics environments."
He goes further:
Just as the automobile wasn't just a faster horse carriage, but it transformed transport, lifestyle and urban planning – and the self-driving car will transform them yet again – Intel Optane will be equally transformative for the digital world.
There's a little more: "Datera with Intel Optane will transform the storage world: Together, we can deliver petabyte-scale data infrastructure with memory-class performance as a service, individually tailored to every workload on the fly and at scale. We can drive new digital experiences, such as interactive digital business on demand, real-time insights and immersive information. This is the dawn of the data era."
The "data era" from Datera... got it. ®