This article is more than 1 year old
Samsung Galaxy S8: Slimmer bezels, a desktop mode – and yet another me-too AI pal
And it doesn't explode ... hopefully
Pics Samsung arguably made the best Android phone last year – but it lost any bragging rights by committing one of the biggest consumer electronics PR disasters in history.
The South Korean giant has responded to that exploding battery crisis by doing something nobody expected. It's cramming even more new technology into its Galaxy S8 and S8+ flagship models, which were unveiled today.
You didn't just want a new phone, though, did you? No, of course, you didn't. You wanted a new Gear 360 camera, and a new router for controlling your Internet of Things devices. And your life was empty without yet another data-slurping AI bot reminding you of things.
More practically, the S8 and S8+ support a desktop mode aimed at enterprise users – a mode that is kind of like Microsoft's Continuum and is called DeX. This is basically a physical hardware dock that you plug your handset into, and then you plug your USB keyboard and mice and a HDMI monitor into the dock, and hey presto: an Android desktop computer. The dock has a fan to keep the phone cool while in this mode. We've really gone full circle here.
Samsung DeX window-based UX & USB-C dock is v impressive on S8. Been done before, but never usably well, even by Microsoft #unpacked2017 pic.twitter.com/R8CdrpYLIM

— Ian Fogg (@ianfogg42) March 29, 2017
Meanwhile, the iris recognition tech introduced on the ill-fated Note 7 is also added to the S8s. The handsets' virtually bezel-free curved-edge display introduced two years ago on the S6 Edge is also now the default – there's no flat option.
The physical home button is gone; a portion of the display now doubles up as a pressure-sensitive "button." Given that this hardware button was also used to take photos, it may be missed. While that feature has been taken away, Samsung's "AI" assistant Bixby – which has hurriedly been brought to market – is honored with a dedicated button on the side.
Bixby – the S8 and S8+'s builtin voice-controlled assistant – differs little from Cortana, Google Now, Siri and Alexa. Samsung claims Bix is more context-aware because it's slurping up "your location and habits," just like the others. It's another me-too feature. Bixby can control devices and other tat networked by Samsung's new Connect Home router, which has a SmartThings hub plus Bluetooth 4.1, Wi-Fi, Zigbee, and Z-wave comms.
Bear in mind, only Korea gets Bixby native language support at launch. US English will be added in May and the rest of the world... sometime, whenever.
If Samsung just said "Here's the S8 hardware and we've removed Samsung Touchwiz and scrapped Bixby. It runs stock Android" - they'd win IMHO

— Steve Litchfield (@stevelitchfield) March 29, 2017
Samsung's own Continuum-killer DeX looks more promising: Android tweaked to support keyboard and mouse input, overlapping windows, and even drag-and-drop. Fans of Remix OS already know how powerful Android can be as a desktop replacement – now Samsung will be pitching this at enterprises.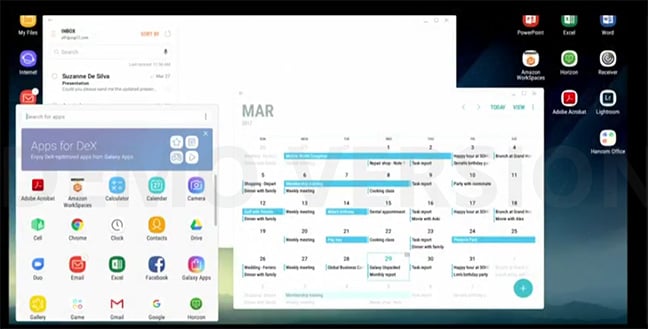 Samsung's answer to Continuum is DeX
The S8 models come with 5.8-inch diagonal and 6.2-inch diagonal displays, both of which are Quad HD+ (1440 x 2960). The models weigh in at 155g (5.4oz) and 173g (6.1oz) respectively, and the base model is a relatively manageable 148.9 x 68.1 x 8mm.
Remarkable how there is bigger screen on S8 with smaller physical footprint when compared with Galaxy S7 edge. #Unpacked2017 pic.twitter.com/HV0G8KEoBF

— Ben Wood (@benwood) March 29, 2017
Both models introduce new Samsung silicon: octa-core chipsets manufactured using a 10nm process. Both models also sport 4GB of RAM, and the non-removable batteries provide 3000mAh and 3500mAh for the S8 and S8+ respectively. You can find all the tech specs here, and in detail here and here.
The price continues to rise: A UK SIM-free S8 costs £689 and the S8+ £779. The handsets go on sale in the US from April 21, and on April 28 in UK and the rest of the world. Early bird orders will be delivered on April 20. ®