This article is more than 1 year old
Windows 10 Creators Update: Clearing the mines with livestock (that's you by the way)
First look at this iteration's more grown-up aspects
Microsoft's big Windows 10 Creators Update platform release is now available if you want it, but the long-promised UX makeover and People Experience feature will wait for a future update to Windows. Probably this year, but possibly not.
The release schedule is complicated. The Creators Update build becomes the default Windows 10 on Windows Update – for consumers and SMEs – on 11 April. But consumers and SMEs are mere guinea pigs these days. For enterprises, there's a separate and more conservative release track of Windows, "Current Branch for Business", or CBB, several months behind the bleeding edge. CBB allows enterprises to deploy the features "after their quality and application compatibility has been assessed in the consumer market," Microsoft once candidly admitted.
It's akin to clearing a minefield with a herd of livestock: consumer users of Windows are the livestock.
"We'll probably start to see piloting and in-place upgrades in coming months," Robert Epstein, director of Windows Product Marketing in the UK, told us today.
Yet you don't have to wait for the RTM release to percolate through Windows Update if you're really impatient. You can grab RTM builds as ISO files via a new Windows Update Assistant tool.
Despite the focus on gaming and 3D – which subsequent reports will cover in much more detail – the build has some useful features for professionals, power users and business.
Anyone who's topped up their mobile data bundle on the go only to find the data swallowed up by background sync processes in minutes – as happened to your reporter recently – will be glad to find that OneDrive is now more aware that it's on a metered connection.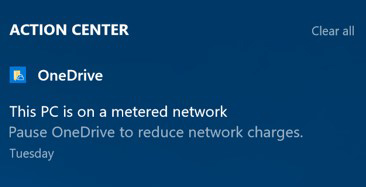 You're less likely to burn through your mobile data bundle without realising: OneDrive now reminds you to pause sync when Windows finds the PC is using a metered connection.
Although not as aware as Outlook, which refuses to sync at all on metered connections. The CU release will warn the user when they're switching from an unmetered connection like Wi-Fi, to a potentially metered connection. If you miss the warning, though, you may still be in trouble.
CU also adds the ability to perform in-place upgrades of a Windows 7 BIOS-based PC to a UEFI-based Windows 10 setup. Previously migrating a BIOS PC to use UEFI required a reformat. No longer.
Also useful to businesses is the ability to manage a guest PC's apps without taking full control of the device via MDM software.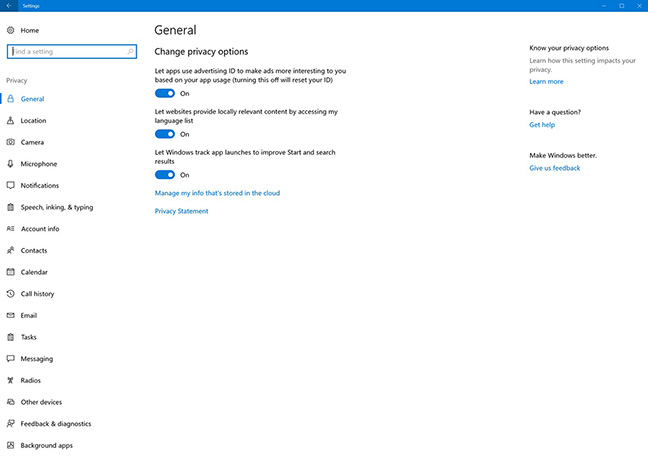 Enhanced Privacy controls in Windows 10 Creators Update – click to enlarge
All users get a much improved Privacy panel, allowing the user to see which apps have access to each capability such as location or microphone, and block them. Data that Microsoft stores in the Cloud can be deleted much more easily now.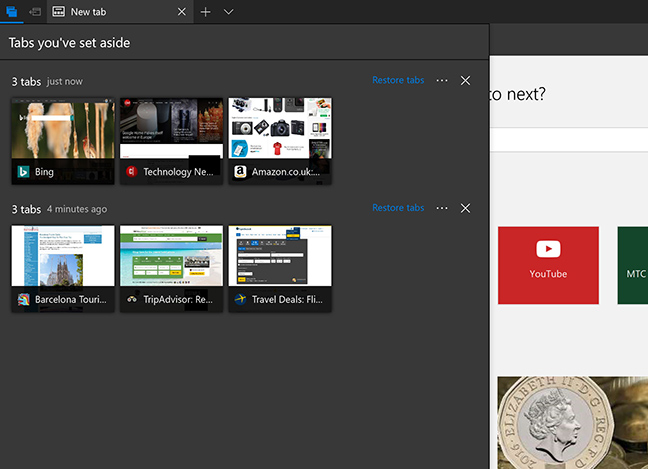 Tab or Bookmark "collections" come to Edge, leaving your tab bar less cluttered.
Microsoft is also touting Edge enhancements including tab previews and a handy-looking "collections" feature – sets of bookmarks, really – and a new night mode. Under the hood, the neglected Wallet API gets a long overdue overhaul. And Microsoft copies a feature that some Android and iOS users will be familiar with, whereby one device such as a wearable can unlock another device, such as a phone. Microsoft's take on this comes via the Windows Hello authentication. We'll see how widely this is supported soon.
Our forthcoming hands-on will preview the more eye-catching features – Paint3D is now an easy to use 3D modelling package – but that's the grown-up stuff for now. ®