Fibre Channel switcher Brocade has introduced its second 32Gbps (Gen 6) switch called the G610.
With an 8 to 24 port range, it slots in below the now one-year-old G620 and its 24 to 64 ports. Its role is to function as an entry-level switch for small shared storage fabrics to edge deployments in larger ones.
Brocade has also enhanced monitoring capabilities with VM Insight, which tracks the health and performance of individual virtual machines (VMs) within the storage network using the Brocade fabric. The G610 has integrated sensors that provide admin staff with VM stats and help them, Brocade says, identify abnormal VM activity.
Gen 6 Fibre Channel runs at up to 32Gbps, which is the next speed increase in the standard over the existing 16Gbps version, Gen 5. Conceptually the G610 is the Gen 6 equivalent of Brocade's existing Gen 5 6505 entry-level switch. Brocade says the G610 is s easy to use and install, with a point-and-click user interface and built-in NVMe capabilities.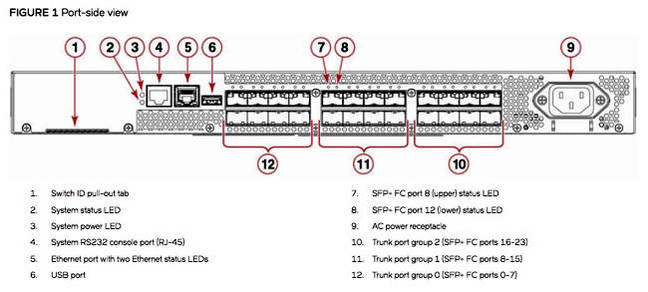 G610 port-side sketch
Here is Brocade's Fibre Channel switch lineup:
Gen 6 FC (32Gbps)

G610 – affordable 8-24 port
G620 – powerful 24-64 port

Gen 5 FC (16 Gbps)

6505 – enterprise-class entry-level 12-24 port
6510 – mid-market 24-48 port
6520 – dynamic workload 48-96 port

Gen 4 FC (8 Gbps)

300 – entry-level and edge 8-24 port
From this table we should expect a 64-96 port-class Gen 6 FC product, perhaps with a 64-128 port range, possibly to be called G630.
HPE is shipping the G610 switch, branded as its StoreFabric SN3600B Fibre Channel switch. Dell issued a supportive quote for the G610 and VM Insight release, as did Cavium (which bought QLogic), Fujitsu, HDS, Huawei, Infinidat, Kaminario, Lenovo, NetApp, Nimble, Pure Storage and Tegile.
Get yourself a G610 data sheet here and tech specs here. The switch and VM Insight are available through Brocade's channel partners now. ®