Creators Update gives Windows 10 a bit of an Edge, but some old annoyances remain
Looking at all the new features and highlighting the best of 'em
---
Hands-on Windows 10 was launched on July 29, 2015, just over 18 months ago, consigning the Windows 8 experiment to history and introducing the idea of "Windows as a service" – or in other words an operating system that (with a few exceptions) updates itself whether you like it or not.
Now here comes the Creators Update, or version 1703, the biggest feature update since the July 2016 Anniversary Update.
So what is new? There is a lot packed into this release, much of it nothing to do with creators. If you have more than 3.5GB RAM, for example, Windows 10 will now use a separate process for each service (background processes), so instead of a list of unlabelled SVCHOST processes in Task Manager, you now get a list showing which service belongs to which process. It is a techie feature that will not matter to most users, but illustrates how Microsoft is constantly fine tuning and mostly improving the guts of Windows.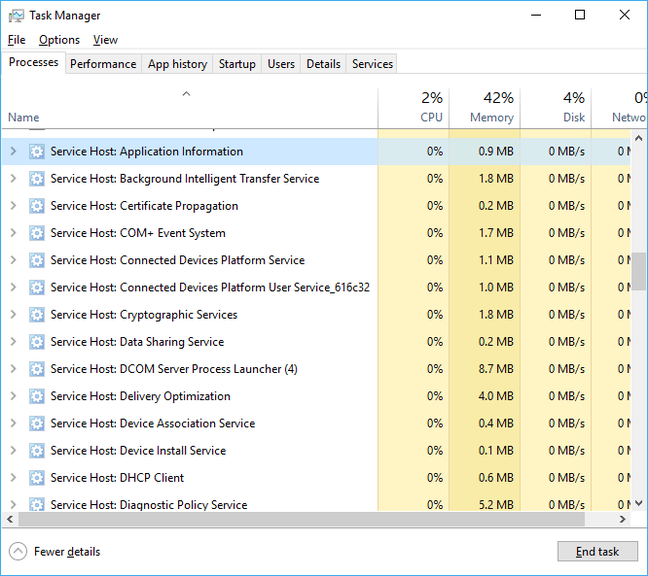 Services now each have their own process
At the end of this piece we have listed the main new features, which will give you an idea of the scope of this release, and includes features which there is no space to cover in detail. But how is it in practice?
The overall impression, from using "Insider" preview builds over the past few months, is that Windows 10 is gradually becoming more refined, more what it should have been on first release. While the operating system remains something of an odd hybrid, because of the differences between the modern UWP (Universal Windows Platform) applications/settings, and the old-style desktop applications and Control Panel, the difference is becoming less jarring as the UWP platform matures.
That said, there are no fundamental changes here, and annoyances remain. The Windows 10 Start menu, which evolved from Windows 8, remains infuriating in its unreliability when you simply type in a search and expect it to find an installed application; sometimes it does not. The way Microsoft has tied together Start and Cortana is unfortunate; one is a key navigation utility for the operating system, the other a digital personal assistant, and if you do not want the latter it just gets in the way.
There is no fix for issues like the Calculator app appearing absurdly large on desktop displays, and the long-promised OneDrive placeholder feature removed from Windows after version 8.1 remains absent.
Annoyed by ads in File Explorer? Buried in options is a checkbox for "Show sync provider notifications", and unchecking this should tame them. The obscure name of the option, and its buried location under Advanced Settings, suggests that Microsoft is happy for most users not to find it.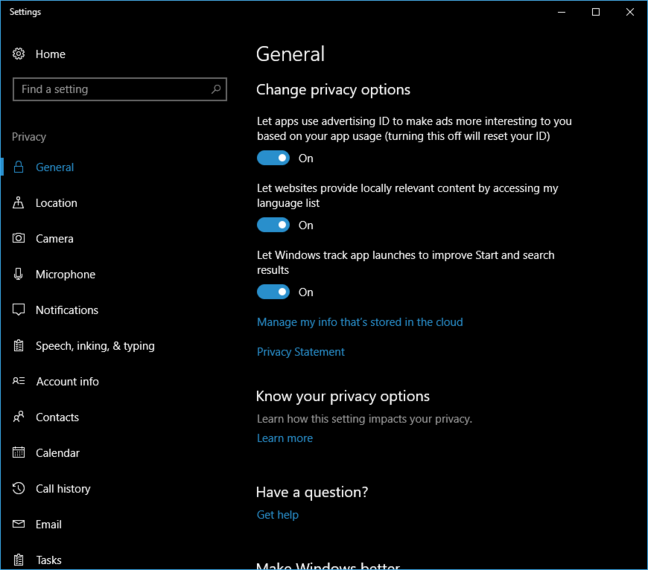 Privacy options are many; good luck navigating through them
Privacy and Windows 10 is a hot topic. By default Windows analyses your speech and typing under the heading "Getting to know you", sending data to its cloud as it does. This is commonplace in mobile swipe keyboards, but difficult to adjust to on a desktop operating system, particularly if you use keyboard and mouse and get little benefit.
The other side of this coin is the tech industry's general belief that personalisation is the key to making computers and the internet radically more useful, through both individual customisation, and general learning from aggregated data. Google is the master of this art, but Microsoft is keen to catch up, applying the concept to businesses in Office 365 as well as to individuals in Windows 10. There is no simple opt-out; instead, a huge and intimidating set of options in the Windows 10 Privacy settings.