Creators Update gives Windows 10 a bit of an Edge, but some old annoyances remain
Looking at all the new features and highlighting the best of 'em
---
Improving Edge
Microsoft has made a big investment in the Edge browser with this release. The company made a mistake with Edge, pushing it hard in the Windows 10 launch when it was not really usable. Users turned to other browsers, and it will be difficult to win them back.
I have been using Edge as the default browser for some time, and the experience is now pretty good. New in this release is book reader support (Epub and PDF), with a read-aloud option, and a feature called set-aside tabs, which lets you park a set of tabs for future recovery. You can also pin tabs to a top taskbar, collapsed by default, as a kind of visual favourite. Download options now include "Run" for executable files (the initial release did not even have "Save As"). Adobe Flash content will by default prompt you before running.
HTML 5 compatibility is slightly improved. Edge 14 (Anniversary Update) scores 460 in this test whereas Edge 15 (Creators Update) manages 473 out of 555. Edge is behind Chrome 52 (492) but ahead of Firefox 48 (461) and well ahead of Safari (383).
Extension support has been in Edge for a while but with limited take-up. I counted just 23 Edge extensions in the Store at the time of writing. There are a few big names: Amazon, Pinterest, LastPass and AdBlock, for example.
New in this release is Mouse Gestures, a Microsoft extension that lets you control the browser with a quick gesture. Despite the name I had limited success with a mouse, since it requires right-click, which is often used for something else. On The Reg site, for example, it works best if you use the dead space in the margins.
The Edge browser is decent, though it will not be easy to win market share from well-entrenched competitors, particularly Chrome, and compelling Edge-only features are hard to find.
Other features
Game Mode in Windows 10 reduces background activity during full-screen game play. It uses similar technology to that in Xbox One. The concept is good, but note that it is more about consistent performance than measurable improvements in frame rate.
Dynamic Lock lets you pair your PC with a device such as a phone, and have it lock automatically if you wander away with your phone but not your PC. It works, taking around 30 seconds to lock the screen, though that is more than enough time for something to take your place at the desk. That seems to override the dynamic lock.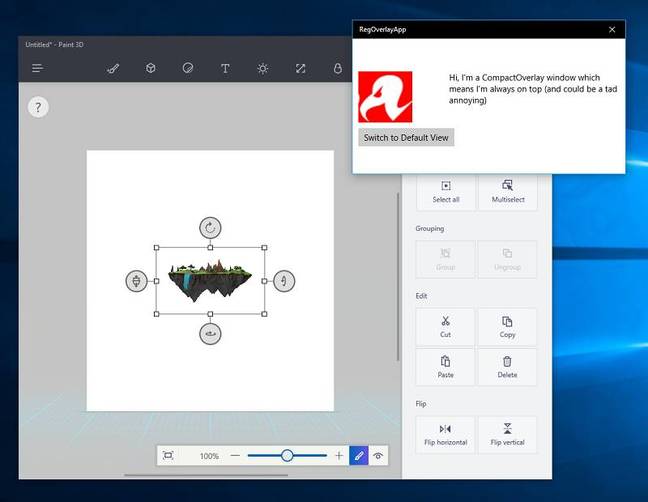 Compact Overlay, or picture in picture, is designed for things like chat applications and allows small always-on-top windows
A new option in the UWP is called Compact Overlay, or picture-in-picture. This lets developers have apps show in a small always-on-top window while you are working in another application. It is intended for things like chat applications, but note that always-on-top can be abused by developers.
The Photos app is improved in this release, with support for ink annotation, a new "Light" theme, and slightly improved editing tools.
Ease-of-access support is upgraded, with an option for mono audio (useful if you have just one earbud in use) as well as built-in Braille narration, when combined with third-party software.
A new Storage Sense option will automatically attempt to free up space when enabled, by deleting temporary files or files that have been in the recycle bin beyond a set time.
Paint 3D is a new application for 3D modelling. Thankfully Microsoft changed its mind about making it the default to replace Paint, but it is a nice freebie for those with the skills to use it.
Windows Defender, the built-in anti-malware tool, is more visible in this release, with an icon in the notification area and a revamped Security Center.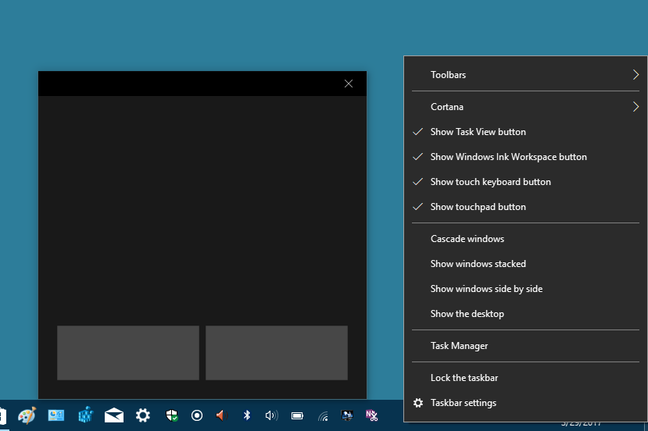 A virtual touchpad for external displays
Tablet users now get an optional virtual touchpad for external displays.
List of new features
Action center shows download progress for apps
Auto Numlock when typing a PIN
Beam Streaming: new FTL streaming protocol, start broadcasts from Game Bar
Braille support (in Ease of Access settings)
Compact Overlay mode ("Picture in Picture") for UWP applications
Cortana "pick up where you left off" feature
Custom color accents in color settings
Download Windows 10 themes from Store
Dynamic lock: lock PC automatically when paired phone is not connected
Edge browser: many new features
Epub support in Edge and Book section in Windows Store
Game Bar (Windows + G) – quickly record, broadcast or snaphot images from current game
Game Mode – optimize PC for gaming
Gaming section in Windows settings
Improved Hyper-V admin client with zoom and auto-resize options
Mono audio (in Ease of Access settings)
More touchpad gestures, eg create or remove virtual desktops
Narrator improved with form field navigation (Ease of Access)
New icons for Windows Update and Share
New inking features including left-handed option
Night Light option in Display settings
Option to install apps from Store only
Paint 3D application
Photos app: many new features
PowerShell more prominent eg in Windows-X menu
Protractor tool in Sketchpad app
Redesigned camera app
RegEdit has new Address Bar, for easier navigation
Separate process for each Windows Service on PCs with enough RAM
Start menu: show or hide app list
Storage Sense setting automatically frees space
Toast notifications support progress bars
Troubleshooting option in Modern settings
USB Audio 2.0 native support
Virtual touchpad for external displays
Windows Defender new notification icon and security center
Windows Services for Linux improved, Ubuntu Xenial by default
Windows update no longer reinstalls removed applications
A worthwhile upgrade
A version of Windows for Creators? That is doubtful, though 3D enthusiasts will welcome its greater visibility in this release, and there are some nice improvements for pen users. But some of the best features of the Creators Update are the most hidden; the improved Windows Subsystem for Linux for developers and power users; services each in their own process; an address bar in RegEdit; Storage Sense for automatically freeing space (though this is off by default), and other small but important changes.
Windows 10 is maturing, and this is a strong upgrade, even though annoyances remain. ®