Dell EMC canning XtremIO file services project
FluidFS frozen as XtremIO roadmap refocuses on block
Dell EMC is halting development of file services on its XtremIO all-flash block access array.
According to Sam Grocott, SVP for product marketing in the Storage and Data Protection division, Dell's customers said they didn't need another system supplying file services from Dell EMC, as they were already well served with file services on the VMAX, Unity and Isilon arrays.
In line with Dell's focus on simplification the company is therefore stopping XtremIO file services development and moving a large chunk of the Fluid FS team from XtremIO to the mid-range storage team. There will be some layoffs.
The XtremIO array developers will focus on its primary uses cases of VDI, VSI and test/dev where its storage efficiency technologies such as deduplication and copy data management are important.
Grocott said there will be exciting news about XtremIO developments at Dell EMC World in Las Vegas next month, and the roadmap is solid.
+Comment
Another piece of engineering nipping and tucking sees file services for XtremIO abandoned. Last month the company stopped work on its DSSD array.
File services will be strengthened on Unity, Isilon, the SC series and VMax but XtremIO will stand outside this file-serving quartet as a best-of-breed block access array.
Stifel analyst Aaron Rakers has noted that sales of flash-retro-fitted arrays, such as NetApp FAS arrays fitted with flash, have recently overtaken the flash-only new design array (flash-optimised in his terminology). He has charted this, using Stifel and IDC data, below left.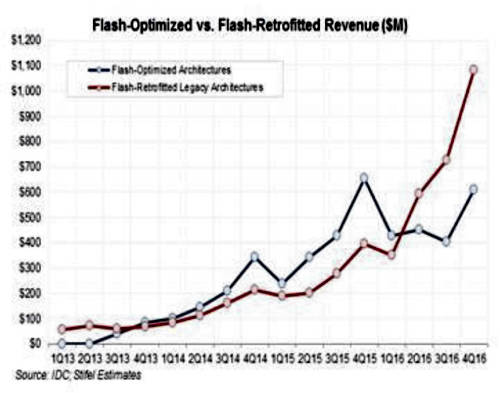 He has also charted quarterly sales by vendor of flash-optimised arrays, such as Dell EMC's Xtremio product, below right.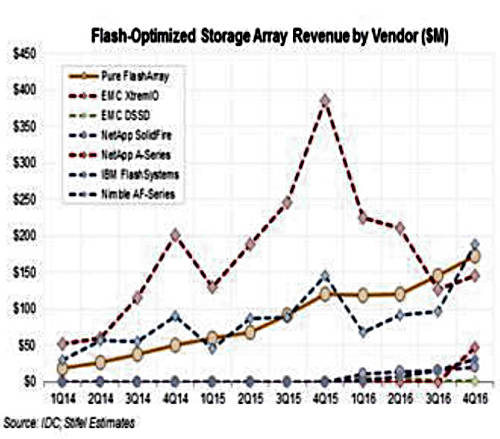 The chart on the right shows us that sales of the once-leading XtremIO array have fallen below those of IBM's Flash System and Pure's Flash Array. Below these top three we find NetApp's A-Series and Nimble's AF-Series.
What we are probably seeing here is a boom in legacy disk drive array refreshes with vendors retro-fitting flash hardware and flash-optimised software to these arrays with their enterprise data services. Sales here are outstripping their new design all-flash arrays, and EMC is seeing no general customer requirement for adding file services to its XtremIO array.
Indeed we can go further and suggest that, unless a new-design all-flash array becomes a viable general-purpose data storage platform it is condemned to be a best-of-breed niche product for certain use cases; which is what XtremIO is becoming. ®