Teenagers think Doritos are cooler than Apple
Junk food, Android and Chrome do well in Google-sponsored survey
---
A Google-sponsored study into how teenagers view brands has some bad news for tech companies desperately wanting to be cool. While YouTube takes the (dubious) prize by a considerable margin, Apple lags behind junk food favourites Doritos and Oreos, "the world's favourite cookie".
Android emerges ahead of Beats by Dre, for which Apple forked out $3bn in 2014 as the baby-boomer brand sought to acquire some street cred. Perhaps Apple should have bought PepsiCo instead. And another brand that strives for youth credibility, Brooklyn-based Vice Media, fares even worse. Vice is valued at over $1bn and in 2013 received $70m from Rupert Murdoch's media empire for its purportedly unique ability to reach millennials who don't use other media. But 13 to 17-year-olds rank it as very uncool – as uncool, in fact, as the Wall Street Journal and Yahoo!.
Google itself is at No.1 (YouTube) and No.3, behind Netflix, just ahead of Xbox, GoPro and PlayStation. In a sponsor-pleasing gesture, the GenZ-ers put Google's Chrome as the tenth-coolest brand surveyed. Which is nice.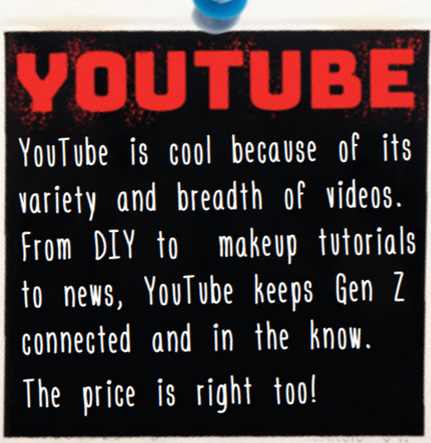 At times, the Google-sponsored study reads like an advertisement for Google
In other tech humiliations for Google rivals, Sony ranks behind Best Buy. Microsoft does surprisingly well, WhatsApp and Facebook Messenger surprisingly poorly, although with over-18s both are popular.

The report has unsurprisingly been criticised as a Google-sponsored exercise in promoting Google products, but then who are we to judge?
If you think the title of Google's survey smacks of Dad-at-the-Disco desperation – It's Lit: A Guide To What Teenagers Think Is Cool – brace yourself for worse inside [PDF]. ®