+Comment Vexata is a stealthy storage array startup with a product technology that it has been telling people is "25 times faster" than arrays from leading rival vendor and VC favourite Pure Storage.
That's the claim made in pre-stealth emergence material, anyway. We have no product against which to measure performance data. The VCs who have funded Vexata will have been given more detailed information, but The Register has not seen that.
Pure, of course, has its own faster arrays coming, as we've written about here previously.
Vexata's founder and CEO is Zahid Hussain, ex-SVP and GM at EMC, former engineering VP at VMware, an Entrepreneur in Residence (EIR) at August Capital, and previously VP engineering at Brocade.
The company is based in San Jose. Pitchbook says it was:
Founded in 2013
$5m A round in Feb 2014
$22m B round in Sep 2014
$22m B1 round in July 2016
That's $49m in total, before emergence from stealth, and the pattern and amount of funding indicates hardware development to El Reg. The investors are Lightspeed, Intel Capital, Mayfield and Redline Capital Management.
Lightspeed's website says: "Vexata delivers data systems that empower businesses to operate faster and smarter than ever before. Our solution eliminates the need to rewrite applications, adjust provisioning and performance knobs, add caching or memory grids, or deal with complex monitoring and troubleshooting. Simply and easily deploy Vexata systems into new or existing data-intensive environments and enjoy unprecedented data velocity at massive scale."
Intel Capital's says: "Vexata is an early stage company developing a disruptively high performance system for analytics, IoT, and database applications."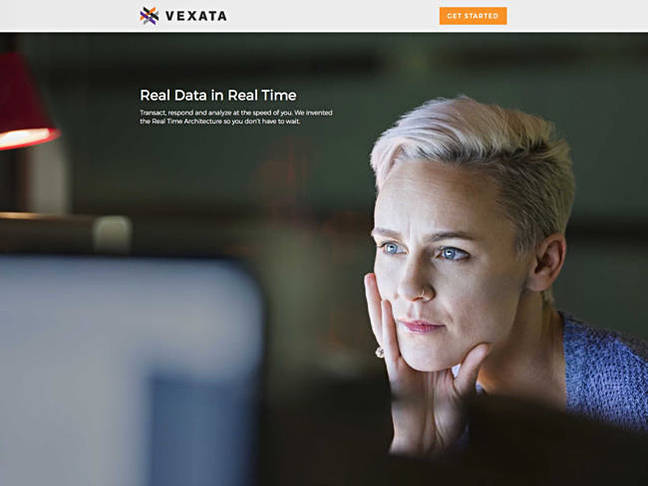 Vexata website landing page
Vexata's own website talks of real data in realtime and a document we have seen says it's developing an improvement in data velocity at scale, using a distributed software architecture and high-performance networking. The company claims it will deliver a more-than-10-times higher throughput and lower latency at better cost than today's leading storage all-flash array products.
The Vexata website trills: "Transact, respond and analyze at the," er, "speed of you," adding, "We invented the Real Time Architecture so you don't have to wait."
It says its technology means you can "scale capacity and throughput on-demand, without disruption" and "plug and play into your existing environment. No re-architecting, tiering or tuning."
The startup claims the array's latency has "unmatched response time across large data sets," is fabric-attached, supports the latest flash and storage-class memory SSDs, indicating NVMe drives and, in the future, 3D Xpoint SSDs and DIMMs. It also has "enterprise availability, data protection and data services."
NVMe SSD characteristics are listed as:
200 microsecs latency
45GBps read bandwidth
15GBps write bandwidth
7 million IOPS
The fabric-attached point refers to Fibre Channel if a Vexata quote on Brocade's 32Gbps Fibre Channel announcement is taken at face value: "Vexata's mission is to deliver a fast, simple and transformative data infrastructure for all modern applications. With Brocade's Gen 6 Fibre Channel solutions paired with Vexata's Real Time Architecture, enterprises will have access to the most efficient shared data storage infrastructure at a performance never seen before. In addition, the Vexata array is being fully qualified with Brocade's Gen 6 Fibre Channel portfolio providing customers the confidence that they are deploying the most modern data infrastructure available today."
Vexata's array supports Oracle, KX, SQL Server, DB2, MySQL, Splunk, Postgres SQL, SAP, Aerospike and SAS, which makes it seem like a general-purpose data access accelerator. The developing technology has been tried out at several customers and, we understand, the fastest SAS analytic benchmarks ever run were seen by one customer. Another thought the developing Vexata array's response times and throughput must have been misrecorded – they were so fast. Records have been set on a SQL Server data warehouse analytics run and a software build process ran ten times faster.
Reg comment
The NVMe SSD characteristics Vexata quotes are ballpark. An Intel DC P3700 NVMe SSD has 200 microsec read access latency, different write access latency, and 2,800/2,000 MB/sec read/write bandwidth. We don't get told by Intel what its IOPS rating is. El Reg thinks Vexata may be quoting numbers it has obtained directly from an SSD supplier.
Pure doesn't use NVMe SSDs yet but it intends to in the not-too-distant future.
We might imagine that these kinds of results could prise cash from VCs. It seems that this is a DSSD-class product, recently killed off by Dell – but with data services, a more affordable price point, and the ability to run in existing IT environments by using, for example, Fibre Channel.
The presence of a Vexata quote in Brocade's latest Gen 6 Fibre Channel switch release suggests the company will emerge from stealth later this year. If it can deliver on the claims above then we could be about to welcome the latest and greatest storage array to our shared storage world. If it can't then there'll be another headstone in the storage technology graveyard. ®