Eyeo, the German company behind Adblock Plus, has acquired Flattr, the online tip jar operation co-founded by Peter Sunde, of Pirate Bay infamy. The two companies already had a formal partnership.
"Flattr makes micropayments automatic and effortless, thus it will be the most user-friendly payment solution on the internet. Together, constructive ad blocking and Flattr complete Eyeo's vision of putting users in control of an internet that is fair and still profitable," said Eyeo's Till Faida in a canned statement.
The company explained that:
For the first time ever, users will be able to pay any website they visit with just one single account. Implemented as a browser extension, the new Flattr will completely eliminate the pain of entering payment data and check-out processes.
The acquisition price was not disclosed.
Publishers have begun taking countermeasures against the rise in ad-blocking software by withholding content from users who block ads, while the ad industry has responded by attempting to standardise the use of less user-hostile advertisement formats, like LEAN.
However, given the continuing profusion of self-playing video on full fat websites, and intrusive popups on mobile sites, there's little evidence of that noble initiative bearing fruit yet. While there are signs recently that the growth in ad blocking has reached a plateau, any further growth could imperil advertising-based content, some warn.
Eyeo was compared to a "modern-day protection racket" by former UK culture minister John Whittingdale last year, as its "business model" (sic) invites publishers to buy a way through its ad-blocking software. In effect, Eyeo was creating a "paywall" of its own, keeping 100 per cent of the revenue.
Flattr may help soften the perception that it's both creating the disease and profiting from the cure. But it's questionable whether Flattr helps achieve that. The appeal of Flattr to publishers, who can quite easily put up a begging banner (like The Guardian does) or a tip jar widget of their own, appears to be negligible.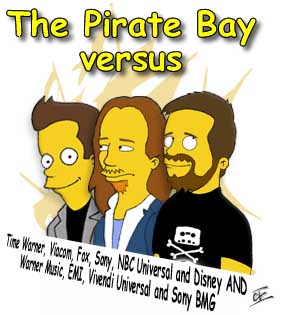 The Pirate Bay eulogised with Peter Sunde, left. Such eulogies generally omitted the site's largest shareholder
Sunde was the winsome public face of Pirate Bay for many years during court battles with the Swedish entertainment groups, and performed most of the PR duties. The operation, however, was bankrolled by a neo-Nazi sugar daddy, Carl Lundström, the largest shareholder in The Pirate Bay.
Flattr makes a donation button by which users can voluntarily contribute cash to a website. It then keeps a sum, originally said to be 10 per cent.
Digital wallets make perfect sense in the fragmented world of publishing. Imagine shopping in a supermarket and having to take each item to the till individually: every box of teabags, every pack of loo roll, and every bag of peas. Yet publishers demand just that from digital media users, and then wonder why subscriptions aren't higher. A well-implemented "wallet" would also be more granular than an all-or-nothing subscription paywall.
However, for the model to work it will take someone more informed or serious about the future of news in a civil society than Eyeo or Flattr have so far shown. ®