This article is more than 1 year old
Teradata flashifies its data warehousing box
Adds entry-level product, support for Hadoop and its own DW.BI software
Data warehousing and business intelligencer Teradata has an all-flash Intelliflex product and a ready-to-run entry-level IntelliBase offering.
Intelliflex is Teradata's flagship enterprise data warehouse platform. Teradata appointed a new CEO, Victor Lund, in May last year to revitalise its fortunes after prior missteps, and these two announcements are evidence of his work.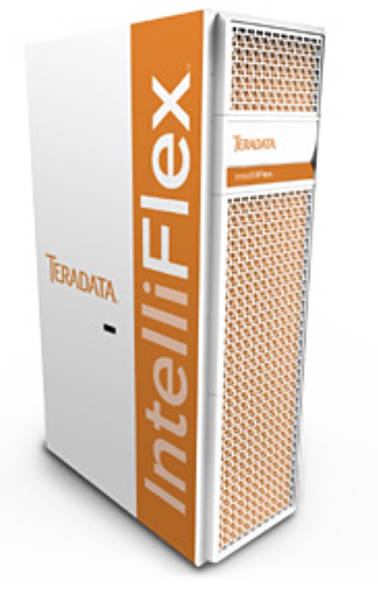 This updated version of the Intelliflex product features:
Dual 18-core Intel Xeon CPUs
Up to 14 active nodes, 230TB of uncompressed user data, and 14TB of memory in a single cabinet
It can run data warehouse analytics up to 4.5 times faster than before.
EVP and chief product officer Oliver Ratzesberger had a prepped quote: "Our customers are experiencing unprecedented growth in their advanced analytics needs and now require massive gains in their data warehouse compute power. By transitioning to all-SSDs we now provide an all-memory appliance capable of delivering up to seven times the compute power per cabinet of our previous product."
It also has, he claims, "rapid performance elasticity that is simply unmatched in our market". Customers will get "more performance, more storage, and more memory in the same footprint, and at half the energy consumed per unit of performance delivered". Sounds good, and let's hope the price/performance has improved as well.
The IntelliBase product is a so-called all-in-one engineered product for entry-level data warehouse and analytic needs. It uses commodity, off-the-shelf components, and is reconfigurable – a compute node used for Hadoop can be converted to run Teradata Database work.
Teradata says it features:
Dual multi-core Xeon E5-2620 v4 8-core processors
Teradata BYNET v5 connectivity over 40Gbps InfiniBand network
Up to 18 nodes, 375TB of uncompressed user data, and 18TB of memory in a single cabinet
Up to 3.2TB flash/node and 38TB/cabinet
Single-vendor support for Teradata Database, Aster Analytics, and Hadoop
Support for Teradata ecosystem enabling applications: QueryGrid, Unity, Data Mover, Ecosystem Manager, Viewpoint, Listener, and others
Software re-imaging so HW can be redeployed
Both products are offered on-premises, and with its incoming IntelliCloud, and running the same database software so customers can get a hybrid Teradata experience.
+Comment
The move to all-flash and faster x86 processors look like no-brainers and should speed the Teradata boxes significantly. Its customer base could well lap them up – if the price is right.
Ditto the move to the public cloud. It may be that Teradata will need to expand its set of supported Big Data analytics products, adding to Hadoop, but the base is there on which to do that; it's just software after all.
Get more IntelliBase info here and all-flash Intelliflex details here and a brochure here. IntelliBase and the all-SSD IntelliFlex products will be available in this quarter. Both products will be available on Teradata IntelliCloud later this year. ®