This article is more than 1 year old
Elastifile delivers stretchy file software
No spin: malleable scale-out storage software built for flash
A stretchy and scale-out file storage system built for flash and covering the on-premises and public cloud world has been announced by Elastifile.
We first heard about Israel-based Elastifile in January a year ago when it pulled in a $35 million B-round. At the time its developing technology seemed like storage nirvana; we wrote: "Enterprise-class, web-scale storage software running on all-flash media and providing file, object and block storage access protocols. Its technology is hardware and hypervisor-agnostic – sounding like a near-universal storage silo."
Cisco gave it some more money in June 2016.
Elastifile now has something to ship and is putting its best product, oh, sorry "solution" foot forward, and it's shod in a bright and polished shoe. The company claims a TCO that is 50-90 per cent lower than traditional arrays, hyperconverged infrastructure appliances, and cloud services like Amazon Elastic File System.
How so?
With lots of assertions at this stage of its development, Elastifile says it "unifies all data islands, across all geo-locations and clouds, to create a single global namespace."
Its Elastifile Cloud File System (ECFS) is a distributed file system with said global namespace, a claimed linear scaling in performance, consistent and low latency, and something called granular check-in/check-out object tiering for data migration and backup. It also has a consumption-based pricing model and says it eliminates hardware lock-in.
There is a lightweight virtual controller in each of the participating servers (on-site, across sites, and public clouds). These aggregate the servers' flash storage resources, present them to applications as a POSIX-compliant global namespace accessible from every node, and provide end-to-end data protection.
We'e told the architecture is based on a patented, distributed metadata model and a Bizur consensus algorithm for reaching a consistent state in a distributed environment. It has adaptive network and data placement, with a claimed consistent 1-2 millisecond latency at any scale in noisy and heterogeneous cloud environments.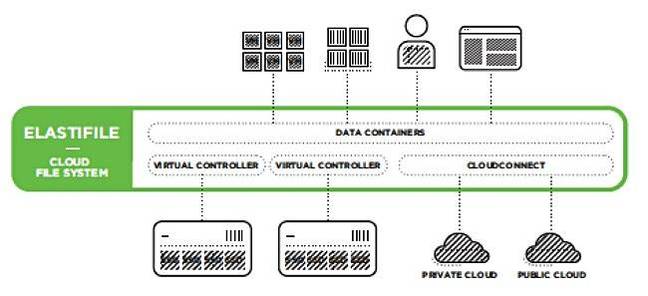 ECFS simplified architecture diagram
The architecture involves data containers; abstractions enabling logical persistent groupings of files within a namespace. These can be managed, accessed, and moved between sites, monitored, associated with policies, and assigned quotas.
The product has quality-of-service features and automated movement of data between on-premises and public cloud gear. The CloudConnect capability compresses and deduplicates data to create a space-efficient, cloud-based object store. Cloud-based data is accessible via the POSIX-compliant Elastifile file system, so legacy applications can run in the cloud.
Elastifile says it supports high-performance computing (HPC) with the parallelism and high, consistent IOPS required to support fast random reads and writes of many small files, high, consistent bandwidth and scalable capacity for access to very large files.
Containerization support? Tick; Elastifile says its software enables containerized applications to persist data within a shared namespace across any number of server or cloud nodes. It has instantaneous, stateful container migration, so providing resilience against node failure and enabling load-balancing.
Analytics? Tick; cross-site data is aggregated and made available to analytics routines.
It sounds like it has lots of tick box features for virtualised, containerized and hybrid-cloud environments. So it is probably worth checking out.
Elastifile is now available and the company says it has dozens of customers using its software in on-premises systems, public clouds and the hybrid combo. Download a product brochure here (registration required). Its website technology section is worth checking out too. ®