This article is more than 1 year old
Highly available? Of course you are. But did you download DRBD?
LINBIT marks a million clicks by offering saucy T-shirt – if you write them a press release
LINBIT, creators of the Distributed Replicated Block Device (DRBD) storage system for Linux, has announced that its software has been downloaded ONE MEEEEELLION times.
In this day and age, a million downloads for consumer software isn't such a huge deal. But when you're talking enterprise software, and mission-critical infrastructure at that, it's quite an accomplishment.
But enterprise-class, open-source software can get big downloads if it's the kind of thing that every server needs to have. LINBIT's software is used to implement high availability (HA) for mission-critical applications. Its DRBD data replication software is the original open-source HA software that LINBIT founders created when they were in graduate school and have continued to perfect, adding disaster recovery (DR) and software-defined storage (SDS) over time.
There are two majorly interesting aspects to this announcement: 1) the triumph of open-source software over all corners of enterprise IT is now complete, and 2) HA software is more entrenched than you may have thought.
When open-source software first came on the scene, it was laughed off as a hobby for techies and not suitable for the glass house. But the model has proven itself, one stack layer at a time. Starting with compilers and the OS, and going up from there. But mission-critical applications were considered simply too important to be left to the wild west of open-source software. Well, not anymore.
It's probably a reasonable assumption that, at a million downloads, many of the sites are small. If it weren't for LINBIT, they would probably not install HA at all, unable to afford big enterprise software costs. Perhaps many downloads did not lead to a real installation.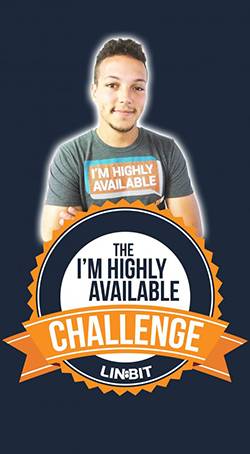 But even if you say the vast majority are in that category, you're still left with a healthy six-figure number of enterprise-class sites. Some of them are probably large enough to remain invisible, doing their own installation and maintenance.
With a million, and increasing at a 15k/month clip according to LINBIT, it's a pretty popular package for those looking for an inexpensive HA/DR solution. We can probably assume that some of the big IT shops, cloud providers, or established IT vendors are using it in the background. It could be that LINBIT is buried so deep in the bowels of IT that even an IT director might be unaware of it.
With this in mind, LINBIT is running what it calls the "I am HA" challenge to get its installed base to come out of the woodwork and share their stories. They're offering "I AM HIGHLY AVAILABLE" T-shirts as a prize, which probably only applies to 99.9 per cent of our readership (and 100 per cent of those who read my articles). Very geek chic. If you're using LINBIT and are willing to talk about it, get them your story and they'll get you the T-shirt.