Mobile network sleuth RootMetrics has released some performance data on how well operators are faring in our top provincial cities.
From data recently released by the company, we know that overall UK performance increased by 8 per cent, improving in both urban and rural areas. But this hides significant regional variations.
RootMetrics' empirical data is particularly useful, as Ofcom can only model network coverage based on operator data. Since RootMetrics uses sampling it can better reflect how a mobile network is performing in the real world.
"Ofcom takes network propagation data and models it," Scott Stonham, general manager for RootMetrics in Europe, told us. "We do scientific scouting. We take the propagation map and compare it to real-world performance. We can test things such as the network serving customers 3G when it should be 4G. Or whether there is 4G, but no data. As a user you'll know that!"
Unsurprisingly, EE leads in 13 of the 14 UK cities surveyed where RootMetrics was confident enough to declare a winner. Rival operators are showing varying rates of progress – or not. LTE laggards O2 and Vodafone increased their 4G coverage at a faster pace in 2016.
Hutchison's Three is also playing catchup, although the survey found it did not exceed 90 per cent in any single market, with Manchester faring best at 81 per cent coverage. Three only blanketed 55 per cent of Edinburgh with LTE and even less of Cardiff (43.1 per cent).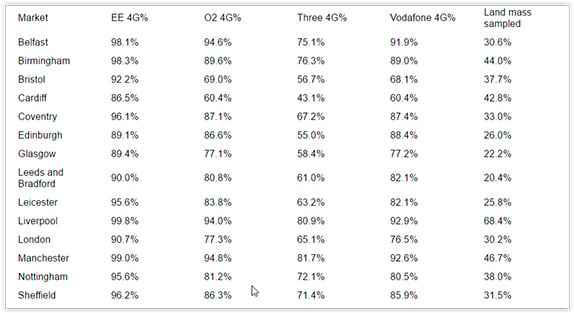 "We see coverage of LTE vary from 30 per cent in some areas to over 90 per cent in others," said Stonham. "There's lots of variability across the country."
He points out that although Three complains about a spectrum disadvantage, it has other advantages over operators: it doesn't have to cope with the duplication from mergers and has no 2G legacy.
The spurt in LTE investment should help voice quality and coverage. Operators have tackled the not-spot issue which so vexed the previous Prime Minister in various ways, with Wi-Fi calling the first tool to hand. A Wi-Fi call "borrows" a Wi-Fi connection for a call rather than the operator's network, although the operator deducts the minutes from your bundle.
VoLTE (true IP voice calling over LTE) was belatedly introduced by the networks, first by Three in 2015. O2 launched VoLTE in selected areas at the end of March.
But Stonham notes that when a new technology is introduced, the quality payoff is not always immediate. In fact, VoLTE has resulted in falls in call reliability as the bugs are ironed out. Vodafone has improved its call reliability and quality by not launching VoLTE, while EE has paid the price with a fall in call performance. In the long run, an all-IP network should pay off.
Similar topics