Foxconn outbids WD with ¥3 TRILLION offer for Tosh memory biz
Exactly what the Japanese government doesn't want
---
China's Foxconn has emerged as the leading bidder for Toshiba's Memory business.
The division is being sold so Toshiba can recapitalise itself and recover from negative net worth due to calamitous losses in its US nuclear power station business. These have led to its Westinghouse Electric subsidiary seeking Chapter 11 bankruptcy.
At the beginning of the week we understood there were 10 bidders, of which four had been identified; Western Digital, SK Hynix, Foxconn (Hon Hai) and the Silver Lake/Broadcom pairing who had made a ¥2 trillion ($17.9bn) bid.
It's reported that Western Digital and SK Hynix also made bids worth about ¥1 trillion (c$9bn).
Now we have learnt:
Digitimes reports Taiwan Semiconductor Manufacturing Company (TSMC) made an offer but has withdrawn it
Asahi says Foxconn (Hon Hai) bid nearly ¥3 trillion (c$27bn)
US investment fund Kohlberg Kravis Roberts & Co. (KKR) made a ¥1 trillion (c$9bn) bid
There were no Japanese bidders
Apple was interested in bidding
The Japanese government is said to have concerns about the memory business going to either a Chinese or Taiwanese buyer, such as Foxconn.
It looks as if either the other bidders will have to match the ¥3 trillion (c$27bn) Hon Hai bid or the Japanese government stump up some cash through its agencies to help prevent the business falling into Hon Hai's hands.
A second round of bidding may be held by the end of May, with a winning bid identified in June ready for Toshiba's next shareholder meeting.
And in other news...
Toshiba has launched an 8TB 3.5-inch nearline enterprise disk drive, updating its 2, 4, 5 and 6TB MG04 line. Compared to the 6TB MG04 it has:
c33 per cent higher capacity,
c12 per cent in sustained data rate from 205MiBps to 230MiBps,
c42 per cent improvement in Mean Time To Failure (MTTF) from 1.4 million to 2 million hours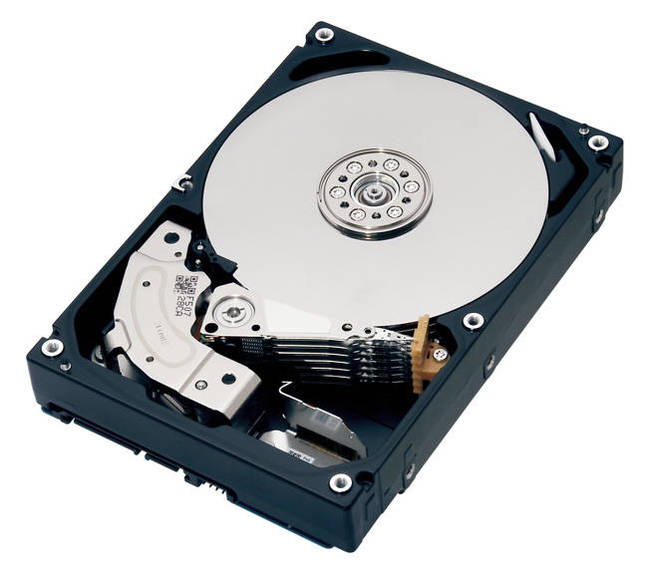 Lid-off view into MG05 drive
Like the MG04, it spins at 7,200rpm and has a 6Gbps SATA interface. The MG05 drive supports a 550TB/year workload rating. The image we have shows six platters, implying a 1.33TB/platter capacity.
Toshiba's product documentation makes no mention of any self-encrypting drive option, which was available with the MG04. Also, the MG04 had a 12Gbps SAS interface option, which the MG05 does not.
The Toshiba 8TB MG05 drive is shipping now to OEM customers. ®