72-layer flash die from SK Hynix towers over all, capacity a bit meh
I can see me mam's house from up here
---
Korean flash fabber SK Hynix has built a 72-layer 3D NAND die with 256Gb capacity.
That number of layers, in effect a higher-rise flash chip than anybody else has built, is impressive but the 256Gb capacity is not; Toshiba's 64-layer flash die has a 512Gb capacity. Like the SK Hynix chip, it is a TLC (3bits/cell) device. It started sample shipping in February.
Western Digital is Toshiba's foundry partner and it also started early production runs of a 512Gb, 64-layer die in February – that's twice as dense SK Hynix's die.
And Samsung also has a 512Gb, 64-layer flash chip.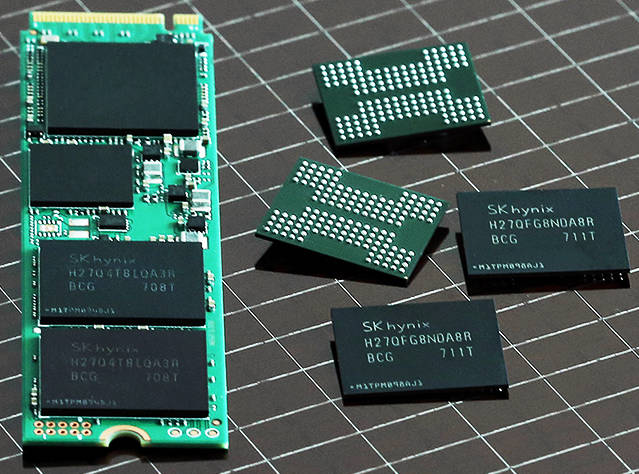 SK Hynix 72-layer 3D NAND products, with developing 1TB SSD on left
Competitors have a smaller cell size than SK Hynix, which makes their 3D NAND production more difficult. Features that cross the layers have to be that much more precise in manufacture. SK Hynix cannot catch up in capacity terms and produce a 512Gb 3D NAND chip unless it doubles its layer count to 144 or halves its cell size on the 72-layer chip.
SK Hynix's existing multi-layer flash dies have 48 layers and have been in mass production since November last year. The manufacturing processes have been enhanced quite quickly to realise a 50 per cent layer count improvement on the 48-layer die in less than six months. The company says its latest chip, with 4 billion cells, has better circuit design and its internal operation speed is two times faster and read/write performance is 20 per cent higher than the 48-Layer 3D NAND chip.
It says it's looking to sell the chips into the SSD, smartphone and other mobile device markets. Mass production will start in the second half of the year. ®