This article is more than 1 year old
Symmetrix daddy Moshe Yanai on chair-throwing and storage
From EMC to IBM, XIV to Diligent, the Symmetrix inventor is still going hard at 68
Retirement 1, tactical XIV and Diligent
So Yanai retired in 2001, some 25 years after joining Elbit, being rich enough to do so, and possibly battered and bruised from all the EMC in-fighting.
One of the things he did while in the Boston area was to gain a pilot's licence for fixed-wing aircraft and another for flying helicopters. His helicopter hobby became quite well known, and we'll hear more of this later.
Retirement did not appeal; it appears that Yanai gets restless when not having some storage engineering technical mountain to climb.
In 2002 he funded and chaired Israeli startup XIV to develop the Nextra storage system that was simpler to manage than Symmetrix but as performant and reliable by using a grid of connected x86 servers, each with their own disk drives. Data was striped across the grid and duplicated for reliability, protection against node failure, performance and load-balancing.
The first Nextra system was shipped in 2005 and became successful enough that, in 2007, it attracted IBM's attention.
Also in 2005, data centre black box recorder company Axxana was founded and Yanai became involved with its board, being active in its second round of fundraising.
XIV, its 50 employees and Yanai were acquired by IBM in January 2008 for a rumoured $200–300m.
So Yanai had a second stint as a senior exec in a massive IT corporation. It did not end well. He became an IBM fellow in recognition of his engineering achievements and prowess but the product faced some resistance inside IBM, partly because of perceived overlap with its high-end DS8000 arrays. In 2010, amid rumours of executive-level disputes, he quit Big Blue.
The XIV array survives to this day, although a 4th generation design has been nixed. Members of the XIV team were involved in several subsequent startups and some work for Infinidat today.
Yanai described XIV as a tactical array, developed and built to solve a tactical problem, unlike Infinidat which is a strategic array, built to solve a massive problem – that of storing enormous amounts of structured and unstructured data at an acceptable cost while not sacrificing performance and reliability.
As such, Yanai and his Infinidat team say, the Infinibox significantly undercuts yet outperforms high-end traditional and new design all-flash arrays.
Diligent
While involved with XIV, Yanai was, ahem, diligently involved with another storage startup. The Diligent founding story is an amazing, bizarre event. Ex-IDF Sayeret Matkal special forces commander Doron Kempel, who eventually cofounded SimpliVity in 2009, had to leave after an accident in which five Israeli soldiers died. He moved to the US and was VP and GM of a media solutions group at EMC from 1998 to September 2001.
Long story short: he quit to run SANgate, a storage company, and EMC sued him over a non-compete clause in his contract. Kempel, together with Yanai and others, then negotiated with EMC for it to buy shares in Diligent as a form of payment for taking EMC's unwanted Israel R&D centre off its hands in 2002 as part of Joe Tucci's Augean stable-cleaning exercise, and so founded their deduplication startup with EMC financial help.
Diligent was sold for a rumoured $200m to IBM in 2008, which had already bought XIV earlier that year, with Yanai presumably pocketing even more money.
Retirement 2 and taking wing
So Yanai was unemployed again, apparently retired again, in 2010. But this is not retired as you or I might understand it: tending the garden, playing golf and playing with the grandchildren.
He was on the board of three companies; Axxana, Arineta and On Sight Diagnostics. And he also took (rotary) wing by setting up two helicopter taxi services.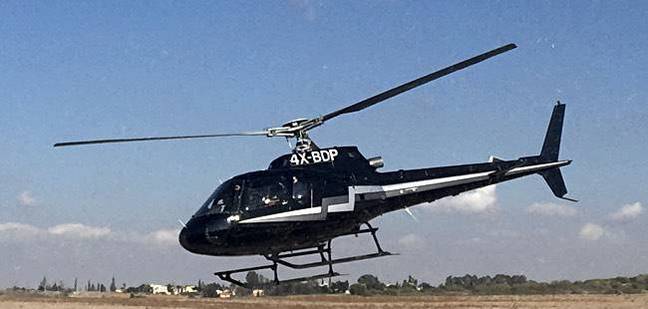 Tel Aviv helicopter piloted by Moshe Yanai
He funded, to the tune of $7 million, and set up the Boston Executive Helicopter company in 2010, managed by chief pilot Chris Donovan, which used Eurocopter machines and provide on-demand helo flights for execs and others who could afford them from Norwood airport in the Boston area. It took much work and time to get the necessary approvals for this.
He set up Tel Aviv Executive Helicopters in Israel in 2011 to do the same thing, with retired General Boaz Peleg of the Israeli air force in charge. One of its helicopters used to be Senator Ted Kennedy's private helicopter.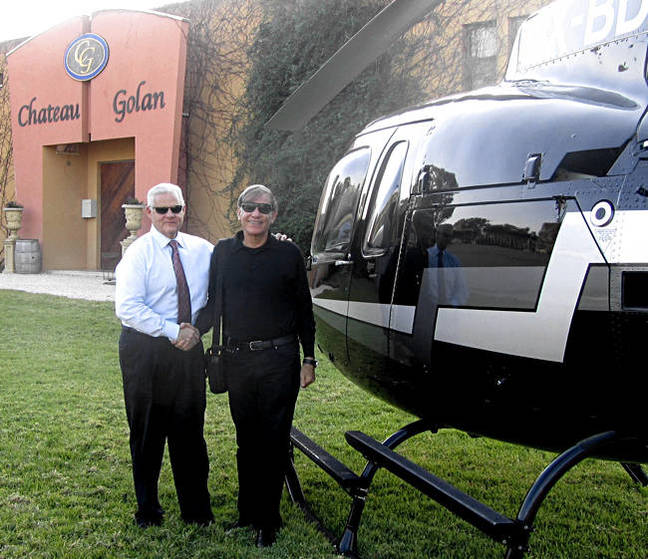 Moshe Yanai (right) and Joe Tucci at a Golan Heights winery
Both are operational today and Yanai flies the aircraft at times. It's rumoured he flew Madonna on one trip she made to Israel. Another time he flew Joe Tucci, a "dear friend", to a winery in the Golan Heights.