Symmetrix daddy Moshe Yanai on chair-throwing and storage
From EMC to IBM, XIV to Diligent, the Symmetrix inventor is still going hard at 68
---
Philanthropy and awards
Yanai also became philanthropic. In 2010 a 19-year, $250,000pa donation from him and his wife helped establish the Hoopoe Foundation of the Society for the Protection of Nature in Israel. He later donated more money to it and has chaired the foundation, giving that role up in 2015.
The Hoopoe is Israel's national bird, but Yanai has no interests in birds. He's impressed with the foundation's activities in helping to provide learning activities for groups of Arab and Israeli students together, and in helping Israeli and Jordanian farmers use birds for insect pest control instead of chemical pesticides. It's about, he says openly, improving humanity.
There are other recipients of his charitable donations but he doesn't publicise them. He did say he won't pay for bricks and mortar. Improving operational activities is his purpose; for example, funding the repair of broken exhibits in interactive science museums frequented by children so they are constantly available.
His donation to the Technion university also exemplifies this purpose. In 2010 he made a 40 million shekel ($10.5m) donation to fund a teaching award for 20 years. Each year there are 15 100,000 shekel ($26,300) prizes for Technion teaching staff who demonstrate teaching excellence, as chosen by students. That should incentivise them to treat their students well; better than he was treated in his Technion study years.
He has been showered with awards and honours:
2010 – given the IEEE Reynold B Johnson Information Storage Systems Award
2011 – Technion made him a Distinguished Fellow of the Faculty of Electrical Engineering
2012 – Technion gave him an Honorary Doctorate
Infinidat
Retirement ended in 2011 when he founded Infinidat with ex-XIV people. The problem that tempted him was that massively increasing amounts of data couldn't be cost-effectively stored on anything other than nearline disks, but arrays using these were slower and less reliable than high-end enterprise arrays and also all-flash arrays. Yet the media costs for these arrays, high-end 15K disk drives or SSDs, were far too high to make performant and reliable matching, for example, EMC's VMAX or Pure Storage's FlashArray//M.
The essence of the Infinidat system is using a distributed multi-terabyte RAM cache to serve the vast majority of IOs, with a fallback to a NAND cache and bulk data storage on nearline SAS drives. Data is compressed and deduped as well to lower storage costs further.
Performance is faster, Yanai says, than all-flash arrays and traditional arrays retrofitted with flash. The system is also more reliable, featuring seven "nines" of data availability – 99.99999 per cent uptime – instead of the typical five or six seen in other arrays.
This, he would say, demonstrates innovation, while retrofitting traditional arrays with flash is (just) common wisdom.
Product was shipped in 2015 and, Yanai says, Infinidat has broken storage array footprint growth records in terms of petabytes deployed; with more than 1.4 EB deployed in three years. Its arrays are used in many industries and not just for primary storage. One customer replaced 22 Data Domain systems with two Infiniboxes and is using them as backup targets. The company reached profitability towards the end of 2016.
He says he's with Infinidat for the long-haul, not looking for an XIV or Diligent-style acquisition, nor looking for retirement 3 either.
If he decides that a big boost in marketing is needed in the future, then Infinidat may pursue additional external funding or an IPO, but no such funding is being looked at for now. He did say various sources have offered Infinidat money, which has been refused.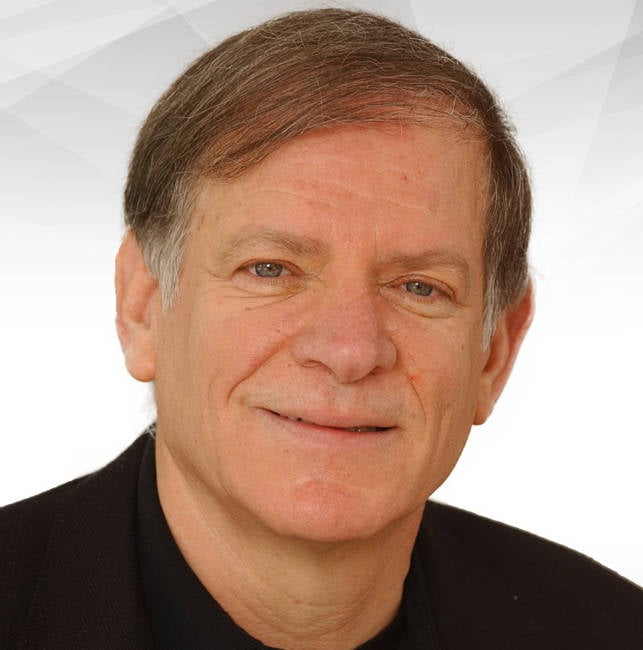 The Wizard of storage Oz, still going down the Moshe Yanai brick road after all these years
Incidentals
Yanai has been described as having a titanic ego and volcanic rows about product strategy issues with senior business execs in IBM and in EMC, such as Joe Tucci, with disputes over CLARiiON and Symmetrix arrays.** He demurs. Asked about quarrels and chair throwing he replies, "It's all bullshit," and says he never raises his voice.
Yanai is described in various blurbs as an arts lover. Is he? He says drily his wife chairs an Israeli museum and his son Guy is an artist; he just supports them. That's the extent of his involvement in the arts.
He and his wife have houses in New York – one son is a professor there – and Tel Aviv – his other son lives in Israel. There is also a daughter who is a social worker. He says he has been very lucky with his children; they are all successful.
He's Jewish and concerned about the state and situation of Israel, and also of the US. What does he think of the current US president? There was no comment.
Lastly, is he religious? "No."
Time was up. I should liked to have asked him if he thought Joe Tucci was a better business man than him, how he liked schmoozing with customers, whether Infinidat needed a seasoned, business-focussed CEO (in the Joe Tucci mould) and other questions. But time didn't permit and this is all I got.
The man is 68 and still on fire. He's less of a puzzle now, but still an enigma, still generating wildly divergent opinions, still driving hard and unlikely to stop going down the Yanai brick road, ever. ®
*This is in contrast, say, to EMC's Joe Tucci or NetApp's George Kurian, who can fix you with the basilisk intentness of their gaze. Ditto Michael Dell.
**For example, witness this Pete Gerr blog.