This article is more than 1 year old
Not even Easter can stop the inexorable march of storage
Put down the chocolate, catch up on the hottest industry news
We have a four-day weekend over Easter here in the UK. If you need a storage news hit as a respite from the chocolate-laden glug-fest then dip into the paragraphs below – and enjoy your Easter break.
Databricks
Databricks for Data Engineering is Databricks' software optimised for – wait for it – data engineering. We're told it enables more cost-effective data engineering using Spark and data engineers can combine SQL, structured streaming, Extract, Transform, Load (ETL), and machine learning workloads running on Spark to deploy data pipeline.
What's a data engineer? These are the software people who manage Big Data stores which they have designed, built, and integrated from various sources. They also write query code for data scientists to use and are supposed to make their data structure operate nicely.
Databricks stuff is built round Spark and this product is said to be a good way of getting to know Spark. It features:
Performance optimization with a tuned and optimized version of Spark for a wide variety of instance types in addition to an optimized AWS S3 access layer.
Cost management with cluster management capabilities such as auto-scaling and AWS Spot instances to lower OPEX by avoiding time-consuming tasks to build, configure, and maintain complex Spark infrastructure.
Optimized integration has REST APIs to launch clusters and jobs and integrate tools or services, such as Redshift, Kinesis, and machine learning frameworks such as TensorFlow, with the Databricks platform.
Integrated data sources catalog to make every data source available to all Databricks users without duplicating data ingest work.
Enterprise security with support for SOC 2 Type 1 certification, HIPAA compliance, end-to-end data encryption, detailed logs S3 for debugging, IT admin capabilities such as Single Sign-On with SAML 2.0 support, and role-based access controls for clusters, jobs, and notebooks.
Integration with the data science workspaces in Databricks, enabling a smooth transition between data engineering and interactive data science workloads.
Databricks for Data Engineering is priced based on data engineering workloads such as ETL and automated jobs ($0.20 per Databricks Unit plus the cost of AWS.)
DDN
DataDirect Networks claims its latest WOS object storage system has the lowest data protection overhead available in the market. It provides local-only rebuilds for higher uptime and lower performance impact from hardware failures, and multi-site collaboration, distribution and disaster recovery.
There is a new Extended ObjectAssure (erasure coding+replication) data protection feature. DDN claims WOS's overhead expenses make the cost of object storage competitive with tape storage alternatives, but without supplying any comparative numbers. We asked but haven't seen any yet.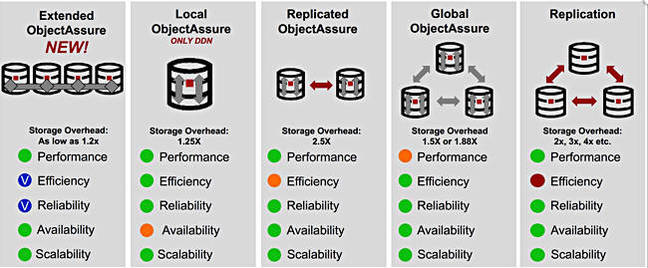 WOS has additional S3-based multi-site capabilities which help collaboration, disaster recovery and content distribution and provide fast, error-free data transfers; again, no details.
These WOS data protection and connectivity features will be available this quarter across DDN's WOS product set.
Exagrid
Dedupe to disk backup supplier Exagrid announced record bookings and revenue for the first 2017 quarter. It grew double digits over the same quarter of the prior year and posted a record number of new customer six-figure deals. Exagrid says it is outgrowing the market.
CEO Bill Andrews said: "Over 70 per cent of ExaGrid's newly acquired customers are replacing first generation deduplication approaches from Dell EMC Data Domain, HP StoreOnce, Commvault Deduplication, and the Veritas 5200/5300 series of appliances. These solutions can be cost prohibitive for backup storage and are also slow for backups, restores, and VM boots."
The company says its ingest rate is three times faster, and restores/VM boots are up to ten times faster, than its closest competitor (must be Data Domain surely). Its appliances add compute with capacity, to ensure that the backup window remains fixed in length.
Nexsan
File syncing and sharing storage array supplier Nexsan reports more than 100 installations of its Unity array since it began shipping in September 2016. Unity bookings in the first 2017 quarter have grown 215 per cent over the third 2016 quarter, resulting in several million dollars in total revenue to date. Unity sales are expected to have a significant positive impact on Nexsan's overall business in 2017.
The Unity array combines NAS, block storage, and enterprise file sync-and-share in a single product. Nexsan recently launched Unity in the Japanese market through local resellers and the product is available in the North America, EMEA, and APAC regions.
On a side note we're looking forward very much to a lawsuit between Nexsan and EMC over the Unity product name, which Nexsan introduced in April 2016 and EMC a month later.
Here's a quote from Nexsan's release about its Unity array sales progress:
Nexsan, the Nexsan logo, Connected Data, the Connected Data logo, Transporter, E-Series, NST, AutoMAID, Assureon and Unity are trademarks or registered trademarks of Nexsan Corporation. All other trademarks are property of their respective owners.
On this website you can find EMC listing Unity as its trademark.
Nexsan says its Unity trademark application was filed on 22 March, 2016, and EMC's on 29 April, 2016. If it's right then it has temporal precedence and Dell EMC is in trouble.
Panasas
HPC scale-out NAS supplier Panasas and axle Video, which supplies storage-agnostic media management software, will be demonstrating Panasas' ActiveStor with DirectFlow for Mac along with the 2017 edition of axle's software. The demo is at the Panasas booth, SL9724, at this year's National Association of Broadcasters (NAB) show in Las Vegas, 24-27 April.
Panasas says ActiveStor with DirectFlow for Mac is a combination of scale-out NAS with a parallel data protocol for Apple Mac systems. Other demo components include a Linux-based encoding server, Adobe Premiere Pro CC and Avid Media Composer. The axle 2017 software runs on a Mac.
Scale Computing
Scale has engaged value-added distie CMS Distribution. It will be responsible for selling Scale Computing's HC3 hyperconvergence and virtualization platform, across the UK and Ireland.
It's hoped this will enable Scale Computing to work with new customers across the UK and Ireland helping to expand its presence.
Johan Pellicaan, EMEA VP at Scale, painted the picture in a canned quote. "Mid-size companies look to the channel for advice in finding a solution that fits their requirements and budget. The HC3 platform provides companies with a cost-effective hyperconverged platform that can deliver simplicity, availability and scalability in one single appliance. Having this platform available through CMS vastly increases our reach to mid-sized and enterprise companies in the UK and Ireland."
Pellicaan joined Scale in September last year, coming from Springpath, which is focussing on its Cisco OEM deal and so reduced its EMEA presence.
Virtual Instruments
The storage infrastructure performance validation tool, Load DynamiX Enterprise v5.3, has been announced by VI and it adds:
Ability to build temporal NFSv3 workload models for hyper-realistic modelling and analysis
Methodology for preconditioning all-flash arrays connected via Fibre Channel and iSCSI
Real-time test status notifications and more intuitive workflows
Test management improvements to simplify results management, backup and restore, and other system management functions
VI says Load DynamiX lets storage engineers and architects perform what-if analysis and modelling for NAS (NFSv3) and block using a customer's own production storage workloads to increase modelling realism. Find out more here.
ZeroStack and Nexenta
ZeroStack's Intelligent Cloud Platform has been integrated with Nexenta's open-source storage software systems to create a pre-tested, completely automated, and fully supported converged private cloud (on-premises) offering.
We're told Nexenta users can plug their storage devices into the ZeroStack Intelligent Cloud Platform via Nexenta's REST API technology to access existing storage resources in a self-driving, on-premises cloud.
Nexenta provides a multi-site disaster recovery capability that can back up ZeroStack cloud data.
Another brick in the SW storage wall for Nexenta. ®