Renewal period volatility is giving Barracuda a headache as the cloud-focussed protection and security outfit follows its customers away from box sales towards annual subscriptions. Growth has been, well, moderate.
It made $89.3m in revenues in its final fiscal 2017 quarter, 6.7 per cent up on the year before but just an 0.6 per cent increase on the previous quarter. Profits were $3.2m, identical to the year-ago number and 77.8 per cent higher compared to the third 2017 quarter.
Full-year revenues of $352.6m were 10.12 per cent higher than 2016 revenues. Profits were $10.2m, a nice increase on the $4.4m loss made in the prior year.
So we see good but maybe uninspiring results in a still growing business. President and CEO BJ Jenkins mentioned "a solid fourth quarter" in his prepared remarks. "Our performance led to record earnings and the highest free cash flow in our company's history at $58.9 million," he said.
Within the fourth quarter results subscriptions dominated:
Subscription revenue grew to $69.4m, up 12 per cent from $62.1m in the fourth quarter of fiscal 2016, representing 78 per cent of total revenue
Appliance revenue was $19.9m, compared with $21.7m in the fourth quarter of fiscal 2016
Full-year appliance revenue was $82.7m, compared with $89.3m in fiscal year 2016
Gross billings were $103.2m, compared with $95.8m in the fourth quarter of fiscal 2016,
Billings for core products increased 21 per cent to $63.8 million, compared with $52.6 million a year ago
The number of active subscribers grew approximately 15 per cent year-over-year to reach 321,000 as of February 28, 2017, with 12,000 net new subscribers in the quarter
The dollar-based renewal rate was 89 per cent (90 per cent on a constant currency basis)
William Blair analyst Jason Ader commented: "Renewal rates were again weaker at 89 per cent, mainly due to impacts from shorter duration contracts, transition to cloud, currency headwinds and legacy business declines. Annual dollar-based renewals, at 97 per cent, remained healthy, unit-based renewals were constant, and customer additions were otherwise healthy at 15 per cent, or 321,000 subscribers."
The outlook for the next quarter was for 5.9 per cent growth in billing, between $103m to $105m, and revenues of $90m to $92m, which means 5 per cent year-on-year growth at the $91m mid-point. Steady as she goes, cap'n.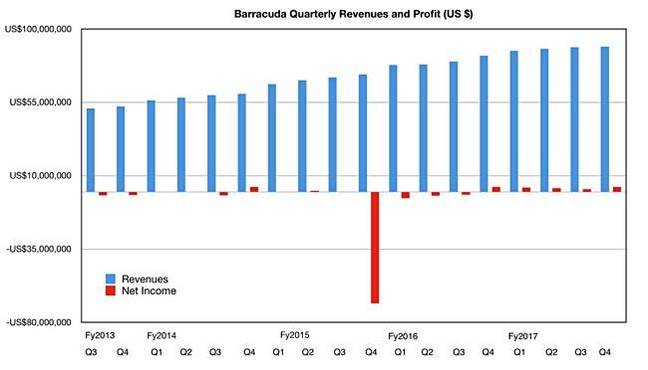 Barracuda quarterly revenues and profits. Click to enlarge.
The chart of quarterly revenues and net income shows a recent flattening in quarterly revenues growth. The annual picture still shows a neat year-by-year growth pattern: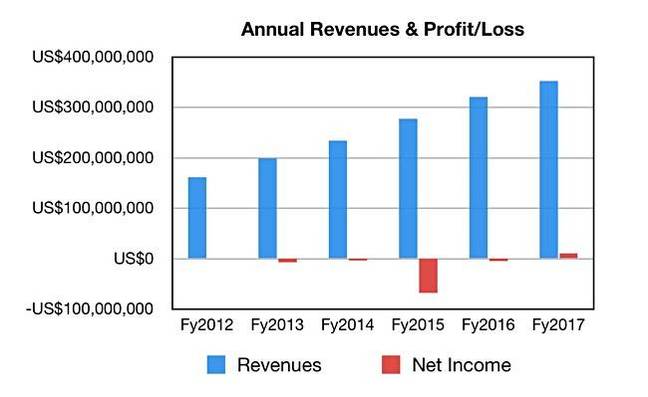 What we see is a company that has reacted to its customers moving away from on-premises appliances towards public cloud and subscriptions, and is enjoying less than stellar profitability as a result. It grew its subscriber base by 12,000 quarter-on-quarter and almost 43,000 year-on-year but profits stayed exactly the same; $3.2m, reflecting the loss of appliance sales.
Ader writes: "Barracuda once again beat Street consensus expectations for billings, revenue, and EPS, driven by solid execution... We were pleased to see the company show progress in its transition to becoming a public/private cloud security and infrastructure provider, as evidenced by 21 per cent billings growth in the company's core business and reaching the 1,000 customer milestone for public/private cloud."
Earnings call
Jenkins talked of a cloud and security focus in the earnings call. "Barracuda's vision is to be the leading security platform for the mid-market. To achieve this, we are aligning our investments, product portfolio and routes to market to address our customers growing adoption of cloud, SAAS and managed service, IT deployment models with pay-as-you go and ratable billing options."
"Security" here spans e-mail security and management, network and application security and data protection. "E-mail security and management is a cornerstone of our platform," Jenkins said. "E-mail continues to be the primary threat factor and is one of the first applications companies move to the cloud... We now have over 1000 customers leveraging our security solutions in the public cloud."
Responding to a question he said some three and five-year subscription deals were being replaced with annual ones, or even shorter term ones. There is more variability in deals with some, for the Intronis MSP offering, paying by the month.
CFO Dustin Driggs showed Barracuda was a US-centric business. "On a geographic basis, we derived 76 per cent of total fourth quarter revenue from the Americas, 18 per cent from EMEA and 6 per cent from Asia Pacific," he said. That looks like an opportunity.
He added: "Our free cash flow for the year was $58.9 million, up 42 per cent compared to last year."
Ader writes: "The company is making clear progress in its business transition from on-premises appliances to cloud-based solutions [but] while the company has made progress in reaccelerating growth in the core businesses, the public cloud portion of the business is still nascent, and Barracuda's leadership position in the enterprise market is not yet fully proven." ®