Toshiba has a new 8TB NAS disk drive with its fastest data transfer rate.
It announced its 8TB MN series NAS drives in February and the N300 is a retail version of these. The 4TB and 6TB versions were announced in Europe in January. Now they and the 8TB version are available in the USA.
Like the MN series, the N300s come in 4TB, 6TB and 8TB versions, spin at 7,200rpm, have a 6Gbps SATA interface, and 1 million hours mean time between failures.
The N300 has a three-year warranty, a 180TB/year workload with 24-by-7 operation, a 4.17ms average latency, and is meant for 1 to 8-bay NAS systems. Its sustained data transfer rate varies with capacity, being 200 MBps (4TB), 210 MBps (6TB), or 240 MBps (8TB). This is a tad faster than the MN series, which tops out at 230MBps. The N300 has something called Dynamic Cache Technology, which may give it a performance edge here.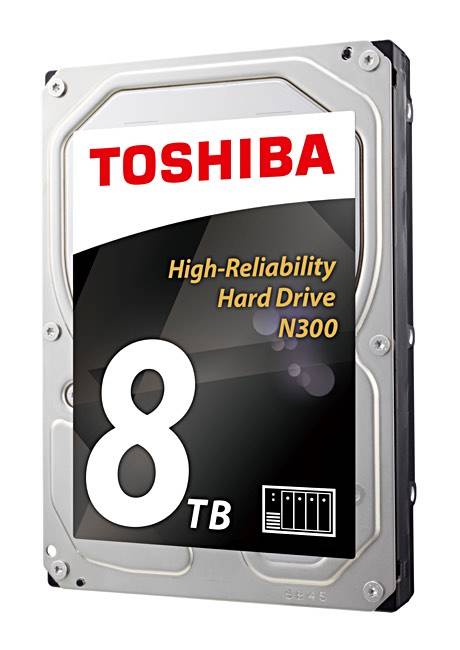 Michael Cassidy, consumer hard drives VP at Toshiba America Electronic Components, said in a canned quote: "We recently revealed that we were the fastest growing vendor in the HDD space for 2016."
Since Toshiba is a distant third behind Seagate and Western Digital in the disk drive market, that's encouraging news but there is a long way to go, and Tosh still does not have helium-filled disk drive technology as the two leaders do. They have 10TB and 12TB drives because of the capacity advantage helium-filling confers while Tosh has not yet reached 10TB.
Toshiba's disk drive business is not involved in the Toshiba memory business (NAND chips and SSDs) sale currently under way. It is, of course, part of Toshiba overall, which is struggling to escape and recover from the overruns of its stateside nuclear power station business.
The 8TB N300 drive will be available from retail outlets this month. Get a base data sheet here. Amazon UK has the 8TB drive available for £271.58. ®