Analysis Despite falling server sales, IBM has reversed 22 quarters of decline in storage hardware revenue, offset by a leap in flash storage array sales. It's also, we think, number 3 in overall storage sales.
Let's drill down through the first quarter 2017 results numbers. According to IBM's quarterly earnings charts, the main segment revenues within the overall $18.2 billion quarter's revenues were:
Systems revenue – $1.4bn, 16 per cent lower than a year ago

Systems hardware – $1bn, 18 per cent down on the year

z Systems down 40 per cent year-on-year
Power down 27 per cent year-on-year
Storage up 7 per cent year-on-year

Operating Systems SW – $0.4bn, 10 per cent down annually

Tech Services and Cloud – $8.2bn, 2 per cent down on a year ago
Cognitive Solutions – $4.1bn, a 2.1 per cent rise annually
Global Business Services – $4bn, down 2 per cent on the year
The Systems segment is the smallest of the four. IBM's chart noted that z Systems mainframes and Power servers saw revenue and gross margin declines that reflected product cycles; no new kit to spark upgrade business. Storage hardware revenue growth was led by flash and we calculate approximate storage revenues were $464m.
Within IBM's pattern of consistently declining storage hardware revenues, this is a blip. Here is a chart of Big Blue's annual storage hardware revenues: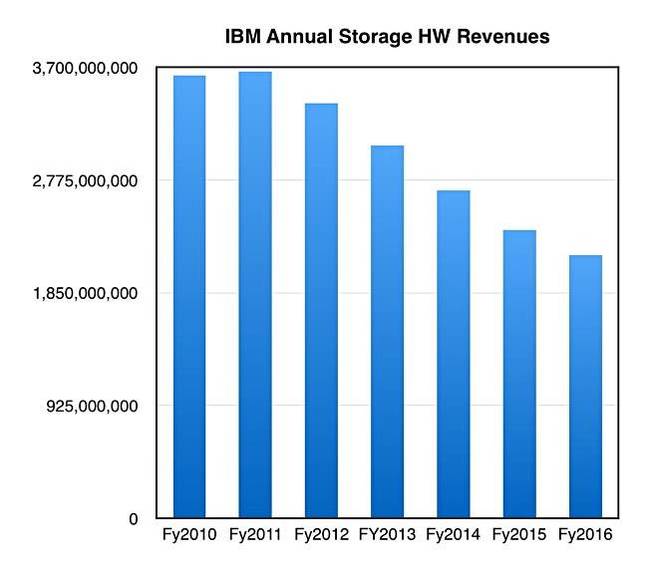 And here are the same numbers charted by quarter and by year, including the latest quarter: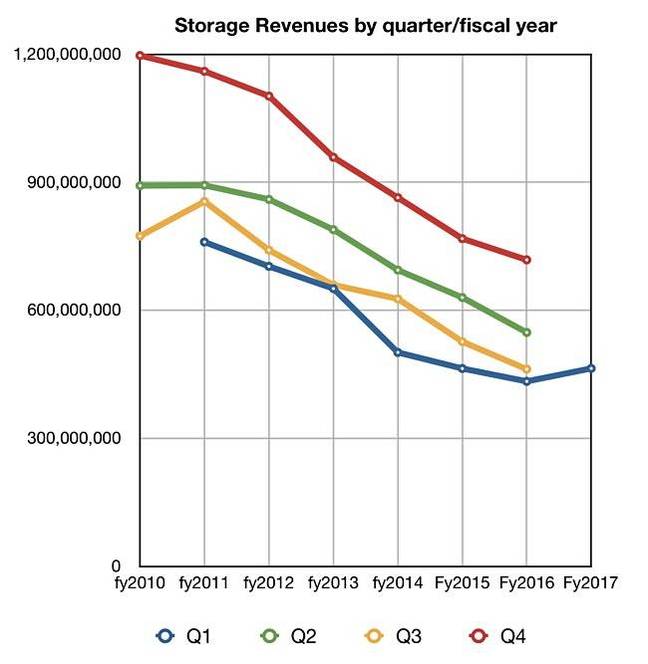 The upturn is obvious. Is it an anomaly? Which flash products in the portfolio were responsible?
Systems segment and other storage revenues
IBM sells storage SW and supplies object storage services (Cleversafe) in its cloud, and these are separate revenue streams from the Systems segment. These activities are not grouped together in its results material but we can get a sense of them from CFO and SVP Martin Schroeter's prepared remarks and the earnings call.
He talked about the Analytics segment, saying: "We saw good growth in on-premise databases and data warehousing, which includes DB2, Informix and Netezza. Content and integration offerings were also up this quarter, as data ingestion is an important initial step in a cognitive journey.
"Turning to Transaction Processing Software, performance improved sequentially driven by our z Systems middleware and Storage middleware. While the overall business is declining, we have some areas that are growing, like Software-Defined Storage."
In the Systems segment, he said: "Storage grew after repositioning for flash across our portfolio. Systems gross margin was down year to year, with declines across z Systems, Power, and Storage as we address market shifts and product transitions.
Servers
"In z Systems, the mainframe continues to deliver a high value, secure and scalable platform that is critical to our clients' needs, addressing both existing and new workloads. We added seven new clients in the quarter and 87 since the beginning of this cycle."
IBM had five financial services customer wins in the quarter but relatively poor revenue and margin performance as is expected nine quarters into the current z Systems product cycle. There should be a new mainframe product arriving late in the year.
"Power declined, which reflects our changeover to a growing Linux market while continuing to serve a high value, but declining, UNIX market... We're the underdog here, and we have a 3 per cent share, so there is a lot of opportunity ahead of us."
Storage HW and SW
The 7 per cent storage revenue increase was "led by double-digit growth in our all-flash array offerings. Flash contributed to our Storage revenue growth in both midrange and high-end." But "Storage gross margins are down, as hardware continues to be impacted by price pressure."
He said there was a shift in value towards software-defined storage "where we continue to lead the market". No numbers were supplied to justify this assertion and Dell EMC might argue that it is in fact leading this area.
We again had double-digit revenue growth in Software-Defined Storage, which is not reported in our Systems segment. Storage software now represents more than 40 per cent of our total storage revenue.
So, implicitly, storage HW is less than 60 per cent of its storage revenue. Let's assume a 45:55 split and calculate that the $464m storage HW revenue is the 55 per cent; so IBM made $380m from storage SW in the quarter, and $844m from storage overall.
In their latest reported quarters, NetApp saw $1.4bn in storage revenues, Teradata made $626m, HPE made $730m and Dell EMC is in the $2bn-plus territory (we think). It looks like IBM is number 3 in the overall storage market, ahead of HPE, Teradata and other large players such as Veritas.
The earnings call revealed nothing else that impacts on IBM's storage and server businesses. We would imagine that there is much momentum still in the flash array upgrade potential in IBM's installed base, and would expect to see more storage HW revenue increases in the next couple of quarters, together with increased storage software revenues as well. ®