If a week is a long time in politics, it must be an eternity at Redmond, where the strategy team is seemingly obliged to create a new one every few minutes. Here's another for you.
On Wednesday Microsoft launched a new To-Do app, called er, "To-Do". If that sounds a curious move, it's because it is. Very.
Microsoft also said it's killing off the consumer tasks app Wunderlist, which it bought less than two years ago, and has been busy integrating with other Microsoft services ever since. So just how did we get here?
At the turn of the decade, Microsoft already had what was effectively the world's most widely used "To-Do" app in the shape of Outlook, part of the Microsoft Office suite, with around a billion seats world wide. (Getting true usage of Outlook Tasks is difficult, because not all Office users also use Outlook, and not all of those Outlook users use Tasks). Outlook was a daunting product that had been built as a client to Exchange, but it was perfectly possible to use all of its Tasks functionality without a server, or the cloud.
So we could safely conclude that Microsoft, which had adopted telemetry with zeal, knew a lot about what business users wanted from a Tasks app, and how they used it. It presumably also had the know-how to create a very sophisticated To-Do app. Taking that know-how and using it for a successful consumer product seemed to be difficult, however.
Although Microsoft was able to weave a subset of Outlook Tasks functionality into its Hotmail successor, Outlook.com, the consumer mobile apps team couldn't, or just didn't want to go there. Even Microsoft's own mobile platform seemed to regard Exchange Tasks as the Embarrassing Uncle. Windows Phone gave Exchange's Tasks and Notes the cold shoulder, with only a crude Tasks client, with no support for categories, and no Notes reader at all.
Instead, the mobile version of the venerable note-taking app OneNote was positioned as the Tasks app. And at the same time, the Evernote rival.
Perhaps because OneNote wasn't exactly setting the world on fire, in June 2015, Microsoft spent big (reportedly as much as $200m) to acquire the mobile app Wunderlist. It was part of a $500m shopping spree of small indie developers who had each created a part of Outlook, but without the deep functionality. Like Frankenstein, Microsoft would reassemble these parts into a brand new and totally modern Outlook that the world would love.
And for a while now Microsoft has promoted Wunderlist as the anointed way of handling your tasks. Until now.
Microsoft launched a new To-Do app for iPhone and Android, web and Windows, simply called "To-Do". It's Microsoft's simplest To-Do app yet, supporting multiple lists but not tags or folders, or priorities, and no support for attachments, or sharing, or the funky natural language parsing that you find in Wunderlist. You could say it's the sort of thing a competent coder could lash up in an afternoon. Or if you were being generous, a day.
Yet the accompanying announcement stresses its business credentials. To-Do is apparently "the only task management app built on an enterprise cloud... served out of our hyper-scale, global network of data centers". Microsoft adds: "For commercial users, IT professionals can now enable the To-Do Preview through the Office 365 admin center."
But while the new app sucks in Outlook.com tasks, it doesn't actually integrate with the Exchange Tasks. This is the third most requested function in the feedback forum, UserVoice, as I write. There's no way to import Wunderlist or Outlook tasks.
Let's hope that arrives before Microsoft snuffs out Wunderlist, which it promised to do, writing:
We'll bring more of the favorite elements of Wunderlist into the To-Do experience, adding features such as list sharing, apps for Mac, iPad and Android tablet, as well as additional integrations with other Microsoft services. Once we are confident that we have incorporated the best of Wunderlist into To-Do, we will retire Wunderlist. While the name and icon may change, the team that brought you Wunderlist continues on.
Then again, by the time that has happened, it will be time for an entirely new Tasks app, scrapping today's To-Do.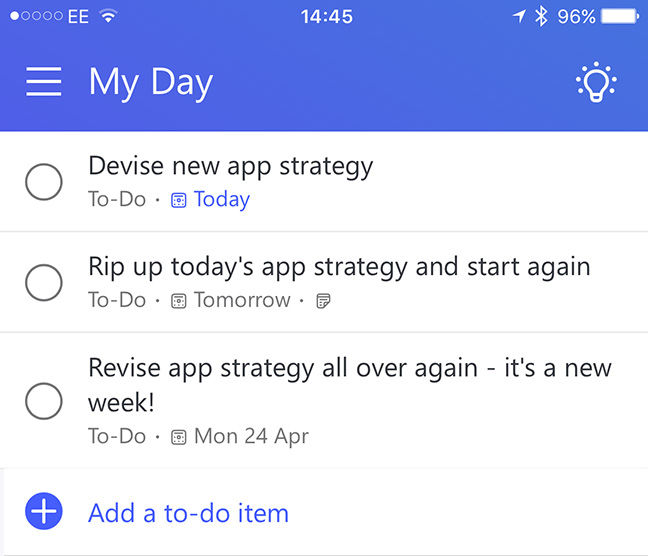 Getting busy with Microsoft's new To-Do app
Let's recap what happened here. Microsoft declined to create an appealing consumer app that exposed the functionality its Exchange business users already knew. It effectively told the business users to use consumer apps, then diverted consumers to one consumer app and then spent $200m adding a second. After working Exchange and Cortana integration into this third app, it's now back to the drawing board.
We did recently compliment Microsoft for being almost coherent by having only two Slack rivals (Teams and Yammer), and not five. Or ten. At least compared to Google.
We now regret the error. ®