Exploding femtocells: No need for a full recall, says Vodafone
Change yours if you're worried, but operator insists issue is limited to earlier models
---
Vodafone says that anxious customers of its home femtocell box are safe, despite experiencing continuing brownouts. Although Vodafone is replacing the Alcatel-made units on request, it has declined to carry out a full recall.
Vodafone sells the Sure Signal V3 femtocell for £69 to help users with notspots in their home. But for over a year, Vodafone's own user forums and review pages have been awash with complaints, reporting that the units failed.
The Sure Signal features a pass-through power socket which in some units, Vodafone acknowledges, contained a defect.
Reader Sam Crawley's Sure Signal box blew up recently, and he described the symptoms.
"The error lights on the device didn't seem to be working. I unplugged it then went to plug it back in, but with nothing plugged into the pass-through mains socket. It went bang and I could see visible arcing in the device, with smoke coming out. It tripped the UPS RCD, killed the UPS 13A fuse, and tripped the house. Vodafone are replacing mine FoC although this does not seem to be everyone's experience."
Last year complaints reached such a level that Vodafone UK's CEO got involved. He wrote to Sure Signal V3 owners, saying he didn't feel it merited a full product recall.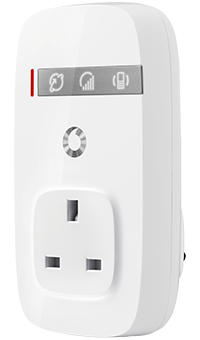 In an email to a user, CEO Jeroen Hoencamp explained that the Alcatel unit "failed due to voltage transient surges" and customer service staff would replace them on request. The same email maintained that the power surges were not dangerous: "Products failed in a safe manner with no risk to customers."
And that's what the company told us today.
We are aware that a small number of customers with a previous version of our V3 domestic Sure Signal unit have seen their device fail due to the surge protection fuse becoming over-sensitive and tripping early. All other models of the domestic Sure Signal are unaffected. We ask any customers whose device has been affected by this issue to switch it off and contact us to arrange a full refund or replacement.

We're sorry to any customers experiencing problems but want to assure customers that they are not at risk. A design update was incorporated into later versions of V3 Sure Signal units to prevent this happening in future.

So if you are a Sure Signal V3 owner, are you safe?
We did ask for corroboration of advice owners say they were given by Vodafone customers services that units manufactured before "Week 34 2015" should claim a replacement unit, but Vodafone wouldn't elaborate.
Voda UK's first generation femto in 2010 had a less dramatic but more widespread problem: it often wouldn't connect to the network. ®