The base tech specs for Microsoft's Windows 10 Cloud laptops have leaked out ahead of a rumored launch next month, giving you an idea of their target market. Clue: Google-powered Chromebooks in education.
Windows 10 Cloud will be a cutdown version of Redmond's latest operating system, and is designed to be run on cheap kit. The new OS hasn't been launched yet but is expected to be revealed at a May 2 event in New York City.
Redmond execs, perhaps alarmed at the rise and rise of Google's ChromeOS, have lined up an edition of Windows 10 that relies heavily on cloud services. Google's Chromium-based operating system is now the second most popular laptop operating system in the world, which will have grabbed Microsoft's attention.
Google has made huge strides in this sector, just as it did with Android, but it has been particularly successful in the school sector. Alex Kuscher, senior product manager at Google, told The Reg that ChromeOS is the laptop OS for over half of US schoolchildren and sales in the sector are up 20 per cent year-on-year.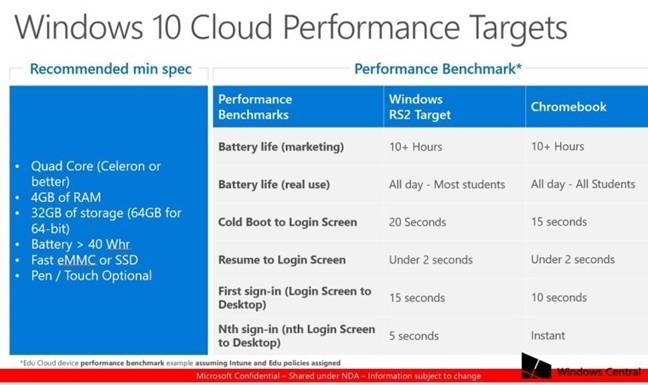 Wonder who Microsoft sees as the competition ... A Windows 10 Cloud launch slide published by Windows Central
As we've said the specs are baseline requirements, and there are some oddities. Take the battery life, for example. Microsoft claims Windows 10 Cloud systems can last 10 hours between charges, the same as a comparable Chromebook, but it will only last this long for "most students," not "all students" as with ChromeOS. Microsoft's system will also be slower to boot, slower to log into, and slower to reestablish credentials, according to the suggested timings.
The base-level specs for a Microsoft Windows 10 Cloud laptop – revealed today by the Windows Central blog – will be as follows:
Quad-core (Celeron or better) processor
4GB of RAM
32GB of storage (64GB for 64-bit)
A battery larger than 40 WHr
Fast eMMC or solid state drive (SSD) for storage technology
Pen and touch (optional).
One of the big selling points of Chromebooks is that they are cheap – typically around $200 – and Microsoft and its manufacturing partners are going to need to hit that price point to compete.
It's unlikely Redmond is going to build much hardware itself at those sorts of prices. It's hardware division has, at times, produced some excellent, if expensive, bits of kit and is quite happy with the fat margins. No doubt Microsoft will be happy for factory lines like Samsung, Dell, and HP to run this razor-thin margin market.
The Register will be attending the New York launch, and will bring you live coverage of the event. ®
Similar topics