Review The P10 Plus is the big brother of Huawei's 2017 flagship the P10. And as you'd expect, it's beefier, heavier and packing a bigger battery, a better camera and display, better antennas for faster LTE, and infrared.
The review unit sported 128GB of flash storage, expandable, and 6GB of RAM. Missing from the Chinese rival to Samsung and LG were waterproofing and wireless charging.
Alas, the price gap between the two P10s is not what Huawei suggested it might be at the launch at MWC in March, a suggestion which got a few people quite excited. In fact it's closer to a £130 difference, rather than the £50 or so we were led to expect. With a price nudging £680, the flagship Huawei is no longer in its own price segment: the S8 is just a tenner more.
But then, with formidable specifications such as this, why would it be? It's the most powerful Huawei smartphone on the market, and for performance and future-proofing, it matches offerings from any competitor. Several of those are even more expensive. The S8, for example, has half its storage.
In its brief but successful time as a phone-maker here, Huawei has traditionally offered value for money, even at the premium end, but it won't play the razor-thin margins game, like say, a OnePlus. In short, if you have a reason to shun Samsung and LG's latest offerings, your dosh gets you a device that should be competitive in several years' time.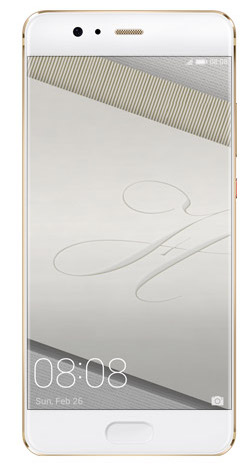 The design unsurprisingly mirrors the svelte P10, but obviously this is heftier, the Plus weighing in at 165g. It's the same depth, but 5mm wider and 8.2mm taller. The Plus model makes use of that space well, packing in an excellent 5.5inch WQHD display with narrow bezels, and a non-removable 3,750mAh battery. Not so obvious externally are the 4x4 MIMO antennas capable of 600Mbps download speeds on LTE, and an infra-red blaster.
It's great to see an infrared sensor here, and the engineers working hard to put an impressive imaging unit which doesn't protrude. Early production units of the device, including the review unit, have a peculiar flaw which Huawei has now vowed to fix (Chinese report - English precis). These lack the grease-resistant (oleophobic) coating, which Huawei says was the result of static electricity build up on the Gorilla Glass 5. This is being rectified. The screen protector shipped with the unit does have oleophobic coating, so you're advised to keep that on. Admittedly such coatings wear off anyway after a few months, but greasy glass significantly impairs use out of doors in certain latitudes, making the screen hard to read.
Set against that, I usually look forward to taking a Huawei through its paces, which involves using it as my main device for a few days: I know the radio performance is going to be absolutely stellar. This was the case here, with good call audio, rapid locking onto a signal, and solid performance in hotspots. There's one spot at home where a phone is obliged to switch between towers and calls are regularly dropped. Not so here.
Old skin and nags
The software experience is identical to the P10, which we reviewed just a month ago, so I won't duplicate the highlights here. Essentially the big USP of both P10s is the multitouch front fingerprint sensor which can replace the onscreen navigation bar. In practice, you swipe the sensor to switch apps, touch it to go back, and give it a long press to return to the home screen.
It's off by default and may take a day or so to get used to, but for me this is the phone's most distinctive and useful feature, and a big leap in usability. Not everyone will take to it, but I never liked the shift to onscreen navigation buttons three years ago, and after some time with the P10 or P10 Plus, found using onscreen navigation bars on other devices fiddly.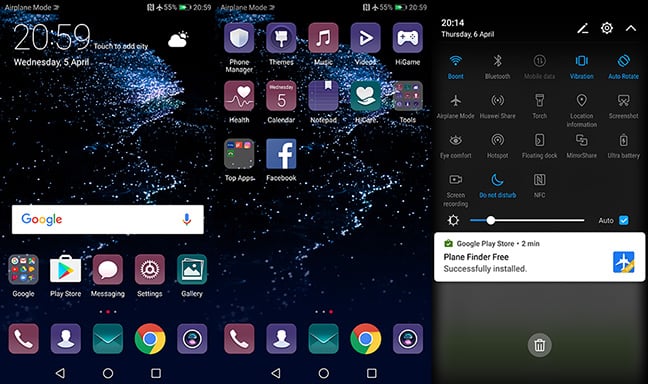 The EMUI skin continues to evolve, slowly. It's less heavy-handed than previous iterations, but is still somewhat joyless. On the plus side there are more scaling options than before (small medium and large, compared to the iPhone's two). There is a significant bundle of Huawei apps many of which you will never use: email, for example, or the music app, which doesn't recognise playlists.
As I noted with the P10 review, the biggest issue with EMUI isn't that it's fugly - it isn't, really - but it's the incessant bombardment of power consumption notifications, which really wears down the soul. Sometimes you see the power-intensive list several times a day, typically listing apps you need to be using, like Maps, say. The list invites you to close these down. It should be possible to whitelist these for a day or permanently right from that list, but you can't. Huawei says "machine learning" algorithms are used to keep the phone in good nick, rearranging apps and defragmenting memory. Well, how about applying some basic intelligence to designing this list?
Perhaps not surprisingly, the P10 Plus was an outstanding performer for endurance, usually with some 20 to 40 per cent of a full charge left in the tank at the end of a demanding day.
In real world everyday performance the P10 Plus really screams. In benchmarks, for what it's worth, it emerges on a par with the Google Pixel, registering an overall score of 137637.
The P10 Plus isn't just bigger, it showcases the latest in Huawei's imaging partnerships with Leica. For the first time, we have a Summarit-branded lens, with a much wider f1.8 aperture than on the regular P10. This should perform much better in low light, and it does to some extent.
Imaging
The Leica dual sensor setup - a 20MP monochrome sensor and a 12MP RGB sensor - produces some memorable results and is fun to use. But as with smartphone rivals, claims that it can replace even a decent £120 pocket camera in challenging conditions should be greeted with a sackful of salt. Faced with strong contrasts, a decent pocket camera will blow away a smartphone every time, still.
In a well-balanced shot, the Huawei captures a beautiful amount of detail without significantly oversharpening the image (a Samsung fault) or skewing the colour balance. It's great fun to use the bokeh effect, and while you may think this is a gimmick, it improves many casual shots immensely.
The main camera even strives valiantly without HDR, obviously turning on HDR manually will improve high contrast images. Have a look at the flowerbed: there's no reason for over exposure towards the top of the image. Obviously a bit of tweaking from Huawei could tighten this up.
Low light performance is better than the P10, as you can see in the moonlit street scene below, although no amount of manual tweaking could produce a decent image of the Moon itself.
The main camera offers a 12+12 dual sensor, with one set to capture monochrome information But as with last year's Leica-branded shooters, the monochrome images are overwrought with midrange: yes, they work for "moody" shots but to the detriment of the outcome. Have a look at the portrait below: the trousers are overexposed but the head and shoulders wreathed in gloom. This is disappointing, given the presence of the dedicated monochrome sensor I was getting far better monochrome results from Nokia's old PureView four years ago.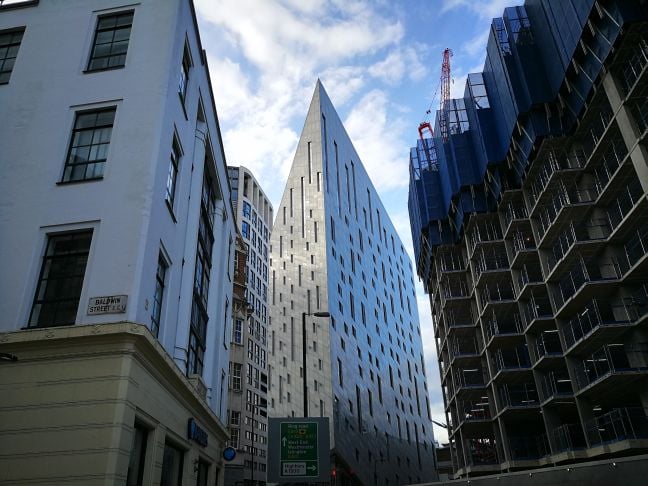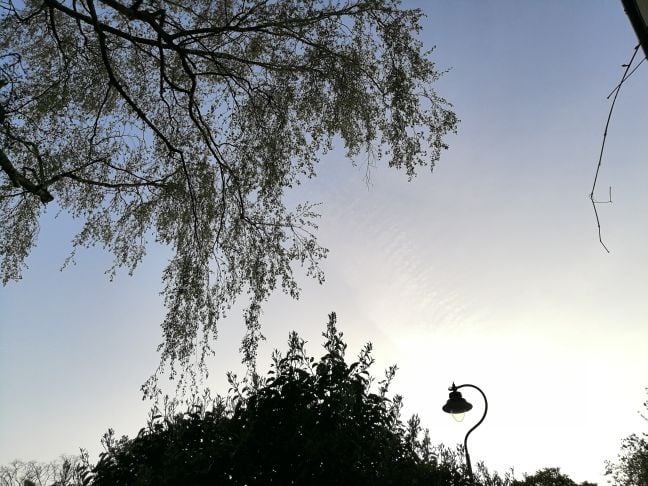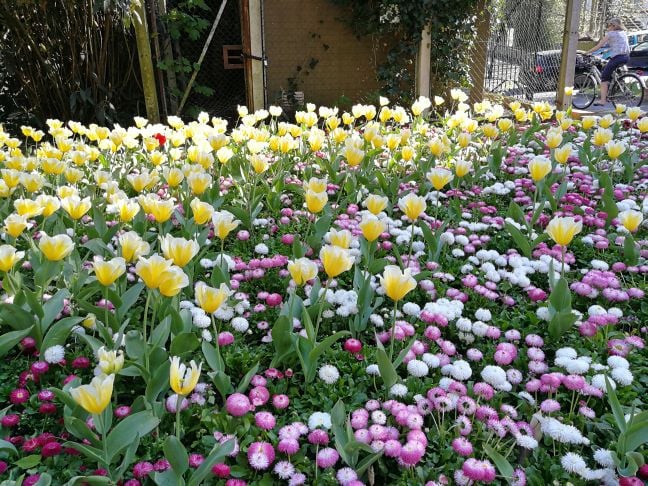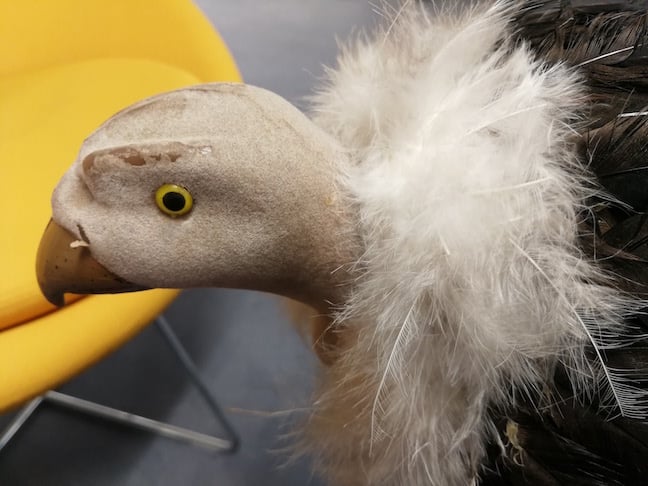 Macro shot: click for 50pc size image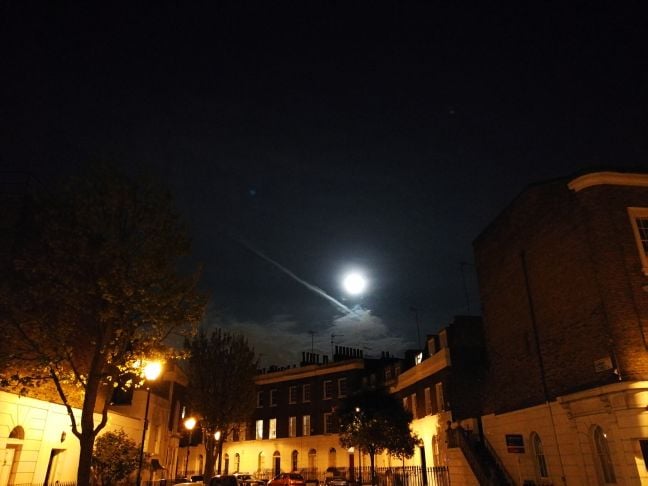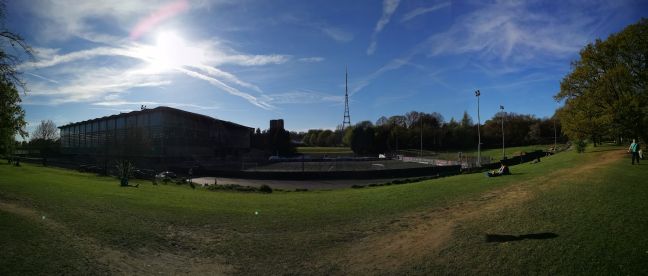 Panorama: click for 50pc size image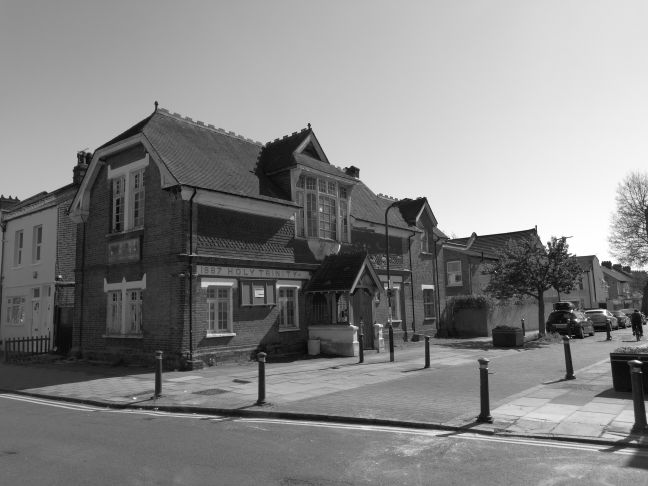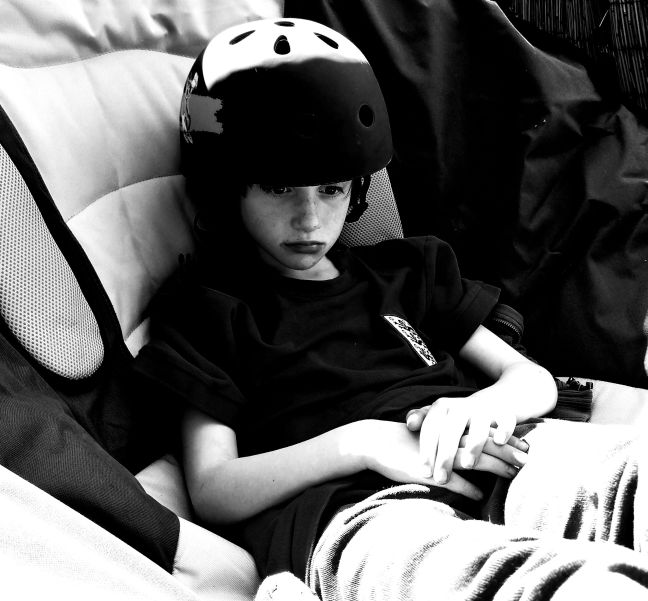 Summary
The P10 Plus is a top-specced contender with a top-specced price. The main rivals in the Android world are all more expensive, and in their own way, flawed too. Samsung's S8 is a strong phone, and boasts the waterproofing and wireless charging missing here, but the placement of its fingerprint sensor right next to the main camera - apparently a last minute design decision because the under-glass fingerprint sensor wasn't sufficiently reliable - is already causing much annoyance. Google's ludicrously priced Google Pixel has a fine camera but a much inferior display and bafflingly, no expandable storage. By comparison the Huawei is a solid design, a Volvo maybe, but at an Audi price. ®
Huawei P10 Plus
Summary
: Big brother of Huawei's dapper P10.
Specs
: Kirin 960 octocore processor (
more here
)
5.5 inch WQHD (1440 x 2560) IPS display
Leica-branded dual camera 12MP/20MP f/1.8 (front); 8MP selfie camera
Fingerprint sensor with multitouch gestures
64GB/128GB memory, 4GB/6GB RAM
USB-Type C with rapid charging
Size: 153.5 mm x 74.2 mm x 7mm; Weight: 165g

Similar topics