For the won: Korean DRAMmer llamas SK Hynix earning buckets
Records highest quarterly operating profit in its history
Korean DRAMmer and NAND fabber SK Hynix reported revenue rises and record profits in its first 2017 quarter.
It recorded ₩6.29 trillion revenues, up 72 per cent on the year and 17 per cent on the quarter. Net income was ₩1.9 trillion, up a rather impressive 324 per cent year-on-year and, after that, an uninspiring 17 per cent on the quarter.
The company recorded the highest quarterly operating profit in its history.

Net operating margin for the quarter was 30 per cent. The revenue and profit jumps were partially if not mostly due to price rises.
On the DRAM front, total bits shipped declined by 5 per cent quarter-on-quarter but, against that, the average selling price (ASP) rose 24 per cent. There were supply constraints attributed to low inventory at the start of the year and limited supply growth, which caused the total bits shipped to fall. Add in strong demand from PC and server vendors and price rises were the result.
In the earnings call, Kim Jun-Ho, SK Hynix president and head of corporate support, said: "There was a particularly strong demand for server DRAM as the cloud computing market began to take off."
Stifel analyst and MD Aaron Rakers said there were also lessening declines in the PC market. SK Hynix expects continuing shortages of DRAM throughout the year with demand growth of around 20 per cent.
DRAM revenues account for 74 per cent of SK Hynix's first quarter revenues.
The same bit growth decline and ASP rise pattern was evident in flash as well, with a 3 per cent bits shipped fall and and 15 per cent ASP rise. Mobile products and SSDs wanted more bits against a background of low inventory at the start of the quarter.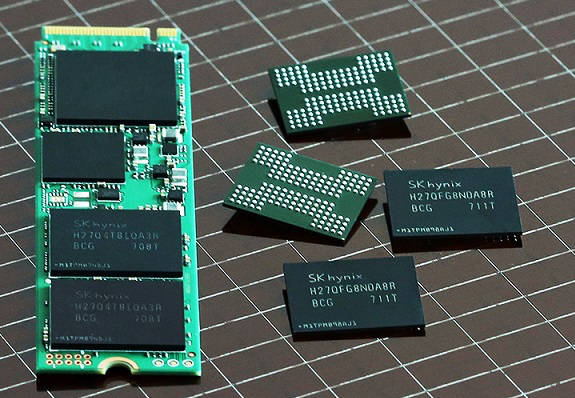 SK Hynix 72-layer 3D NAND products
Rakers said the company has around $1.33bn of NAND flash revenue in the quarter, 24 per cent of its total revenue. He thinks SSDs accounted for just 16 per cent of its flash revenues.
Kim Jun-Ho said: "Demand was driven by growth in NAND contents in Chinese smartphones as well as the growth in the SSD adoption in PCs."
Looking ahead, SK Hynix sees DRAM growth being driven more by increasing DRAM inside systems than by increasing numbers of systems. Kim Jun-Ho pointed out: "New smartphone models to be launched this year will adopt the dual camera and improved AI, [and] adoption of higher speed mobile products such as LPDDR4X is likely to increase to support the higher functionality."
For server there is rapidly growing demand from data centers as cloud services are beginning to grow. Many providers are building data centers to be the first mover in the fast growing cloud service market. There is also the trend to adopt higher capacity server DRAM modules to ensure low latency and high processing power.
In the PC area: "Sales are increasing for a high specification ultra books and gaming PCs that will drive increase in that DRAM content per box."
Overall: "DRAM demand growth is expected to be a little over 20 per cent this year, which is expected to outpace supply growth. There is not enough cleanroom space to significantly increase DRAM capacity and the pressing need to invest in 3D NAND will leave less financial room to invest in DRAM."
SK Hynix said it will expand its 2Znm DRAM production and start to mass produce 1Xnm DRAM in the second half of this year. But Kim Jun-Ho said: "We believe that the supply shortage will continue into the end of this year."
In the flash area: "NAND demand growth for this year is projected at low to mid 30 per cent level. Demand growth is likely to slightly outpace supply growth... we plan to supply the 36-layer to the mobile market requiring MLC and the 48 and 72-layer product for high density mobile and SSD markets."
SK Hynix is bidding for Toshiba's memory business and, if successful, its NAND production facilities and capabilities will increase relative to its DRAM production. ®