This article is more than 1 year old
Oh lordy, WD just SCHOOLED Seagate in running a disk drive biz
Looks like revenues are up by almost $6bn
Analysis WD took advantage of stable disk drive and strong flash markets to crank revenues and profits in its third fiscal 2017 quarter, giving Seagate an object lesson in how to run a storage business.
Revenues of $4.6bn were well up on the year before's $2.8bn, 64.3 per cent, bulked by revenues from acquired SanDisk and its flash business. Net income of $284m was impressively higher than the $74m a year ago.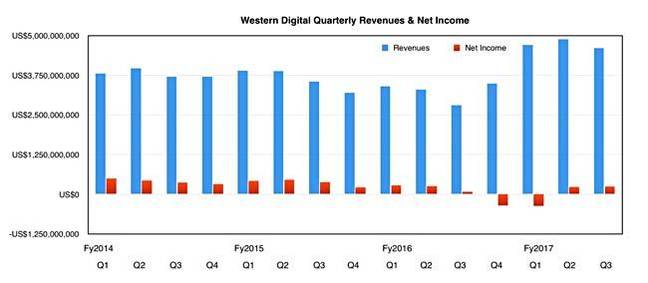 WD revenues and GAAP net income to Q3 fy2017. Click to enlarge.
In the quarter WD generated $1bn in cash from operations and ended with $5.8bn of total cash, cash equivalents and available-for-sale securities.
CEO Steve Milligan was buoyant in his prepared comment: "We reported strong financial performance in the March quarter, enabled by excellent operational execution by our team in a healthy market environment with good demand for all NAND-based products, as well as for capacity enterprise and client hard drives."
Was it right to get deeply into flash? "With three consecutive quarters of strong financial results since completing the SanDisk acquisition, we are seeing continued validation of our growth strategy and our ongoing transformation into a comprehensive provider of diversified storage products and technologies."
Eat your heart out, Seagate.
Milligan said both the integration of HGST, SanDisk and WD, and the ramp of 3D NAND technology were going well.
CFO Mark Long said: "Revenue in Data Center Devices and Solutions was $1.3bn, Client Devices was $2.3bn and Client Solutions was $1.0bn. Our revenue was only down 5 per cent from our December quarter, versus the typical decline of approximately 15 per cent on a pro forma basis."
WD manufactured 43.1 million disk drives, the same number as a year ago. This compares nicely with Seagate, which made, we calculate, 36.4 million drives, less than the 39.2 million it made a year ago. Unlike Seagate, WD did provide unit ship numbers for market segments.

Charting these numbers to show the historical context produces this graph: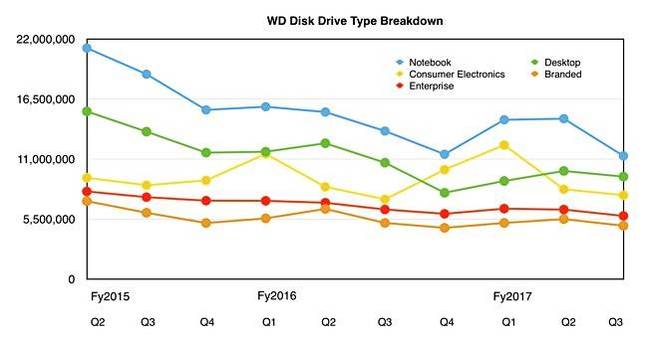 Everything is declining and that, we assess, is due to the impact of flash and SSDs. Long said WD "saw sustained strength in capacity enterprise hard drives and sequential growth for our enterprise SSDs, offset by a decline in performance enterprise hard drives."
There was, though, president and COO Mike Cordano pointed out, "a growing requirement from hyperscale customers for our 10TB Helium capacity hard drive." WD has started shipping its 12TB Helium drive, is in its fourth generation of helium-filling tech, and has shipped 15 million helium-filled drives overall.
He added: "Demand for our solid-state drives for client applications increased sequentially, reflecting expansion of attach rates of SSDs to PCs and the ongoing adoption of our client SSDs, enabling us to expand our market presence."
WD is starting to ship 64-layer 3D NAND-based client SSDs and expects these to do well. In fact: "We have already achieved cost crossover for our 64-layer 3D NAND versus our 15 nanometer X3 node. Second, we now plan to produce more than 75 per cent of our total 3D NAND bit output based on the 64-layer architecture in calendar 2017."
Cordano also said WD "saw sustained strength for enterprise-class SSDs".
Can we cautiously think about flash revenues overtaking disk revenues inside WD in some number of quarters' time?
In the earnings call Milligan touched on the Toshiba memory business sake, saying WD's goals were "first, to protect and preserve the health of the JV, which we believe is one of the most successful in the technology industry, and in which we have invested more than $13bn over its 17-year duration. Second, to protect our interest with respect to any transaction involving the JV interest or assets, none of which could be completed without our consent. And finally, to explore potential long-term value creation opportunities for both Western Digital's and Toshiba's stakeholders."
He wouldn't provide any specifics on what was happening in the bid.
The outlook for the next quarter is for revenues of around $4.8bn; they were $3.5bn last year. This would imply full fiscal 2017 revenues of $18.98bn, which compares to last year's $13bn. The SanDisk boost is quite evident. ®