This article is more than 1 year old
Microsoft sparks new war with Google with, er, $999+ lappies for kids
Windows 10 S will try to oust Chromebooks
Liveblog It's a warm day in New York City and Microsoft is holding a large press event that is expected to be the debut for its plans to take over some of Chromebooks' market share.
The Redmond event is focused on education, an area where Google has been eating Microsoft for breakfast, particularly with ChromeOS-powered computers. Over 50 per cent of US schoolchildren use Chromebooks in class and now Microsoft wants some of that action and to regain its position in the brains of the next generation.
Last week the specifications leaked for Windows 10 Cloud, a stripped-down version of its current operating system that may give ChromeOS a run for its money. At today's event we're expecting to get the first look at the new operating system and the laptops that will run it. The event starts at 0930 ET (1430 UTC) and we'll update with the news as it happens.
0925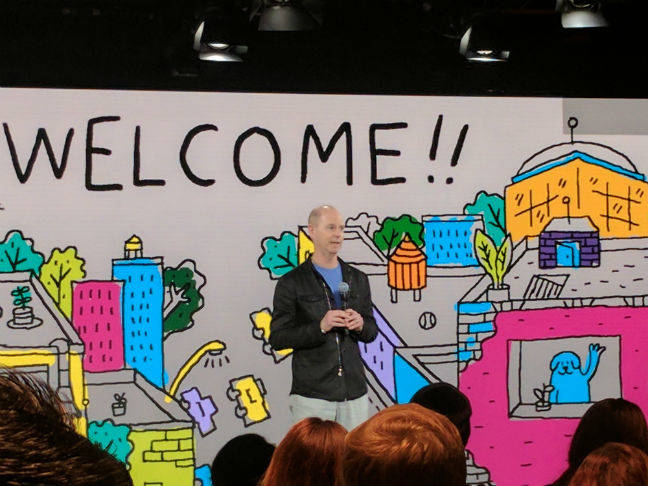 Microsoft's head flack Frank Shaw comes on stage to warm up the crowd
0930 Right on time, Microsoft CEO Satya Nadella comes on stage. He's talking about his great grandparents' upbringing in India and having to choose which child went to school rather than working. "Talent is everywhere but opportunity is not."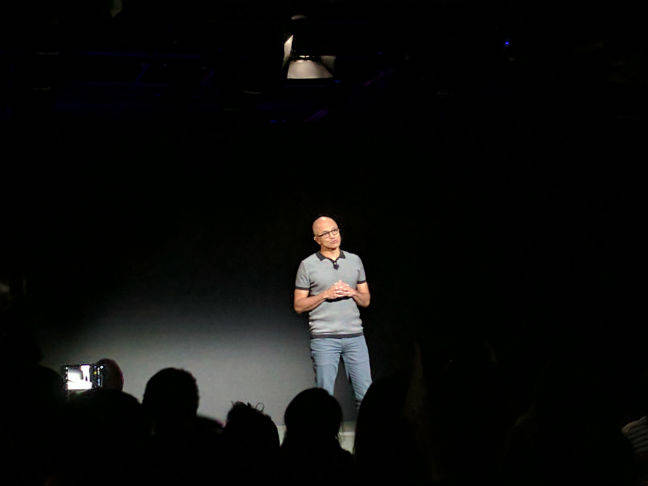 Satya Nadella takes the stage
0935 "I'm here as a heretic. Technology alone is not the answer to solving education. Technology is just a tool." Nadella says teachers are the magic bullet and Microsoft wants to sell give them the tools to do the job.
Technology should help not hinder teachers, Nadella said, and his job looks easy in comparison to teachers'. He's promising a streamlined OS to help. He's also stressing the use of teams in the classroom – looks like Microsoft's collaboration software is getting a new market.
0940 Dyslexia impacts one in five people, Nadella says, and reading skills are critical. He said OneNote learning tools are designed to help those with dyslexia. Terry Myerson is coming on stage to explain.
0942 Judging from the applause at Nadella's speech, Microsoft has taken a leaf out of Apple's playbook and is packing the audience with applause monkeys.
0944 Myerson is on stage. He wants to get the "next generation of creators" up and running. The mission for Windows is to inspire the creativity for those. Claims twice as many Windows systems were shipped to US kids than any other operating system. Google might dispute that.
0950 "Simplify to magnify" is the key phrase. Admins are being promised an easier ride managing laptops. Windows 10 S is the name of the new OS. It's aimed at education, and is built for simplicity, is secure, and the "soul of Windows," apparently.
Windows 10 S has a new startup screen, can only use apps from the Windows Store, and runs apps in a sandbox. The Office suite will be coming "soon" to the Windows store.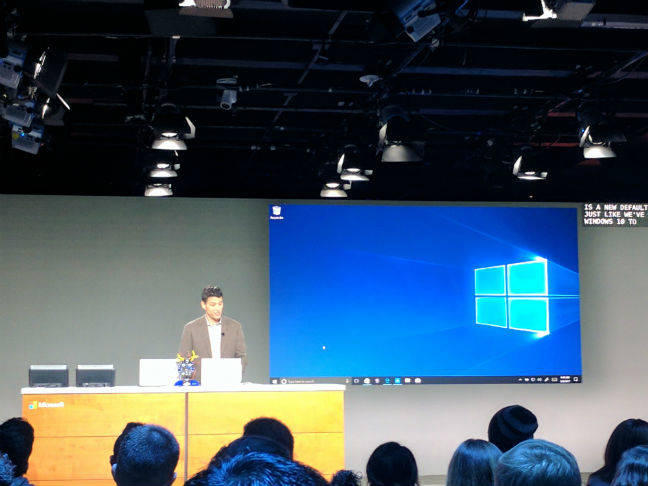 That new startup screen
0954 Myerson is promising a 15-second login for Windows 10 S, compared to 30 seconds for Windows 10 Pro. Relogging in will take five seconds, he says.
For admins Microsoft has created an app to set up student laptops and put the configuration data on USB keys. Plug in the USB key and in 30 seconds the device can be set up using the software. One school set up 600 PCs using 30 USB sticks in one day.
0959 Windows 10 S will be available on machines from third-party computer makers. Acer, Asus, Dell, Samsung, and Toshiba will build laptops for the operating system "starting at $189." There will also be premium models. At that low-end price point, schools could be lured into bulk purchasing them.
Windows 10 S comes with a year's free Minecraft subscription, Office 365 for free and the new OS is free for Pro users. It'll be out this summer for the new school year.
1003 Office 365 for Education is getting some promotion, as is Microsoft Teams. An actual teacher is up on stage. He's a very smooth presenter, as many teachers are.
1006 Teams, launched in March, will get "new classroom experiences." Classes get their own Teams areas, controlled by teachers. Kids can chat with each other but teachers control the whole conversation and customize specific areas like lesson plans and homework assignments. If a student misses some days they can catch up on Teams.
1009 Students can bring in emojis and gifs to Teams. That's going to make life interesting. Group video chats are also available. The full Teams update will be out this summer.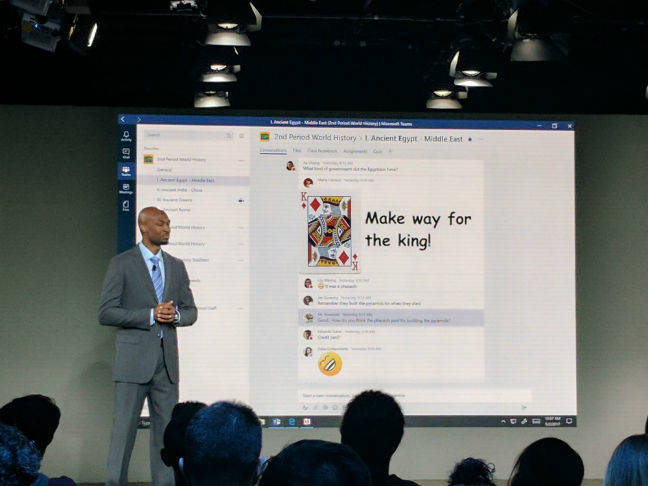 Teams for kids
1012 Microsoft has been running STEM lessons for middle school students for the last year and will make lesson plans available for download for free. One uses copper tape and cardboard to build a sensor and stream the data into Excel. Lesson plans are the bane of teacher's life, but you can bet these will all refer users to Microsoft code.
1018 Shoutout to a British teacher who is using Minecraft to help kids learn about Mars. Minecraft could be used to help kids learn to code, the presenter claims.
Minecraft Learn How To Code downloads have reached 50 million, she says. There will now be a Codebuilder extension for Minecraft available for download from later this week.
1023 Megan Saunders from Microsoft is on stage to talk 3D and mixed reality. The Creators Update is big on both of these areas, and will be coming to Windows 10 S.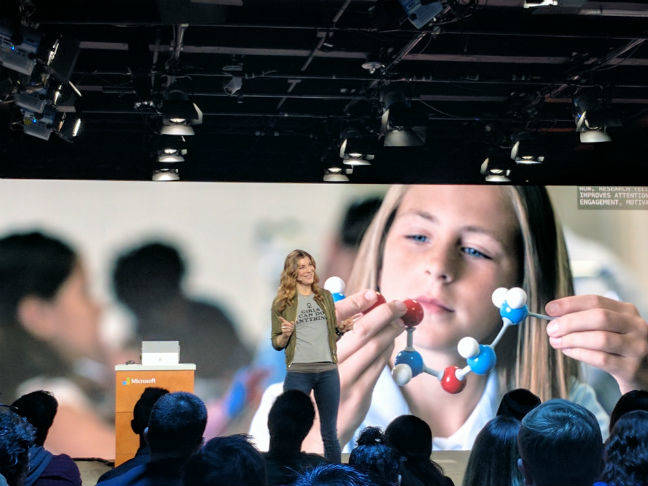 Great tshirt
1029 Microsoft will be adding mixed reality to the screen for Windows 10 S, basically taking camera images and dumping them into 3D models. That should need a fair amount of grunt, but any RGB webcam will make it possible, she claims.
1032 Pearson is building the mixed reality into its 2018 classroom tools. HoloLens software will also be included and there's a demo showing off a cutdown mixed reality viewing headset, available for $299.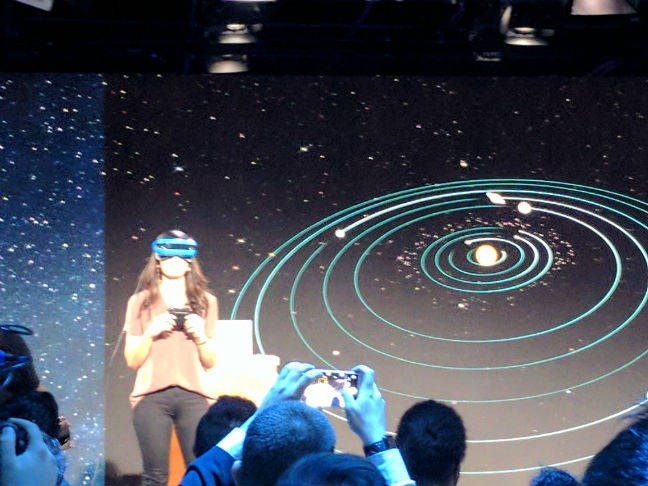 1039 Panos Panay is on stage to talk about Surface. As ever, he has managed to talk about his family onstage. Usually it's his kids but now he's talking about his dad teaching him how to build hardware.
1044 Many students use Surface Pro and Surface Books he says – well-heeled ones presumably.
1051 So Microsoft is going to do a Surface laptop for kids. Panay says it'll last a student from coming into school to graduation. The video shows an Intel Core i7 machine in a metal case. This won't be cheap.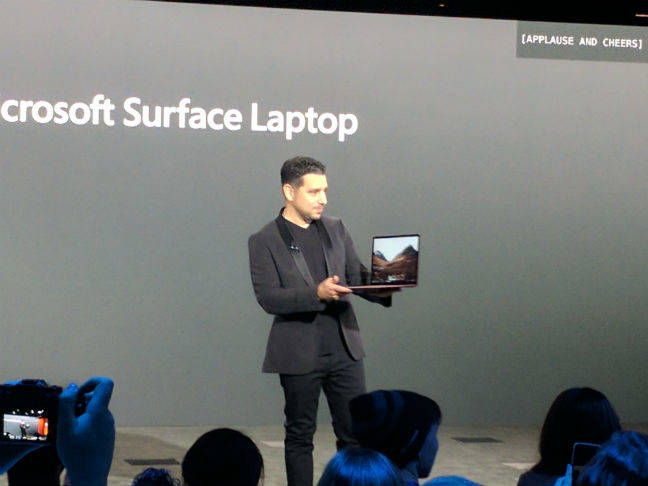 OK, it looks very nice. Available in four colors, including burgundy, blue, gold and platinum. 13-inch diagonal screen in a 3:2 aspect ratio.
1053 3.4 million pixel screen. Panos claims it's the thinnest touchscreen on the market and comes with its own pen.
1058 The Surface laptop has instant on, and sleep once the lid is closed, and uses zero battery life while sleeping. Comes with Core i5 and i7 and up to 1TB hard drive. He's claiming 14.5 hours of battery life for the laptop.
1059 Battery life is better than any Apple laptop on the market, and it's faster too, Panos claims. The aluminum case is key to cooling the systems and keeping it thin. The laser-etched keyboard has a 1.5mm travel distance and is backlit, and the Dolby speakers are under the keyboard.
I appreciate Panos' enthusiasm, but he's overdoing it a bit – he's one step away from snogging it on stage.
1104 The new laptop will use the Surface Dial as well. Spotify is coming to the Windows Store and has integrated the dial software to make the hockey-puck device into the most expensive volume control out there.
1110 OK, there's a demo of a 3D techbook on the laptop. Sure, it looks pretty, but so did the Surface Book, which had issues once testers got their paws on it.
1112 The laptop is available for preorder now for June 15 delivery. Base price is $999 for the Core i5 model. This is for students with parents who earn Microsoft-level salaries.
1116 That's a wrap. Time to get hands-on with the new hardware and software. We'll link to our next story when it's published. ®