This article is more than 1 year old
As senior bosses eject and shares crash... is it time to pray for Nutanix?
Shine comes off hyper-converged boxes as meteoric growth plateaus
Analysis Should we be concerned about Nutanix? Two bosses have left, its share price is falling, and it's now worth just a little less than Pure Storage.
The shares in the hyper-converged infrastructure appliance slinger ended May 1 at $14.46 apiece. They were hovering around $21 on March 7, and $31 on March 2 just before its latest quarterly financial results – with its low expectations for the next three months, attributed in part to salesforce shakeups – sent shares sharply downwards.

Nutanix stock price history with the March 2017 sudden drop obvious ... Click to enlarge (Source: Google Finance)
Right now, at time of publication, Nutanix's stock is rallying a little, up roughly nine per cent or $1.33 to $15.79. The financial history chart below shows the stalled forecasted sequential revenue growth that prompted the big share sell-off in March: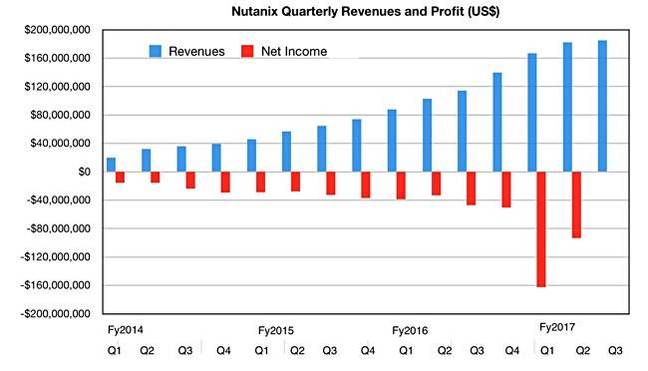 Nutanix quarterly earnings history with next quarter's estimated revenues
Nutanix's market capitalization is now roughly $2.15bn. Pure Storage, whose shares trade at $10.78, is capitalized at $2.24bn. Both companies have been growing revenues while spending cash on developing product and building out their business infrastructure, so as to grow sales further and break into profitability.
As long as investors see sales revenue growth and evidence of cost control, they have been happy to trade off present losses against future profits and hold onto their shares.
Looking to the future
With Nutanix's poor outlook for its fiscal third quarter, the faith of fragile investors has been tested and found wanting; they have sold the stock. A couple of sales exec departures are unfortunately timed, to say the least.
André Leibovici was senior director of Nutanix's alliances engineering, having joined the tech upstart in January 2014. He left in April, after being offered what he calls a good opportunity at a startup company. Scott Drummonds also left in April, from his position as director of global accounts for Asia-Pacific. He was a November 2014 joiner.
Raj Badarinath, head of corporate communications at Nutanix, told us: "Nutanix continues to attract and invest in top talent across Engineering, Sales and Marketing. Recent additions include Chris Kaddaras as the new VP and head of EMEA, Mark Lewis as head of EMEA Marketing, Eisaku Machida as MD for Japan, Erik Hardy as VP of Global Accounts, Bala Kuchibhotla as senior director of Technology, and many more."
The business is growing strongly, we're told, with Badarinath saying: "We also continue to focus on helping Global 2000 companies and enterprise customers with recent additions such as SAIC Volkswagen and Société Générale."
Nutanix has just released the 5.1 version of its AOS software, which can now have all-flash and hybrid nodes in the same cluster. Customers can add performance to their clusters by adding an all-flash node and increasing the size of their SSD tier. There are enhancements to compression and erasure coding as well. If you're curious, you can find out more more here.
William Blair financial analyst Jason Ader offers comfort to investors, saying: "While we understand investor hesitation in looking at Nutanix, given daily downward momentum in the shares, together with the Dell overhang and the recently revealed sales realignment (which led to a bookings miss and guide-down in the January quarter), we believe the time is right for us to be more vocal" – meaning more positive.
The "Dell overhang" refers to Dell selling the XC hyper-converged system, OEM'd from Nutanix, while simultaneously selling its own hyper-converged products such as VxRail and the VSAN software.
Ader sees a...
...two per cent [share] downside risk and 84 per cent upside opportunity. We make this assertion with reasonable conviction on the recently completed April quarter, where our field contacts suggest:

Sales of Nutanix are growing well for most channel partners and HCI as a category is receiving more attention and interest from customers.
Nutanix is viewed as the best product technically by most people in the channel.
The quarter close was busy but upbeat.
No worries there, then. ®