This article is more than 1 year old
Billion-dollar skincare biz scrubs IT makeover, spends days in a daze
Rodan + Fields discovers you can't put lipstick on this pig of a tech setup
Rodan + Fields managed to turn skincare and social marketing into a billion-dollar brand over the past 15 years, but for the past week, the high-flying cosmetics seller has been without a website to handle sales.
Tipped to the "monumental fail" of the company's new consultant sales portal – it relies on affiliates to sell products to friends – El Reg began to wonder just how bad things could be. The company's Twitter stream tells as much of the tale as its publicity-shy execs will acknowledge.
The problems appear to have started April 20, when the company said, "Our sales support team is working diligently to resolve current platform issues." On April 22, the situation had clearly deteriorated: "We continue to work through challenges with our web platform. We are working urgently to resolve these issues."
And on Friday April 28, the company said it had disabled its website and call center, as if whatever afflicted its technology had been a choice rather than a fait accompli. "We've temporarily shut down our website and our call center," the company said, offering a sales email address for those interested in refunds.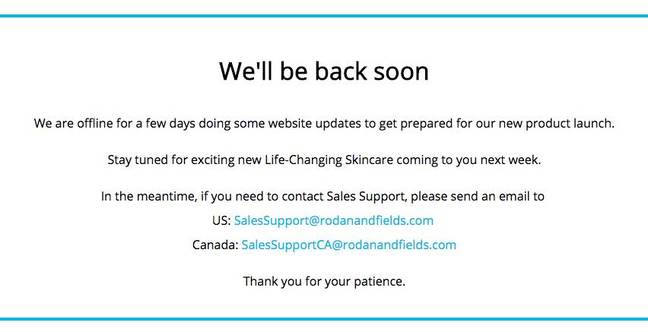 The Register made multiple attempts to contact Rodan + Fields personnel, including CEO Diane Dietz and CTO Ralph Loura, via email since the company's voice line is down. But no one from the company came forward to discuss the problems.
We even went so far as to walk the 15 minute journey from our San Francisco office to the company's headquarters at 60 Spear Street. A woman there who volunteered that she was in the Rodan + Fields legal department said she'd ask if anyone would come outside and chat. No one did.
Other employees encountered outside the building said they couldn't talk to the press. One, however, acknowledged, "a service update didn't go so well."
After hectoring the company for the better part of a day, an emailed statement was provided:
This past month, Rodan + Fields launched a new technology platform with the goal of creating an enhanced website and customer experience. We uncovered several technological challenges that prompted us to take the systems down and revert to our previous systems. All resources are focused on providing our Customers and Consultants the best user experience possible. We plan to be back online shortly.

Our IT staff and a dedicated team of experts are working around the clock to resolve these technical issues as quickly and efficiently as possible. We have also brought in additional customer service support so we can more quickly process orders, correct any account errors and communicate with and address customer inquiries.

Rodan + Fields apologizes greatly for the inconveniences our valued Customers and Consultants have experienced as a result.
The source who alerted us to the outage says the website isn't expected to return until May 8th.
Glassdoor reviews of the company are a mixed bag, with some people – many independent consultants among them – effusive and others condemning it.
Among the various pros and cons cited, one person last year who claimed to have been employed as a database developer remarked, "IT department has been poorly organized and key functions under-staffed..."
In 2015, another person claiming to be a junior QA engineer mentioned "non-stop tech difficulties." If anyone from the Rodan + Fields development team would like to let us know what happened, we're here for you. ®
Updated to add
And as if by magic, after days offline, the biz's website has popped up again, just hours after our article went live. What are the chances?